So we've made it to 38 weeks (38 weeks, four days when this is published), which technically means she could be here any day now, and I'm more than okay with that now. You know how I said in my last Bumpdate that I love being pregnant? Well, let's just make that sort of past tense. I still think this is the most remarkable thing I've ever experienced, but I'm quickly losing that internal pregnancy glow and I'm definitely ready to meet this little one.
This week brought on a whole new slew of aches and pains—all normal pregnancy wear and tear, but still, it's just getting hard to function. I mean, even my flip flops are tight on my feet these days! I also still have a bad cough, which is the only thing worrying me right now about the actual labor. I cough when I overexert myself or when I get hot, and I'm willing to bet both of those things will happen during labor. If you could say a prayer that this cough will subside before I go into labor, I'd really, really, really appreciate it!
Luckily, I don't feel as overwhelmed as I did last week, thank goodness. We managed to get a lot more done around the house, which helped with my anxiety levels. I'm almost caught up with all the freezer meals I wanted to make (I'm working on a post with everything I've made, but it may not go up until after she's here…), which is another thing I can cross off my list. The car seat is in and we've had it checked out by a certified inspector, so we're good-to-go on that front, and this week the rest of our Amazon and Target registry purchases came in, too, so now we have almost everything we need.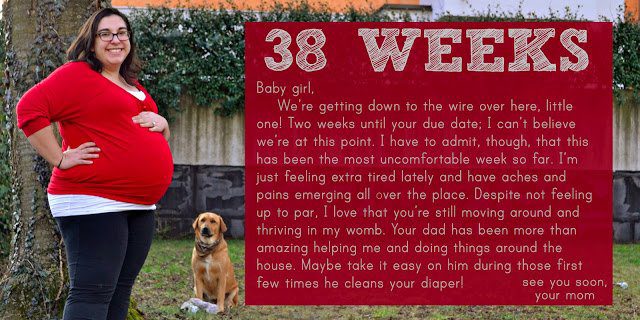 This week we're just working on straightening up the house some more and enjoying our time left as a family of two (point five—Bella counts, too) before our world is turned upside down.
Any bets on what day she'll make her appearance? I think it's funny when people ask me when she'll be here. I have absolutely no idea!