Will this be the last bumpdate? Who knows! I think it's hilarious when people ask me when she'll be born—like I know! I honestly thought she'd be early…like really early, but I think it was more of a fear that she'd be born before my husband came home. I'm so happy we've had this time together before she gets here.
We took this picture in her room, but there's not much to see. It's a small space and besides the crib, dressers, and glider, it's sort of empty as far as decorations go. The walls here are horrible for hanging things (yes, even with command strips), so I think we may just keep the them blank until we leave. We still don't know where we're moving (or when), so I haven't decorated it the way I'd like to. I have so many ideas for our next home, though! It's getting to the point where I need to stop looking at my Pinterest board and baby blogs, because I just get nursery envy.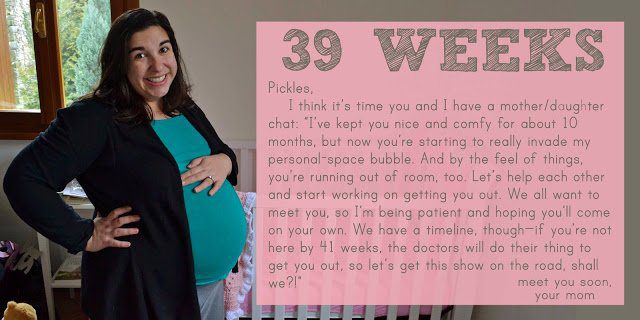 I joked this morning on Twitter that I was going to take an as-is picture today, and I did just that. Like I said last week: I'm pretty much done. My back is still constantly achy and there's just so much pressure and feelings down there that it makes everything uncomfortable. I'm so thankful I made it this far before feeling like this. I basically live in a version of this outfit: no bra, tank top, pj (or yoga) pants, and some sort of a sweater in case I get cold. The unbrushed hair comes with the package, but it's usually up in a messy pony tail. This is as real as it gets, folks!
I should mention the baby, shouldn't I? She's still looking great and moving around a lot; I can tell she's running out of room, though. She's been head down for a few months, and the doctors say I'm progressing down there…just slowly, but something is better than nothing! I have my 40-week appointment this Thursday (her due date is this Friday), and that's when we'll talk/schedule an induction for the following week. I've started bouncing on the yoga ball, we've upped the sex, I'm eating spicy foods, attempting to walk waddle more, and I plan on making this eggplant Parmesan later this week.
I'm so thankful for my husband and all that he's doing around here. I'm truly blessed to have him in my life. I can't wait for him to meet his little girl!
It could be any day now! Please keep us in your prayers and thoughts as the time gets closer for Pickles to enter the world. (And goodness gracious, I can't wait to reveal her name and not call her "Pickles" anymore!)