It's been eight months (251 days, to be exact) since I found out I was pregnant. At my first doctor's appointment, the doc measured the little bean-sized embryo and gave me a due date: March 1.
That, my friends, is today.
Oh. Em. Gee.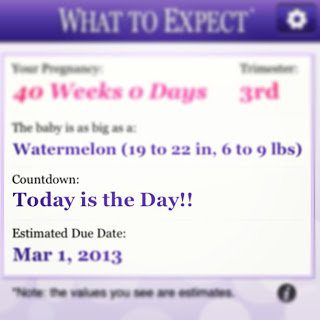 In some aspects, it feels like I've been pregnant forever. On the other hand, it feels like just yesterday I was seeing her heart beat for the first time, and now I'm just days away from meeting my daughter. Seriously crazy.
Little Pickles is still snug as a bug, though, and since it's already 8 pm over here, it looks like she's already learning how to procrastinate.
Speaking of procrastinating, my 40-week bumpdate will go up later this weekend 🙂 Now if you'll excuse me, I have a yoga ball to go bounce on…