Cruising in Europe: Bari, Italy
So there we were, our first full day on the cruise, and I was getting breakfast from the fabulous buffet. They had basically anything and everything you wanted, so it was a great way to start your morning. I just finished getting my plate of food and was walking to our table when I slipped and fell.
Taking a fall may seem like no big deal for a healthy 28 year old, but I was 16-weeks pregnant at the time. My first instinct was to protect my stomach, so as I went down I let my plate of food fly in every which way and grabbed my tummy, landing pretty hard on my "bad" knee. (I had surgery on it several years ago.)While I was still on the floor, startled from falling, I looked around, assuming someone would be there to help me stand up.
The place was jam packed, but not a single person offered me any help. I was baffled and in pain (my knee hurt a lot). I looked to the mess I made with my uneaten breakfast and saw a Royal Caribbean worker cleaning up my food just feet away from me…she didn't bother to even ask if I was okay. In fact, nobody did. My mom was on the other side of the huge room and heard me go down (pretty sure I yelped or screamed a little) and rushed over to help me. She also couldn't believe that nobody offered any help. After I got up we found a head employee and told him what happened. He was appalled that his employees practically walked over me instead of helping.
At first I tried to tough out the pain in my knee, but he was concerned for the baby and insisted I head down to get checked out by their medical staff aboard the ship. I scarfed down a bagel and obliged, following him to the lowest level of the ship.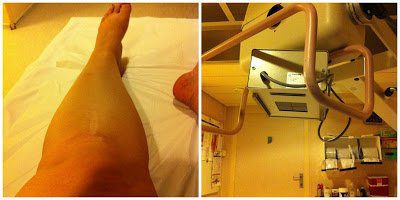 I have big calves to begin with, but it was pretty swollen and you can kinda see right where I landed on it—there's a vertical red mark just above the scar line. I also took a picture of the X-Ray machine…because, why not?
The staff in the ships medical facility were all so helpful. They wanted to do X-rays just to make sure everything was fine with my knee (it was just horribly bruised and sore), and they had me do a pee test to make sure there wasn't any blood in the urine (meaning that the baby was in distress). The pee test came back clear, thank goodness; I was really, really sore for several days, but other than that I was good to go. I was definitely freaked out right after I fell, hoping I didn't just ruin our vacation.
Luckily, we didn't have much walking to do for our first excursion. My friend Monica went on the same cruise a couple months before us, so I picked her brain about what to do and what not to do. She said that the town of Bari looked just like any other Italian town, and since we've seen plenty of those, we decided to do go outside Bari.
We went on the "Leisurely Apulia" tour, which was basically a relaxing way to see the countryside around Bari. The tour included a stop at a local Trulli farmhouse and a "light snack." After my eventful morning, this is just what I needed. A "trullo," I learned, is a dry stone hut typically used as shelter for farmers, but also as homes. These nifty buildings are scattered all around the area in little clusters; I couldn't wait to see inside!
Our little snack was tastier than it looks. The olives were fresh and perfectly salty, the cheese was so divine that I bought some right then and there—same with those ring-shaped cookies, and the sips of wine I tasted were refreshing on such a warm day.
Not pictured is some authentic Pugliese Focaccia I snagged just as we were leaving. It was made in a brick oven (above) and it practically melted in my mouth. It was simply delicious and I wish it was ready right when we got there so I could've enjoyed more.
The day was beautiful. Very warm, but dark rain clouds teased us and brought a little bit of shade to cool things down here and there. I loved that Bari, with its white-washed buildings, bright blue sky, and colorful flowers, gave me a sneak peek into what I imagined Greece would look like.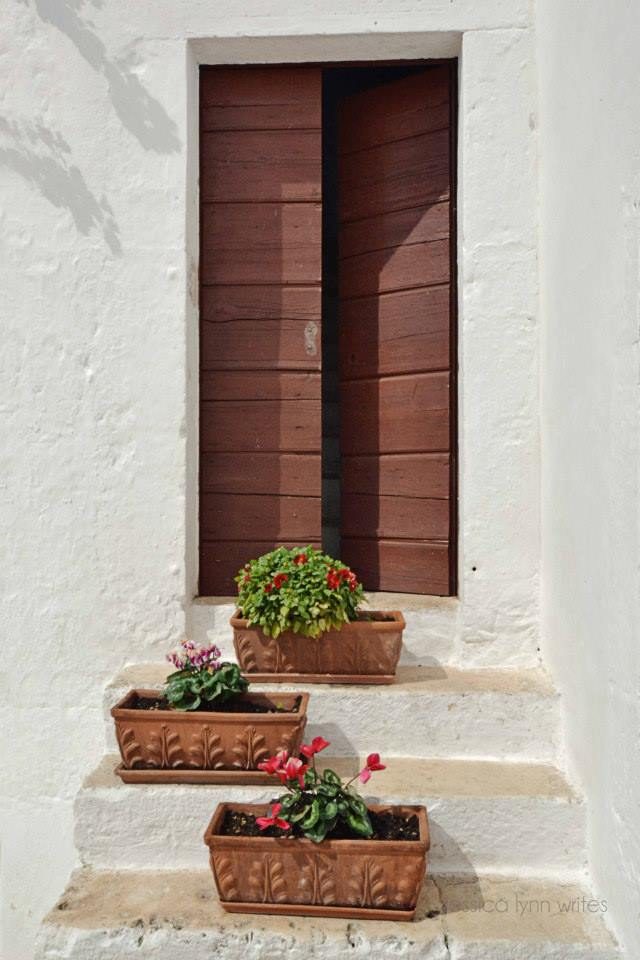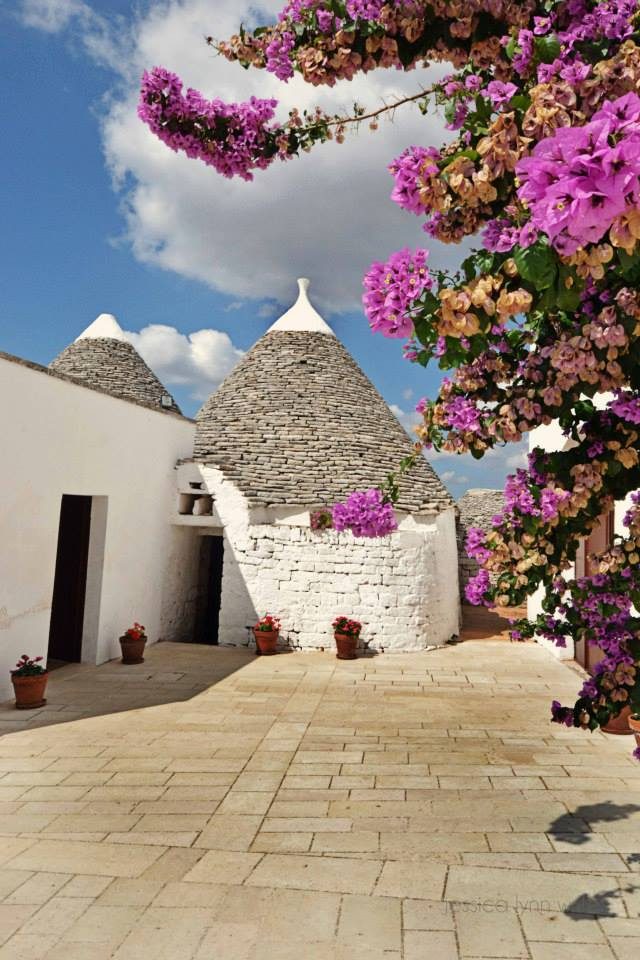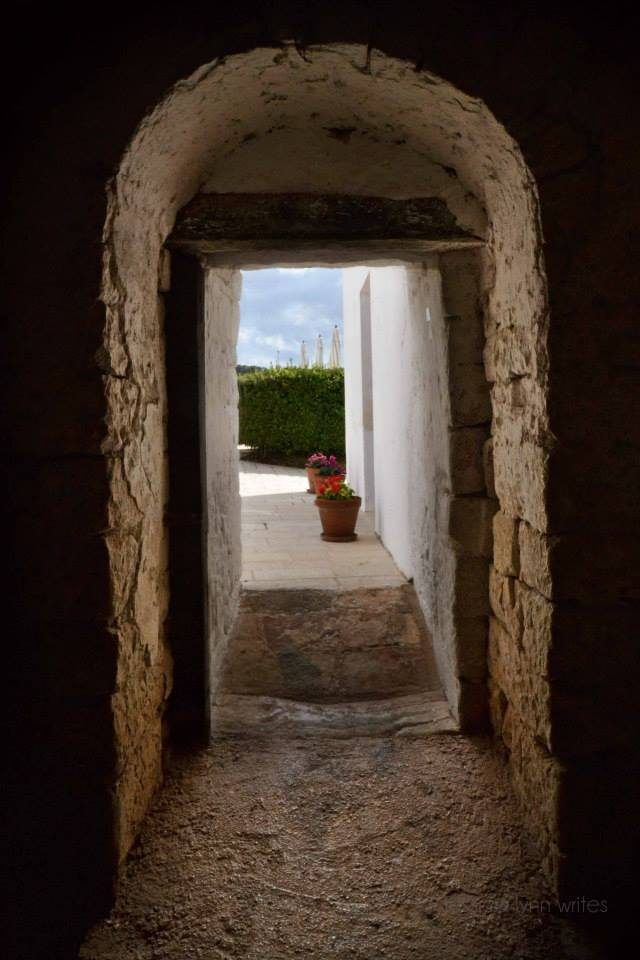 Our drive back to the ship was along the coastal road: the sea on one side and olive groves that were decades old on the other side. It was nice to have such a relaxing excursion and I only wish Royal Caribbean considered having Bari be the last stop instead of the first. We were in for an adventure with our next excursions!
Back on the ship we enjoyed a delicious dinner and then I spent the evening relaxing on the balcony. This quickly became my favorite part of the day, and who can blame me?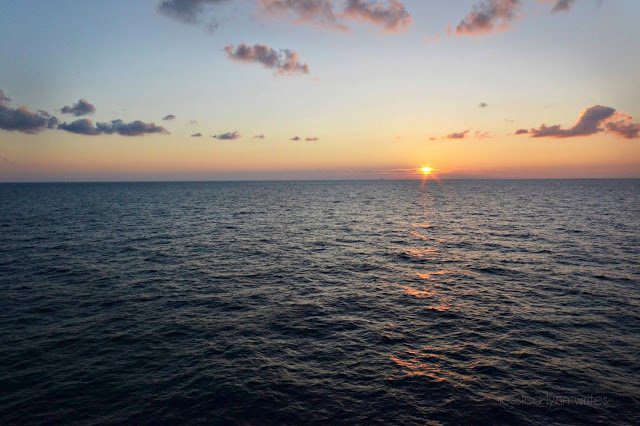 Save
Save