I'm Currently… {volume three}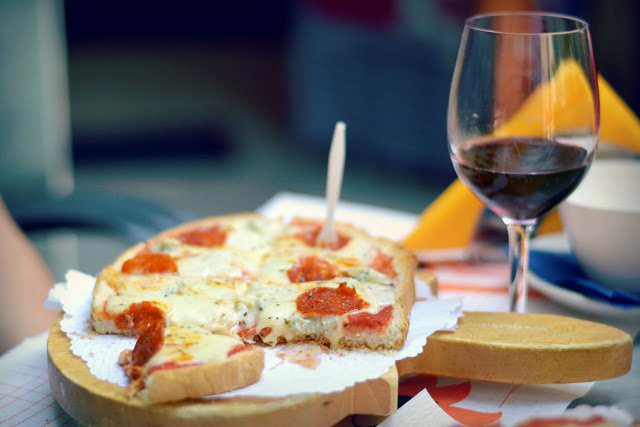 I'm currently…
(already)
Missing
Italy. I know we haven't moved yet (48 days to go), but I'm already
getting nostalgic thinking about everything I'll miss: the way the mouthwatering bruschetta arrives on its own cute little board,
the new delicious Pinot Nero I recently discovered, my cute little town and how we actually have local friends…everything! And of course, I'm also
missing Bella
—she arrived in America safe and sound, by the way!
Loving on my daughter. I'll talk about this more in her
three-month post this weekend, but she's just an absolute delight. She's
discovering life and I love watching her; she's playing with her new-found feet, making friends with
the animals on her play mat, cooing all the time, and smiling and
giggling! Oh, the smiles and laughter—they make me want to stop time and
never let her grow up.
Listening to Phillip Phillips. I love his rugged voice and how it reminds me of Dave Matthews, but just a little cooler. (Is Dave Matthews still around?)
Excited for the end of February. My husband and I bought tickets to see Alton Brown in Atlanta for his new food tour. If everyone can just cross your fingers that my husband will be here (and not be deployed), that would be great!
Reading: Bossypants and blogs. I'm so in love with the Feedly app on my iPhone. I read blogs while I nurse, because I typically only have one hand free, and I dig that I can save the posts I want to go back to and read/comment on later. Bloglovin' just doesn't do it for me, sorry. Feedly, on the other hand, is grand.
And speaking of blogs and bloglovin', I'm annoyed that every giveaway out there requires me to follow via Bloglovin'. The fact that I follow you—in whatever capacity—should give me an entry. Sheesh! #endrant
Digging these links:
Thinking about the future. I'm debating whether or not I want to have a few guest posts lined up for the end of July/beginning of August while we're traveling. I want to keep things rocking on here, but I don't think I'll be able to schedule that many posts ahead of time. On the flip side, I feel cheated when I go to a blog expecting to read something from the author and just see tons of guest posts. What's your opinion on the matter?