Moving to America: Puppy Edition
As I type this, our sweet Bella is at the Milan airport, about to board her plane back to America. It took a lot of leg work and a ginormous dent in our wallet, but sending her home sooner, rather than later, was the best decision for our family. It was an adventure getting her to Europe (read about it here, here, and here), so getting her back to America had to be just as interesting…read on to hear all about the hoops and hurdles we just jumped through.
We're leaving Italy at the end of July and there's a heat embargo for almost all commercial airlines once the weather gets too warm. Basically, pets can't stay out on the tarmac for too long during the summer months, so there's a ban on having them fly during that time. This is a problem since the majority of military members PCS (move) during the summer. One solution, if you live overseas, is to take the rotator (military flight). There are only two spots available for pets in a temperature-controlled cargo space, but that's not the issue: our flight is only taking us as far as Baltimore and then we're hopping on a commercial plane to New Mexico. We could get Bella as far as Baltimore, but then we'd essentially be up a creek without a paddle, if you get my drift. So, we needed to send her home before it got too hot and on a commercial plane.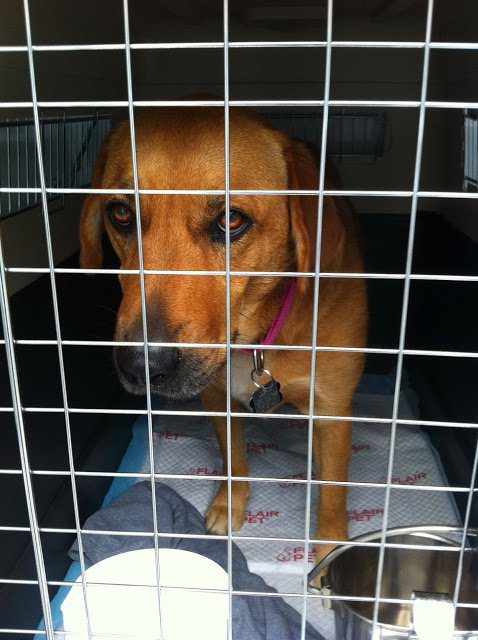 sad puppy face!
I'm pretty sure I spoke with just about every person who worked for several airlines (in America and in Italy) and everyone had different information on what we needed to get her on a flight. We could've shipped her off ourselves, but after spending a good two
days on the phone with different airlines who had NO idea who I needed
to talk to, I threw in the towel.
We went with a company in town, Home Boarding Shipping Pets, that specializes in shipping pets back to America. They booked her ticket, made sure she had the right crate, triple checked the paperwork (more on that in a sec), picked her up the night before, and drover her all the way to Milan (four hours from here) to make sure she gets on the flight. They charged a little more than if we did it ourselves, but in the long run it saved us a lot of stress.
In order to get all of the paperwork done, we had to see (are you ready for this?) FOUR different vets. This made me convinced that parts of Italy are still decades behind the rest of the world. Not only did we have to see a different vet for different pieces of the paperwork puzzle, but the hours these vets are open is absolutely ridiculous.
Seriously, these are the real hours for two vets here:
Vet A
Monday, Tuesday, Thursday, and Friday: 10 am—noon; 4 pm—7 pm
Wednesday and Saturday: 10 am—4 pm
Vet B
Monday (location 1) 8:30—9:30 am
Tuesday (location 2) 8-30—9:30 am
Thursday (location 1) 11:30—noon
So, in order for Bella to fly, she needed the following:
Current vaccines (Vet A)
Microchip (from America)
Rabies vaccine (at least 30 days old, but no more than 11 months old) (Vet A)
Pet Passport (Vet B)
A specific "green folder" from the base vet (Vet C) that Vet B "had to have" to prove the pet is registered on base
Health Certificate (completed within 10 days of travel) (Vet A)
ASL Export Document (completed within 10 days of travel—must in a specific format) (Vet A)
A receipt from the post office (ridiculous hours as well—open at 8:30 and close at 1 pm on certain days) for the pet passport and export document
Once you have all of the above you have to go back to Vet A and he fills out information in the pet passport from Vet B.
Then, once you think you've got it all in order you find out the ASL Export Document was written in the wrong format and you need to go to Vet D to get it in the right format. Same exact information, different piece of freaking paper. Luckily, the company we went through took care of the Vet D aspect. I was about to flip my puppy poop when I found out that fun tidbit, and the guy taking care of this knew it so he did it for us. Thank goodness.
A pet passport, by the way, is a completely real thing. I can't make this up. It's a real, official document that a particular vet (Vet B, in this case) has to fill out with all sorts of information. Now that we're leaving Europe, Bella has her very own passport so she can fly freely around Europe. That'll come in handy the next time she wants to go on vacation. Oh wait…I'm talking about a dog! Clearly I think this was a waste of our time.
Are you still with me? I don't blame you if I lost you around the
third bullet up there. Trust me, it was just as frustrating and ridiculous as it looks, and now you know the shenanigans we went through!
Our next issue: We wanted to fly her straight into New Mexico, (my parents and my husband's parents are going to watch her until we arrive), but apparently airlines don't fly pets into New Mexico from an international location. Seeing as how the Albuquerque airport is legit and has hundreds of flights a day from all locations, I didn't understand this, but I stopped arguing with the company and asked for the next best option, which happened to be Phoenix. Luckily, one of my friends recently moved there, so she and her family—who've watched Bella in the past—are being gracious enough to pick her up and watch her until my mom and dad can get out there to pick her up.
There was no doubt in our minds that we'd do anything to get Bella back to America, but you guys, getting a pet out of Italy is no joke. They take this stuff so seriously, make it so difficult, and costs so much money that I completely understand why families don't take their pets with them back to America. It's such a sad fate for dogs!
We already miss our precious pup, but can't wait to see her once we get to New Mexico. It's comforting to know she'll be in good hands for this duration of her puppy vacation. Once we arrive, we're then going on a two week road trip from New Mexico to Alabama. Our little Bella is already a world traveler!