I'm a little late in posting this…okay, almost three weeks late, but better late than never!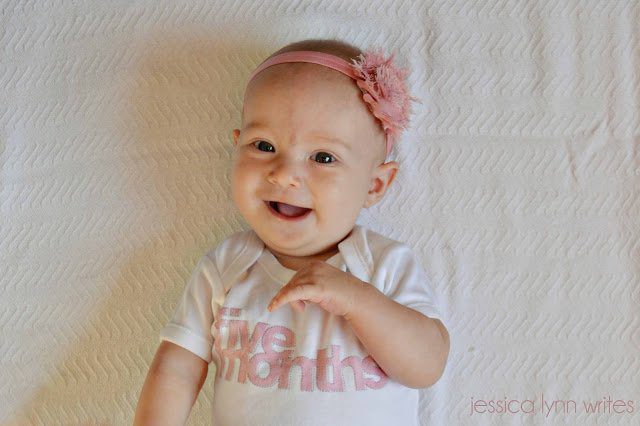 Julia Grace,
This month was one of our biggest transitions yet. You literally moved across the world and you handled it like a champ! You went on three airplane rides, spent countless nights in a hotel room, and a took road trip across America, to top it all off. I'm sad we had to leave the country where you were born, but your dad and I will take you back there some day to show you where you lived.
On top of all the traveling you've experienced, you also met your family! Grandparents, great-grandparents, your aunt and uncle, cousins, and great-aunts and uncles, all welcomed you home with open arms. We've loved parading you around to everyone and are thrilled so many family members got to snuggle and love on you this past month.
I'm in awe of how much you're growing; you're discovering something new every day. This month you found your hands and it's been so exciting to watch you recognize them—they'll be flailing around near you and then you suddenly realize that they're part of you and you stare at them like they're the most magical things ever. It's adorable. I also love that you started exploring my face this month. While you nurse your free hand usually examines my face; I love that this is all brand new to you! You're sitting up almost all on your own now, and you're also starting to watch us eat. Your big grey eyes look on as we feed ourselves and we can tell that you want to join in. All in due time, little one.
You're literally growing up right before my eyes. I'm so humbled to experience it all first hand and I can't wait to see what this next month has in store for you.
Love you forever and always,
your mom
Dear Gracie,
What a month we've had! This month we moved out of our house in Italy and started our 82-night hotel extravaganza. We also put you, a 4.5 month old munchkin, on an international flight before starting a 1,500-mile road trip; upon reflection, that was kind of a silly plan. Thankfully, you did an awesome job at not crying (that much), screaming (loudly), blowing out (only three times so far!), or otherwise making our lives miserable. We're in New Orleans today, and tomorrow we finish off the road trip. Hopefully hotel life for the next few months won't be too horrible for you.
Also, on this trip your mom and I started a fun and exciting dinner game called "Poopers vs. Puppy." We put you (Poopers) and Bella (Puppy) next to each other and we had a competition to see how many people would stop to look at the two of you. Here in New Orleans it was actually pretty evenly tied for total people who stopped to ogle, but you won with the most repeat visitors hands down (although Bella got a free pork chop).
Hopefully this next month will be nice and peaceful since and you won't throw any new curveballs our way. I love you!
Nicknames: Poopers, Droolia, Sugar Pie, Honey Buns, Honey Bear, Jules, NAKED BABY!!!
Likes: Watching your hands, the song I sing you to sleep (Julia, Julia, Julia Grace. You have the most beautiful face. I love you; you love me. Add in daddy and that makes three.)
Dislikes: Not being able to roll around. You've been in the car a lot and when we're not driving around, a family member wants to hold you, so you're missing your tummy time.
Milestones: Discovering things around you (hands, faces, etc.); sitting up almost all on your own.

Weight/Height: No well-baby this month, but I'm guessing somewhere around 13 pounds.

Clothing Size: 3-6 month.

Sleep: We spent 11 nights in a hotel room in Italy and you did amazing. You slept through the night and I thought we were good. Then we moved to America and you've been all over the place. One night you'll sleep through the night and the next you'll be up several times, and can only fall back asleep if you nurse. It's exhausting and every night I went to bed hoping it'd be a good night.

Random Tidbits: We took these photos in New Orleans, Louisiana, (you actually turned 5 months while we were in Texas), but when we told people in NOLA that we drove there from New Mexico they were shocked at "how far we drove," and commented that she "traveled so far." It made me laugh; if they only knew how much of a world traveler you already are!

How are Mommy and Daddy Doing?: We're tired. Moving is exhausting. Add in traveling and gong home to see family, and this month was just tiring for all three of us. But, we made it!!