Over the Weekend: Type-A Parent Conference Recap
Last Thursday I packed a suitcase, got Miss Julia snug in her car seat, and hit the road for Atlanta. We spent the weekend at the Type-A Parent Conference, learning all about the wonderful world of blogging. Everything started bright and early Friday morning, but since my husband was working that day, I drove up with the munchkin the day before.
They provided childcare, but since I've never left her with anyone before, I only paid for the half-day option, so Julia went with me to several sessions. I wore her most of the time and hoped she'd nap, but she was more interested in everyone and everything going on around her. She was dubbed the "Conference Baby" more than once. Luckily, my partner in crime drove up Friday and watched her during all the sessions on Saturday and Sunday; being able to focus on the speakers was so nice!
Gotta love conference swag! I have another full bag, too!
I've only been to one other blog conference before (BlogHer Food in 2011), but I left this one feeling the same way: motivated to pursue blogging more fervently, overwhelmed with how much knowledge I gained, disappointed that—in my eyes—I've let my blog go; I've been sloppy with my pictures and words lately and it was apparent this weekend. But most importantly, I left with a laundry list of goals I very much want to accomplish in the coming months.
This is clearly a passion for me and I want to make it a priority in my life, but I need to find that balance. Obviously having a baby, moving to another country, and living out a of suitcases for three months kinda puts a kink in that plan, but I'm so ready to get back into a routine that will hopefully lead me back to doing what I love. All in due time; I'm learning all about patience lately.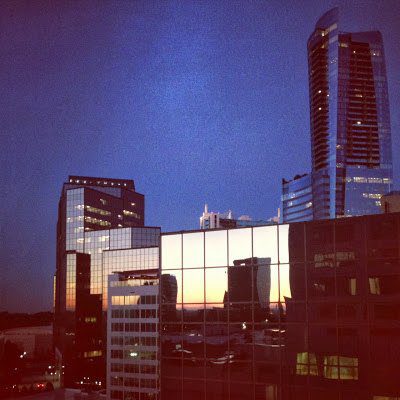 Sunrise in Atlanta
So what did I learn at this conference? A lot.
I learned about working with different brands and affiliates. Not necessarily about how to get your foot in the door, but how to keep and maintain those relationships once you do get them. Everyone suggested that bloggers stop writing for free, because our time and creativity are worth more than being taken advantage of, and the speakers insisted that we step up and make sure we're compensated properly. As a soon-to-be work-from-home mom, this all resonated with me.
One of the reasons I originally went to this particular conference was because I heard there was a military round table for session, and I'm all about meeting other military bloggers! I had the pleasure of meeting Adrianna from Military Money Chica and NextGenMilSpouse, Krista from ArmyWifeStyle and NextGenMilSpouse, and Suzanne from BebehBlog, and I can tell you firsthand that they're incredibly insightful women. It was a little interesting to see how few military spouses were there compared to brands—we were out numbered. It turns out brands actually want to work with military spouses, because they know we can bring something different to the table.
me with Krista and Adrianna!
We're completely global and, as Adriana put it, military spouses are usually the "Consumers in Chief" for our household. With the deployed member gone so often, it's often the spouses who decide what brand of things to buy, and where to go/what to do, etc. (I'm sure the same can be said for those outside the military, but this is just apparent for us.) Another interesting topic that came up was that military bloggers don't necessarily only talk about military topics, which was a statement that threw the brands for a loop. They thought military bloggers = talking about the military all the time. It was nice to enlighten them and share that even though our lives are certainly in the hands of the military, that's not all we talk about. I'm excited to see what the military round table will be like next year (it's in Atlanta again, by the way)!
During another session I learned about bloggers and the law and what's acceptable and what's not. Honestly, it's still a confusing topic, but essentially: don't be stupid. If a company is paying you to write a post, disclose that at the very beginning of the post, before a reader clicks a link. Readers are smarter than you think, so don't try to fool them. If they trust you enough to read your blog, they should trust that you're not just writing a sponsored post to get the money, but because you truly enjoy/like/believe what you're writing about. And if you are just writing it to make money, shame on you! Legally speaking, affiliated links were a little bit harder to nail down. What I walked away with is this (which may or may not be officially correct): if you have affiliated links in a post, disclose that fact somewhere. I typically mention it at the bottom of the post, saying something like, "This post contains affiliate links." The lawyers in that session said you must put "affiliated link" right next to the actual link (which seems a little ridiculous and will clutter up a post big time), but the affiliated companies said that isn't necessary and that the big bad guys aren't going after smaller bloggers because "affiliated link" wasn't clearly mentioned. Personally, I'm sticking to the way I've been doing it.
Multiple speakers suggested using different types of mediums to direct traffic back to your blog. Videos/vlogs are hot right now, and so are podcasts, using Pinterest, posting teasers on Instagram, and of course, utilizing Twitter and Facebook. I'm actually interested in doing more vlogs, so look for more of those in the future. I also learned (even though I already knew this) that you shouldn't post iPhone pics. Whoops. If someone wants to come watch my daughter for me, then you'll get more than iPhone pics, but until I can figure out my new normal, this is what you get!
All in all, it was a good conference and I'm really glad I went. I feel like I networked more at BlogHer Food and made some lasting relationships there, but I got more meat (good information) out of this one. The changes I plan to make on here will hopefully be subtle, because I want things to be as natural as possible on here, but I'm excited to have that fire lit under you-know-where again.
Oh, and you get to do fun things at conferences, like hang out with Storm Troopers 🙂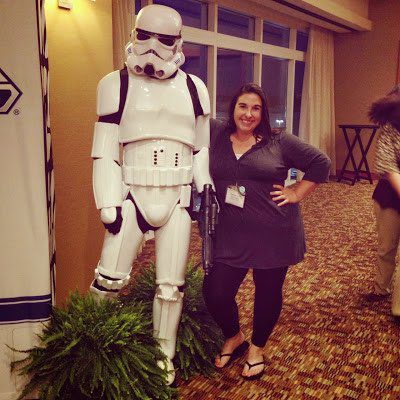 Have you been to a blog conference before? Tell me about it!