First of all, the government shutdown is horrible. I know that doesn't even need to be said, but just know that I think it's really crappy. I don't talk about politics on here, but if I did, I wouldn't have anything nice to say about what's going on right now. That said, there was one bright side to the shutdown: the school my husband was at in Alabama ended early because there was no funding to keep it going, so instead of packing up and moving out of our hotel on Saturday, we left on Thursday. Oh, what a difference two days made!
Our movers were originally scheduled to bring our HHG (household goods = all of our stuff) today, but we called them last week, ready to plead our case in order to get things delivered earlier. Luckily, we didn't even have to beg; they happily switched our day and promised to arrive between 8:30 and 9:30 am on Friday morning.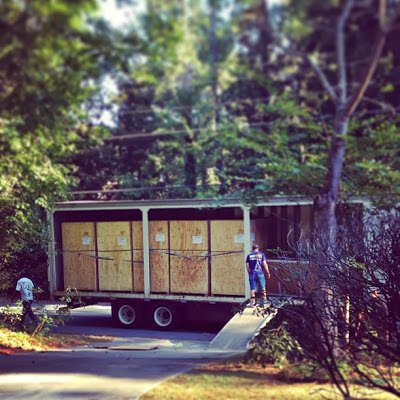 Moving home was exciting and lonely all at the same time. Exciting, because we were finally, after 80 nights of sleeping in hotel rooms, home. And lonely, because it was just us, our suitcases, and an air mattress; and someone—heh, me—forgot to send the right sized sheets for it…whoops. The most amazing part of that night was when we put Julia in her Pack 'n Play, in her own room, and she practically slept through the entire night! She didn't cry or fight it or anything—amazing is actually an understatement.
The other exciting thing about being back in our house is that it's already so different from the last time we lived here. It's crazy what a new floor and different hues in rooms will do to spruce up a house the second time around. You saw the before photos, but I think I'll do an "in between" post so you can see what it looked like without furniture. It looks FANTASTIC and I'm loving our changes! I'll have an "after" post once we get things a little more organized around here, because right now it basically looks like our HHG threw up in our house. Don't believe me? Here's a quick, 15-second video with proof:
Even though I sold some stuff before we left Italy, we're having a yard sale this weekend to get rid of a lot of stuff we just don't need anymore. So on top of organizing things, we're also pulling things out to sell. Anything that's leftover after Saturday is going directly to the Airman's Attic (is that still open during the shutdown?) or Goodwill. I want it out of our house for good.
The biggest challenge we're having so far is with Julia. She's starting to go through an attachment phase, so the second we put her down she screams and cries until we pick her up again. My husband's better about tuning her out, but every screech pulls at my heart, so I have a hard time going about whatever I was doing, and with a house to organize, we have A LOT to do. We've been wearing her a lot, but most of the things we're doing require us needing more mobilization. We even got her this awesome playard and a foam play mat so we can keep her contained and entertained, but nope…she cries like a little baby who's stuck in jail when we put her in there.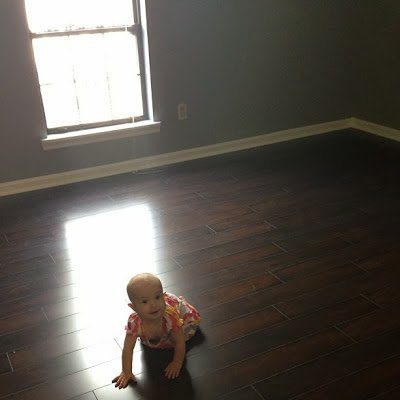 Julia checking out her new digs. (And a sneak peek of our new floors and wall color!)
Luckily, my mom is coming into town this weekend to help us out. She's going to hang out with Julia while we finish getting the house straightened up. She'll be here for four days, so we're going to soak up every minute of those 96 hours and hopefully get this house in order by the time she leaves. We're definitely counting down the minutes until we can pick up grandma!
We got the Internet turned on last night, hooked up the TV yesterday, and I'm about to start our first load of laundry in our new washer and dryer. Bella's made herself back at home and is snoozing in the corner, my husband is currently building our grill, and I'm typing and swaying back and forth (J's taking a nap on me). We're having (bun-less) burgers and baked sweet potato fries for dinner, which reminds me that I need to write about our paleo journey so far. Things are slowly getting back to normal, and I'm enjoying all the luxuries that we didn't have in Italy (like running the dishwasher, washer, and oven at the same time).
So that's been our weekend. It's so, so nice to be home.