Julia Grace's Birth Announcement
October is a hot month for brand new babies. It seems like every morning I see a friend announcing the birth of their little one and introducing them to the world. It's almost enough to give me baby fever again…almost.
I realized, in the midst of all these new arrivals, that I never showed you the birth announcements we created for Julia. I had big plans to create these myself, but then I got lost in the new haze of motherhood and went straight for the easier option.
Enter Tiny Prints and their ginormous selection of birth announcements. The hardest part of the whole process was picking which template to use. I picked out a handful of designs and then had my husband narrow it down from there. I knew I wanted to feature some of the pictures from our lifestyle newborn shoot, and I wanted it to look a little modern, so this one more than fit the bill.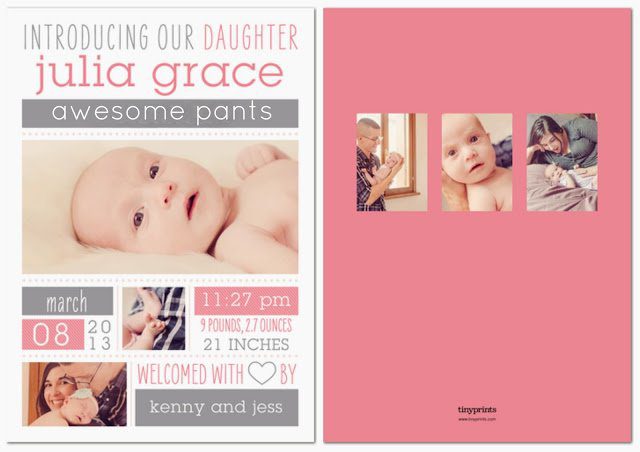 *"awesome pants" is where the last name goes. Unfortunately, that's not what's on the original version since we put our last name, but she is pretty awesome, so it fits*
I was beyond impressed with the way they turned out. Sure, I could've made it myself, but that would've taken time away from me and the new love of my life, so it was worth the extra money to just fill in the template info. And luckily, I saved some bucks when I found a coupon code. (By the way, use the code 20OCTSW and enjoy 20% off ANY order, AND(!!) use the code FS13 and get FREE shipping on ALL orders. Shipping code can be combined with other offers and both are good through 10.29.13 11:59 pm PT. )
I was a little worried it would take forever to get out to us in Italy, but the shipping was remarkably fast, so keep Tiny Prints in mind, my APO/overseas friends, for all your card needs! I'm already looking into using Tiny Prints, or one of their sister brands, for our traditional holiday cards this year.
AND! I just saw this, and it's for today only, so I have to share:
(50% off premium doublethick matte paper upgrade OR free pearl white shimmer paper upgrade. Basically, now's the time to order some cards!)

*Disclaimer: While I wish I was compensated or given free birth announcements, I opened my wallet, put in my credit card info, and bought these all on my own—I genuinely loved the announcements, so this review is my own opinion. However, there are affiliate links in this post. So, say 50 of you click and buy some cards, I may be able to buy a cup of coffee. Mama needs some coffee these days, so click and buy some cards…you know you want to!