Super Simple Cherry Tomato Sauce
So there we were, living in Germany and quarantined for two weeks. Some nights ended up like a Chopped competition…making do with what we had available in our teeny fridge. That's how I remembered this super simple cherry tomato sauce recipe.
I used to make it all the time before we had kids. I'm talking at least once a week. We had it sautéed with shrimp, piled on grilled eggplant or zucchini, tossed with noddles, spooned over fish or chicken, and on top of crusty bread.
It was our go-to meal, but then life happened, kids happened, and it just got pushed aside.
So when I put "four" tomatoes on my quarantined grocery list (so we could make BLT's) I was a little surprised to get four packs of cherry tomatoes in our bags delivered to our front steps.
Simple Cherry Tomato Sauce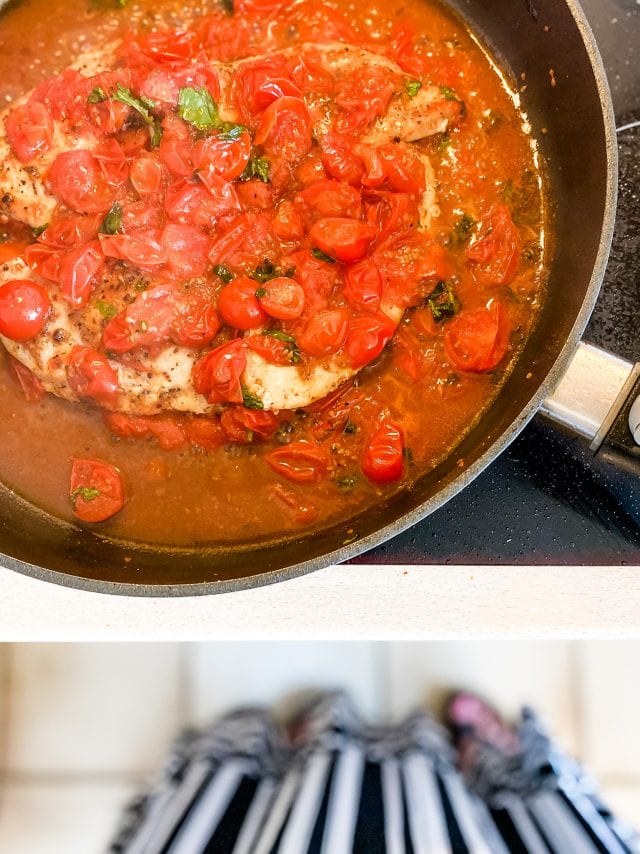 I fretted over those little guys for way too long before I remembered this ridiculously easy, and absolutely delicious sauce. I even omitted an ingredient (garlic, of all things), and it was still just as tasty.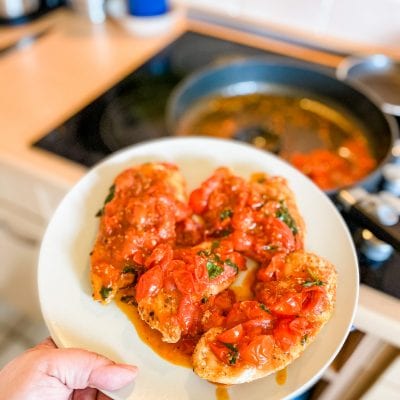 Super Simple Cherry Tomato Sauce
This simple cherry tomato sauce is so easy to make, versatile to use, delicious enough to wow any foodie, and only uses a few fresh ingredients.
Ingredients
1

Tablespoon

olive oil

extra virgin

3

garlic cloves

minced, chopped, or sliced

1/2

teaspoon

red pepper flakes

optional

1

pound

cherry tomatoes

halved

salt and pepper

to taste

handful

fresh basil

julienned (dried works fine…about 1/2 tablespoon)
Instructions
Warm olive oil on medium heat in a large, nonstick skillet.

When oil starts shimmering, add garlic slices; keep an eye on them and just as they start getting fragrant, add the red pepper flakes.

Stir everything around for another 30 seconds.

Toss in tomatoes, sprinkle with salt and pepper. Turn heat to medium-high; put a lid over the pan and step away for about 5 minutes.

Come back and give the tomatoes a stir; they should be releasing their juices by now—if not, cover the pan, and walk away again.

Once there's a decent amount of tomato juice, add basil. Stir; cover pan again, letting it sit for another 5 minutes or so. (If you want to add spinach and/or shrimp, now is the time to do that).

Once tomato sauce is at a consistency you like, uncover pan and let it simmer until you're ready to serve.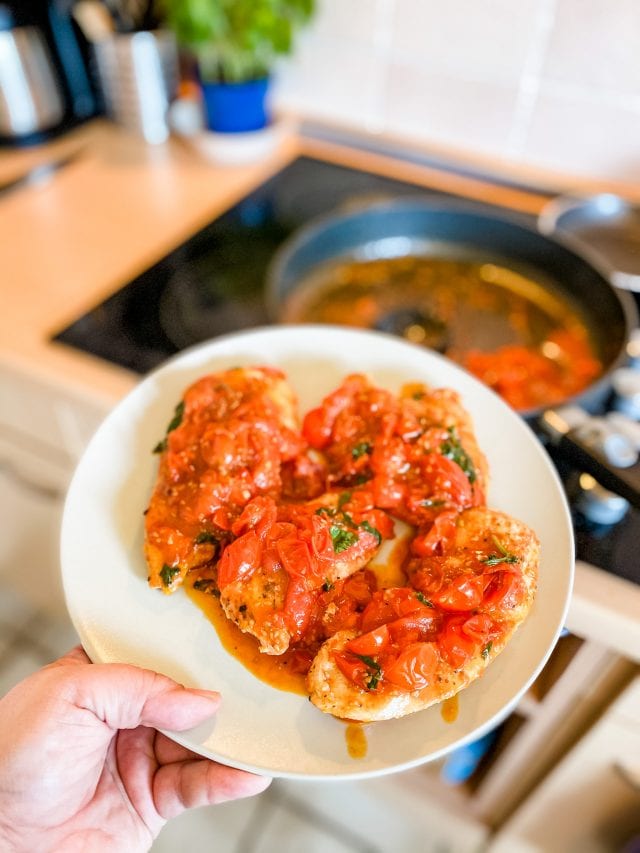 If I'm making this with chicken breasts I'll pound them out thinly, brown them before making the sauce and set them aside. Then, while the sauce is cooking I'll wedge the browned chicken in with the sauce, spoon the tomatoes over it and let it continue cooking.
I like this cherry tomato sauce a little bit runny, but my husband likes it to be thicker, so it's totally up to you how long to let it simmer. Also, if you're worried about the heat level, don't be. The red pepper flakes help balance out the sweetness from the tomatoes.
Tools you Might Like
This simple cherry tomato sauce comes together in well under thirty minutes, making it a super fast dinner. If you want it to be extra easy, make sure you have the right tools to get the job done.
I use Flexible Cutting Mats for everything. They're huge time savers. If you've never used a glorified Tomato Knife before, get ready for it to change your tomato-slicing life. Toss everything in a completely nonstick (and lifetime guaranteed) skillet; washing it is a dream come true. Skip the hassle of cutting each little itty bitty tomato in half with the Close and Cut Set—an actual game changer in the kitchen. AND use it to slice your giant chicken breasts in half, too! This oldie, but goodie is a favorite in the kitchen; add your garlic clove to the Garlic Press with the skin on, and watch it work it's magic.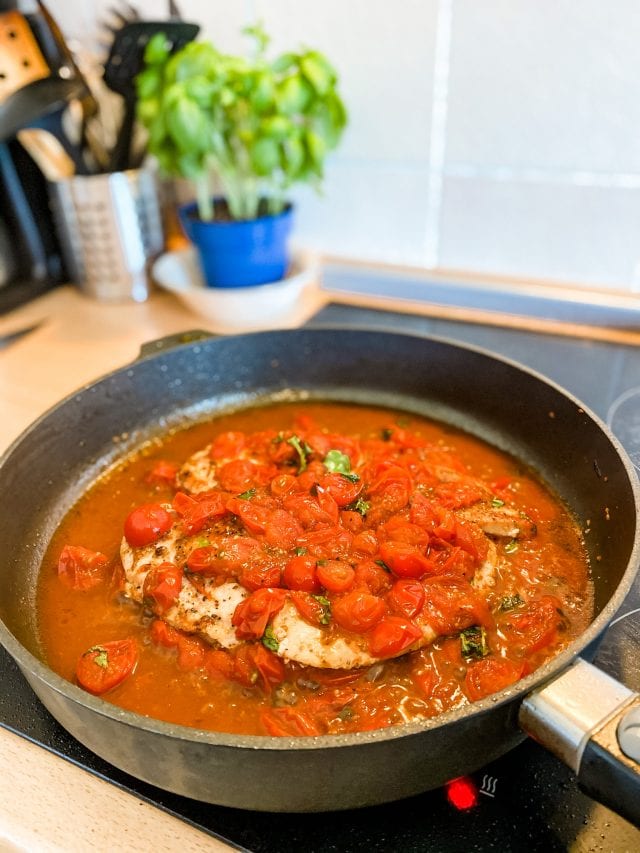 Let me know how you try this in the comments; we're always open to new ways to enjoy this tasty and simple cherry tomato sauce.
buon appetito 🙂