A Day in the Life of a SAHM
Yesterday I shared what I do with you (I'm a writer and a stay-at-home mom), but even though I've had this new role for eight months now, I feel it'll always be a work in progress. I still find myself longing for my past freedom and I miss interacting with other adults all the time, but on the flip side, being home with my daughter all day is a blessing I don't want to give up anytime soon.
When I saw one of my favorite bloggers post about a new link-up, I knew I wanted to join. Scattered Seashells (along with The Pearl & the Pilot and House 6) are chatting about different SAHM topics for the next four weeks, and I'm joining in for their first round. Fitting, since this has been on my mind.
What is your typical daily routine/schedule like?
Full disclosure: life these days is pretty fantastic, because my husband is home more often than not. Not just just "home" as in, in America and not deployed, but home as in home. He's going through training right now and his schedule is AMAZING. It's basically the opposite of when we were in Italy, so he's home a lot. We're spending this extra time working on a lot of house projects (you'll see a sneak peek of one below). Since this isn't our totally typical routine, I may do one of these day-in-the-life posts next year when his schedule gets back to normal.
Anyway, I'm taking a spin on their first question by showing you our daily schedule. I'll break it up into segments, because that's how my day runs.
My day sometimes starts pretty early. Julia usually wakes up anywhere between 4:30 am and 7:30 am, so I usually nurse her, then put her back down. If she wakes early (4:30 am, for example) she'll usually go back to sleep for a few hours. I tend to get up between 6:30 and 7:30, and that's when I get my work on (reply to emails, finish writing posts, schedule tweets, etc.) My husband typically makes breakfast, and Julia hangs out with him in the kitchen (if she's up). Depending on the day, he'll take Julia and Bella for a walk, so I'll either continue working on things or take a shower during that time. I also nurse her after she gets up for the second time in the morning, and then we give her breakfast (usually a puree of some sort).
Only very, very recently did Julia start napping for more than 45 minutes at a time (HALLELUIAH!!!), so now we get more things done during her naps. It only took 8 and a half months for her to realize how fabulous naps are! Today we worked on a house project during nap time and I prepped lunch—fajitas. (And yes, those are onion goggles in the last photo, and yes they work; I'm making a sad face, because I'm sad onions make me cry if I don't wear the goggles.) Since Kenny's at work during dinner, we usually have a larger lunch and then leftovers for dinner.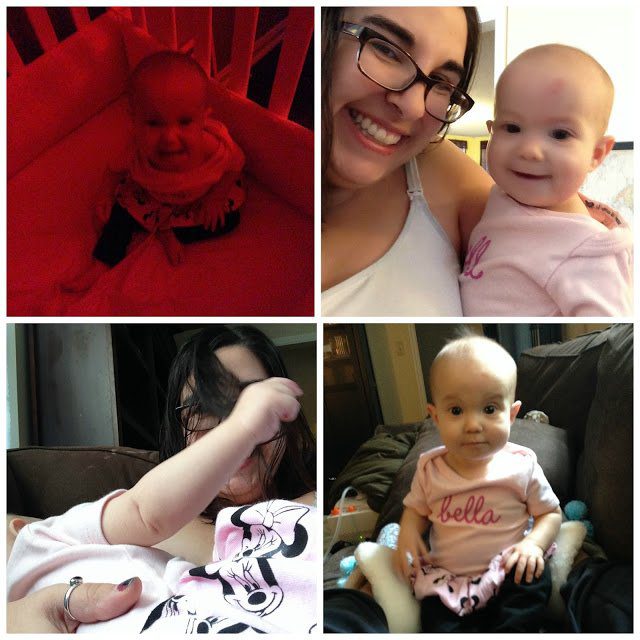 She was a little on the cranky side after this nap, because I didn't pick her up right away. Someone was not into this photo blog and didn't want her picture taken. After nap time I change her diaper (no pictures of that…you're welcome), nurse her (we're doing some breastfeeding gymnastics these days), and we hang out until lunch is ready.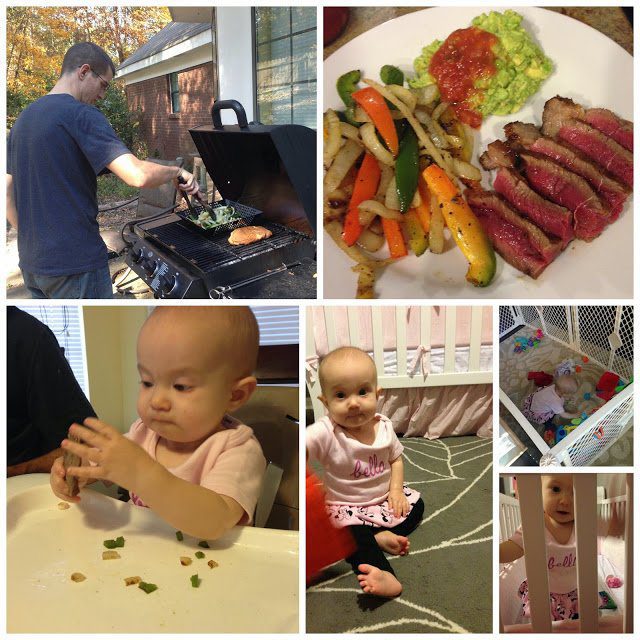 We turn to the grill a lot because it's delicious and fast, so Kenny's usually out there cooking while Julia and I finish prepping the meal; we also play and let her crawl around. Today we had deconstructed (i.e. paleo) fajitas. Julia had some, too—steak is her favorite. After lunch was more playtime for Jules.
During her next nap I cleaned up from lunch, watched The Chew, did some laundry, shaved my husband's head, and wrote the last four paragraphs 🙂
Once it's time for my husband to go to work, I like to get out of the house (if we didn't get out earlier). It breaks up the day and it's nice to just get out. I had some errands to run, so we hit the stores!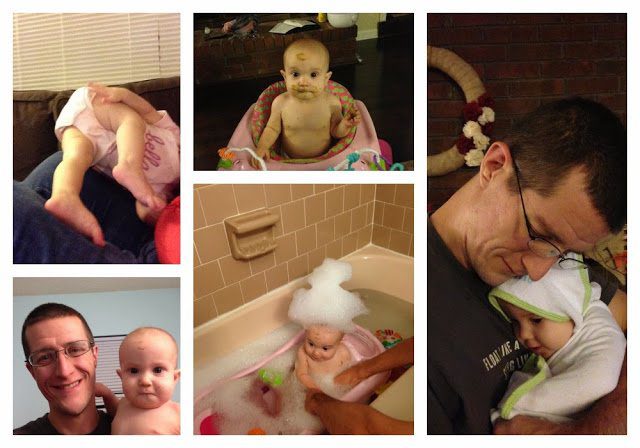 It's nearing the end of our day, so it's time for some breastfeeding gymnastics followed by some more dinner for her. If my husband is home he usually feeds her (puree or whatever we're having for dinner), and then gives her a bath about an hour later. I bond with her by breastfeeding, so they bond with father/daughter time. I LOVE listening to the two of them during bath time. It's basically the best part of my day. After she finishes her bath I nurse her again, give her a few extra ounces in a bottle and then she's off to dreamland. Then my husband and I catch up on TV and kick our feet up until it's time for me to pump and head to bed.
And now I'm tired, because it's 10:15 pm and it's time for this day-in-the-life post to be over!
What things do you do weekly/monthly in addition to daily?
Well, nothing yet. My husband's schedule will change in the new year, so once that happens (he won't be working afternoon/nights), I plan on joining some mom groups and joining a gym. Julia needs socialization with kids her age just as much as I need to make some new friends. Oh, how I need to make some friends out here!
How does my husband's schedule impact my daily routine?
It hugely impacts our routine. Right now his schedule's all over the place, but he's mostly home during the day and goes into work in the afternoon/evening. We all hang out during the day and have a larger meal for lunch since we're all together then. I'd like to join some groups and do some more outings (like I mentioned above), but since he's home, I want him to spend time with Julia since he gets home from work when she's already asleep for the night.
How do you balance having a clean home and making memories with your children?
Oh!!! Let's talk about the first one. This was a HUGE weight on my shoulders. I was dreading not living in a hotel anymore after the move, because I know we're messy people. Not only that, but we now have hardwood floors and dog that sheds A LOT. With a little one crawling around and putting everything in her mouth, I knew I'd have to sweep and clean daily and simply put: I knew it wouldn't get done, but it had to, so I was stressed.
My husband and I talked about it and our only options would be to A) hire some house cleaners or B) get a Roomba. We splurged and bought an iRobot Roomba 770 Vacuum Cleaning Robot for Pets and Allergies
and I am IN LOVE. Oh, so in love with it. We run it once a day and it does its job and cleans the floor. No more dog hair, no more leaves that the dog brought in, no more food scraps in the kitchen; it's all clean! Now I just have to worry about doing the laundry and keeping the rest of the house clean. I will absolutely be blogging about this later, so look forward to that post. I haven't been this excited about an appliance in a very long time.
The other routine we've started is straightening up the house after Julia goes to bed. Once I put her down I (and if my husband's home then he helps), we clean the kitchen and run the dishwasher (I didn't have a dishwasher in Italy, so I'm LOVING it here!). Then we pick up things in our living room (toys and random things mostly), just to make it liveable again for the next day. I'm actually not stressed about the cleanliness of our house right now, which is an amazing feeling.
As for making memories…
She's honestly still too little now, so we're figuring out what we want to do in the future. We have a lot of plans 🙂