Cruising in Europe: Santorini, Greece
Bari, Italy
Corfu, Greece
When my parents told me we were going on a cruise to Greece I was beside myself. Greece was always one of those places that seemed magical…so dreamy that I never imagined I'd ever get to visit. The photos of pristine homes with white facades and the many shades of blue hovering behind seemed too good to be true. Santorini—the name alone sounds exotic—promised to be a once-in-a-lifetime stop, and I couldn't wait to get there.
The morning we coasted into Santorini was gorgeous and very warm; too hot for a September day. Since the town, Fira, is situated at the top of a hill, cruise ships have to dock at sea, then you board a smaller boat that takes you to land. That's when the fun really begins.
Once you finally reach land, you have to figure out how to get up to the top with one of the two options available: squeeze yourself and about seven other sweaty people into a tram that goes up almost completely verticle or get your butt on a donkey and let it haul you up the mountain.
Now, I begged and pleaded to go the donkey route; I mean, how many times in one's life will you be able to ride a donkey in Greece? Unfortunately, it's apparently "not a wise decision" to ride a donkey up a very steep hill when you're six months pregnant. I'm still a little bitter, clearly.
Forced to go the tram route, which in the end was faster and less stinky, my mom and I arrived at the top famished. We could've looked for an off-the-beaten path lunch spot, but when this pregnant girl was hungry, hot, and starting to get irritated, you really didn't want to mess around searching for a place to eat. There was a great looking spot overlooking the water and just steps away from the tram. Bingo. The service wasn't all that great and there were people smoking all around us, but the food totally hit the spot. The pita bread was crisp, chewy, and melted in my mouth. I wanted to stuff myself silly with the tzasiki sauce, and my mom practically chugged her Greek cocktail. We were off to a good start.
Then our Greek salad came. Oh, my goodness, it was DIVINE. So good that we actually bought a second one and devoured it, trying to savor each bite as best we could. It was so fresh and crisp that every individual flavor lingered on our tongues and intermingled with the other ingredients. I think the feta is what made it—fresh Greek feta is possibly the most delicious cheese there is (until I have a taste of another fresh cheese, of course) There wasn't a spot of lettuce in our bowl: it was composed of giant chunks of cucumbers, ruby red tomatoes, red onion, green peppers, kalamata olives, the feta, and a simple oil and vinegar with a few seasonings thrown in. I've made this dish several times since then and it's never come out quite right.After my tummy was satisfied, we started walking around and took in the town. We decided not to do any of the special excursions, because I wanted to just wander around. Plus, the only excursion our cruise offered that didn't involve lounging at a beach all day, was climbing up a volcano, and as much as I'd love to do that now, I didn't find the allure while pregnant.
Honestly, I was a little disappointed with just how many tourists were around in Fira. I mean, I understand it's a tiny town, but I couldn't imagine what it'd be like in the summertime with multiple cruise ships docking there, it must be a mad house! I tried to go off the beaten path so I could see some of the views I envisioned. Every time I saw something "so Greek" or something that looked like photos I'd seen, I got giddy. You could say I got a little click happy, too:
The different hues of blue everywhere were simply stunning. It was just how I pictured it.
When in Greece there are also few things you must do: Eat a gyro, get some Greek yogurt, and have little fish eat your feet. Okay, so the third thing actually doesn't have anything to do with Greece, except that these "fish spas" were all over the place. Basically, (and I'm quoting from the actual sign here) a "fish spa" is
"a natural pedicure method that leaves your skin healthy and rejuvenated. During the treatment, the Garra Rufa fishes nibble and suck away the dry skin from your feet. Your feet will feel amazing, refreshed, and healthy. Garra Rufa can also stimulate acupuncture points, helping to rejuvenate the nervous system, relax the body, and release fatigue. Your blood circulation and flow is also greatly increased during the treatment. the fish have no teeth, so the treatment works by them gently licking and sucking away the dry skin. In addition, the fish cannot transfer any diseases to humans. You will pre rinse your feet before you enter the tank. The water is sterilized and constantly changed, ensuring the utmost hygiene."
Like I said…when in Greece.
Unfortunately, pregnancy got the better of me and I stayed on the sidelines while my mom had her feet attended to by the fish. I'm not gonna lie: her feet were VERY swollen from walking around all day and these fish worked their magic, because the time they were done, her feet were back down to her normal size!
But back to the other two things on the Greek must-do list: Eat a gyro and get Greek yogurt. Check and check.
The gyro was delicious and it had fries in it, so…bonus! The yogurt was divine for several reasons: 1) It was about a million degrees outside and I thought I was going to pass out from the heat. 2) I couldn't remember the last time I had a self-service yogurt bar. 3) I filled that sucker up with all sorts of toppings. 4) Oreos.
The worst part of my day was the trek back to the boat; I really didn't want to leave.
Knowing I'd have to take the tram back down, along with the thousands (okay, probably just hundreds) of other travelers, I picked up souvenirs along the way, and winded my way back along the tiny Santorino paths, then stood in a very long line to take the ride back down.
Once down, I looked longingly at Santorini fading in the background and wished I had more time to spend there. The day went by extremely fast and I didn't get to explore as much as I wanted to. I vowed to go back some day.
Thanks for hanging with me; I know that was a pretty long post. I have a few more places to recap before I can wrap up our cruise adventure; I'm slowly, but surely, getting through it!
******************
So, if you've made it this far, please join along in this Fresh Face Friday Blog Hop! I'm featured over on Casey's blog today (love her!), and she does this awesome hop every Friday!
Welcome to the
FRESH FACE FRIDAY BLOG HOP!
No prompt, just fun!
Rules for hopping:
1| Follow your host & co-hosts (first 3 links), pretty please!
2| Link up your blog's homepage or Bloglovin' page.
3| Hop around, meet new bloggers, and leave them love!
4| Have fun? Spread the word and share this blog hop with your friends!
5|
Want to be a co-host?
Click here
for more info!
Grab a button and share the blog hop love!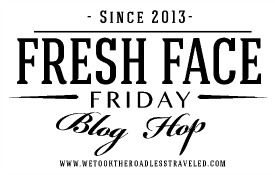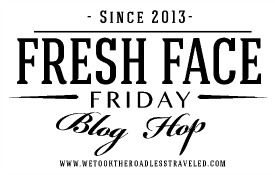 Tweet about this blog hop!
Tweet
!function(d,s,id){var js,fjs=d.getElementsByTagName(s)[0],p=/^http:/.test(d.location)?'http':'https';if(!d.getElementById(id)){js=d.createElement(s);js.id=id;js.src=p+'://platform.twitter.com/widgets.js';fjs.parentNode.insertBefore(js,fjs);}}(document, 'script', 'twitter-wjs');