Two craft posts within a week (see my DIY Burlap Wreath)? Crazy, I know! Know what else is crazy? Christmas is TWO weeks from today, so I really wanted to get this up ASAP in case you need some last minute decor up in your casa.
Now about how I made this, because this is the really cool part. There's one thing you should know about me: I can't draw. I know writing isn't drawing, but I have horrible penmanship all around; my handwriting seriously looks worse than if my 9-month-old daughter scribbled something.
So how in the world did I make this look so gosh darn awesome? Two words: carbon paper.
Make your own DIY Christmas Canvas Art!
I opened Photoshop and set the image size to the actual canvas size that I was working with (22″x30″, I believe), and then picked what fonts I wanted to use (Bombshell Pro and Mossy), and played around with different hues.
From there, I typed out what I wanted to say so it would be the actual size when I printed it out. Which leads me to the next step: I printed it out. Then, I taped the pages down where I wanted them to be on the canvas, placed a piece of carbon paper underneath, and started tracing the letters. Easy. Peasy.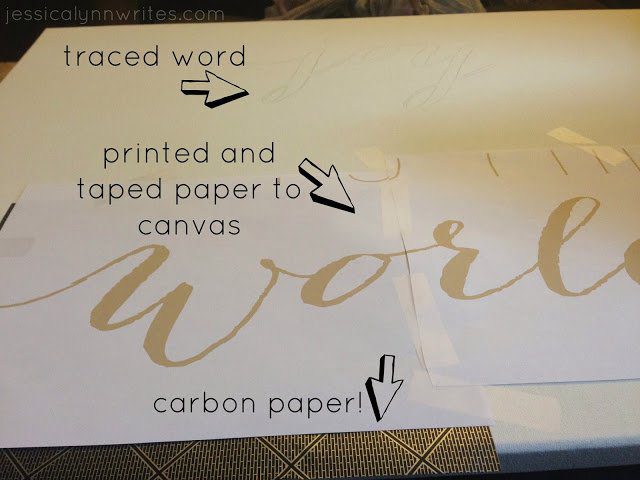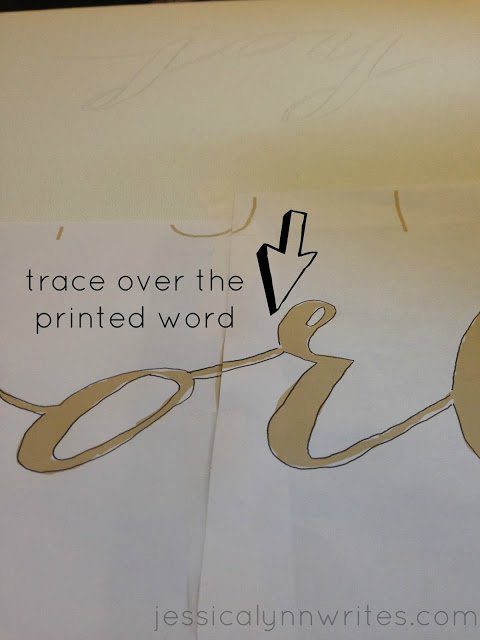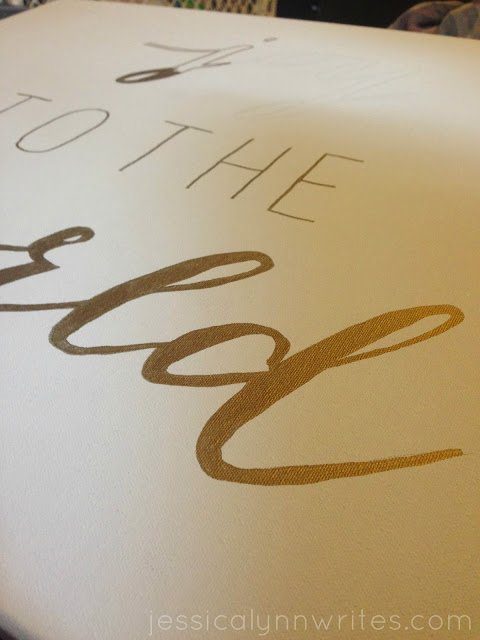 this is upside down because I'm left handed and didn't want to smear it along the way!
Once the tracing was complete I started filling in the letters. I almost went with acrylic paint or paint pens, but I found metallic Sharpies for half the price, so that's what I used.
The whole thing set me back $15—at most—and now I have enough carbon paper to last a lifetime and three colors of metallic Sharpies. I'm already dreaming up more projects now that I can "draw" and "write" basically anything I want on canvas. I know this may sound silly, but I'm thrilled with how this looks and I often catch myself just staring at it!
I have to be honest, this is (possibly) half finished. I have plans (and the stuff for it) to add stenciled glitter snowflakes, but I don't actually know if I'll get around to adding it this season. That's kinda how I roll with
crafts; I'll start them and then sometimes not necessarily finish them. I'm also thinking about adding a layer or two of glitter mod podge to it so the whole thing will have a light shimmer. Luckily, I think this looks pretty good on its own, but snowflakes and glitter could add a certain pizazz.
What do you think? Should I just let it be or add a bit more oomph?
If you make your own DIY Christmas canvas art, what would you write on yours?