Want, Need, MUST Have! {december}
At this point in the game I really hope you've already made your list, checked it twice, and emailed it out to Santa (we both know snail mail won't make it to the North Pole in time). Just to add more confusion to the party, my sponsors are sharing their must-have, last minute items. Don't worry, if you want something on here, I have it on good authority that you can still squeeze it on your wish list (Santa still lives a few decades behind us, so if you can get yourself to a FAX machine, you'll be good to go) 🙂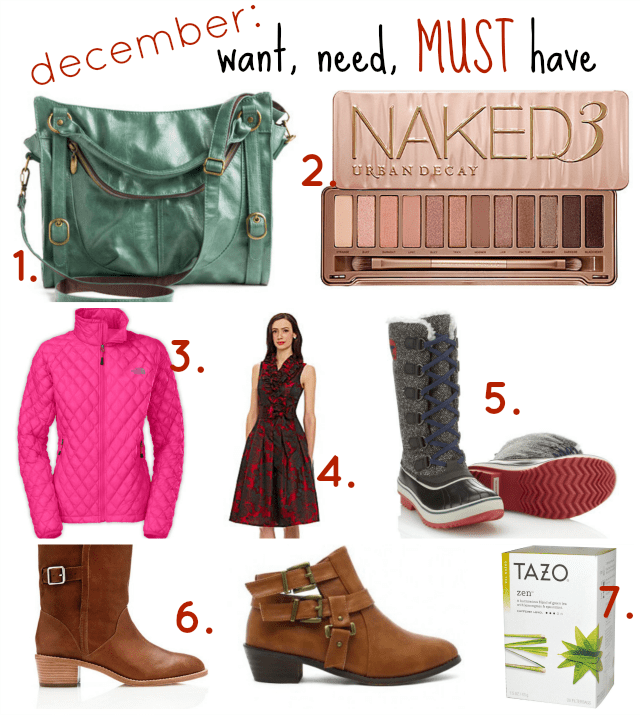 1. "I need this Searching For Sea Glass bag from Modcloth. I've
been using the purse I got for Christmas last year, all year long.
That's a long time for any woman! I love the color and if you could see
my house, I've got sea glass everywhere that I collected in Okinawa.
It's fitting." (Kara from Ramblings of a Marine Wife)
2. "I'm drooling over the new Naked 3 palette from Urban Decay. I have
the Naked 2 palette and love it, but I love that this one is full of
rosy tones! Once it's back in stock I'm totally snatching it up!" (Jess from Being Mrs. Beer)
4. "It's been awhile since I dolled myself up with makeup, curls in my
hair, makeup on my face, sexy shoes on my feet—ya know, the whole nine
yards. It's definitely been a very long time since I've worn a fancy
dress. This is one of those dresses that you just want to twirl
around in and I can tell that it would flatter me. So pretty! Maybe next
year I'll get it so I can wear it more than once." (Me from here!)
5. "These boots are way out of my price range, but it hasn't stopped me
from wanting them!! They look cute enough to wear with regular clothes
on a snowy day, but still warm and practical. Normally I dread the
first snow of the season, but this year we're going to take my son
sledding for the first time! Wouldn't these boots be perfect for an
afternoon on a sledding hill? (Callie from This Glorious Maze)
7.
"Temperatures are FINALLY starting to cool down here in El Paso, so I have to have my tea. My favorite is
Tazo's Zen Green
tea."
(Fran from Freeborboleta)
What are you crushing on this month?
Want to be included in next month's feature? Sign up for a spot here!