How to Meal Plan in Seven Simple Steps
If you're scratching your head wondering how in the world you can make a meal plan, I'm here to help.
I've been making a weekly menu for our family for years. When I don't make one my whole week just feels off.
Meal planning helps you produce less waste (because you always know what meals you're making and what ingredients you need), and it helps with your sanity since you aren't dealing with the dreaded, "what's for dinner" question a hundred times.
I'm excited to share the basics with you, and exactly how to meal plan in seven super simple steps.
How to Meal Plan
This is what works for our family, so be easy on yourself, especially the first few times you try this while you get into a groove. My husband and I typically sit down together and make our menu, and occasionally we get the kids involved in helping.
1. Cook what you know and be realistic.
If you're still learning your way around the kitchen, don't plan on making something new every night of the week. You'll get (literally) burnt out.
If you make killer quesadilla and grilled cheese, then add them to the menu. If you know you'll end up having a frozen pizza or call a cereal box "dinner" one night, then add that to you menu.
Once you get more comfortable with cooking, then start adding in new recipes.
On any given week we'll have two or three of our "regular" meals on the menu. They're easy to make and we know we like them, so they always make an appearance. I rotate them so we're not eating the same thing, but they're comfort foods for us.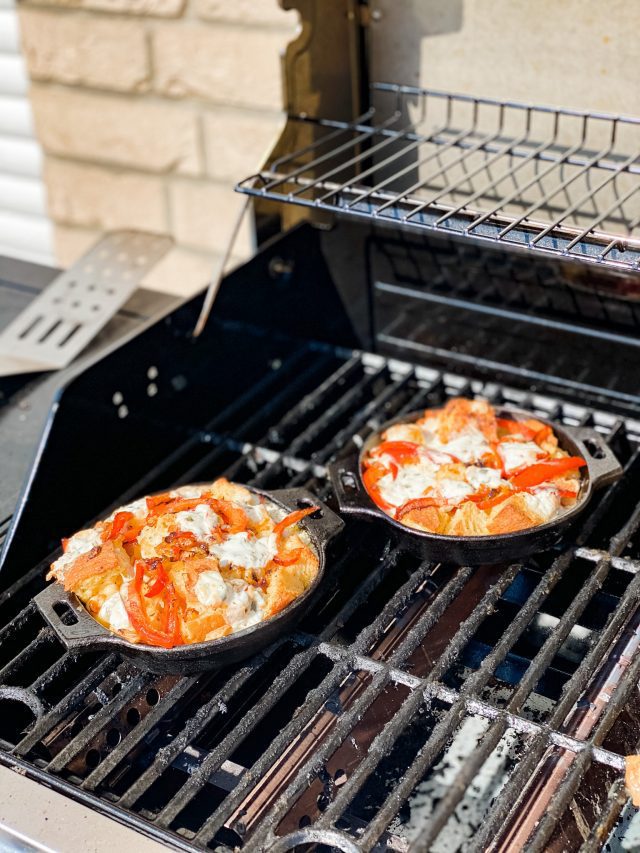 Once a week (on Sundays) we branch out and make something new. Sundays are slower days for us, so I can hunker down in the kitchen with the recipe while my husband watches the kids.
As for finding recipes, I use Pinterest and real, old-school cookbooks. I look for meals that sounds good, look good, and have good comments (I always scroll to the bottom of a posted recipe and read what other said about it.)
2. Look at the 7-day forecast.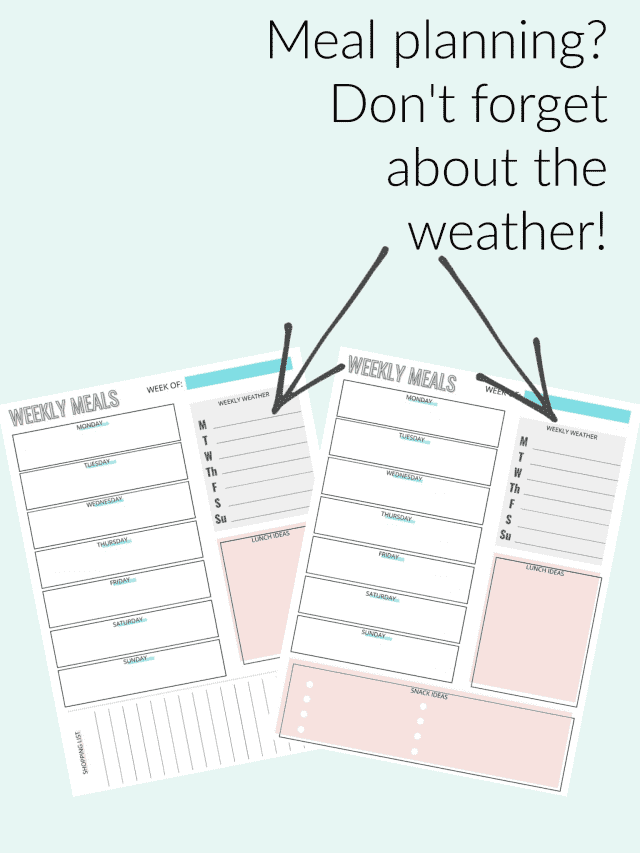 I always look at the upcoming weather and try to figure out what I'd want to eat based on the temperature.
I mean, who wants to eat a nice, cold, crisp salad when it's raining all day? Not me!
On chilly days I plan to use the crock pot or make a soup or pasta, and if it's going to be nice outside, we plan on using the grill. (And I really mean that my husband will be out there grilling.) I use the weather to help guide me.
I actually included a seven-day weather section in my free meal planning printables, so now you can see it up front and center!
3. Don't forget schedules.
Another key to making a great meal plan? Have your planners out and work around your schedules.
On nights when I know we're going to be busy I'll plan on making something simple, using the crock pot since I can get things going in the morning, or taking out a freezer meal in the morning.
Take your family's schedule into consideration. My husband often flies at night, so on those days we sometimes have dinner for lunch and then I'll either have leftovers or make something simple for myself later.
4. Write It Down!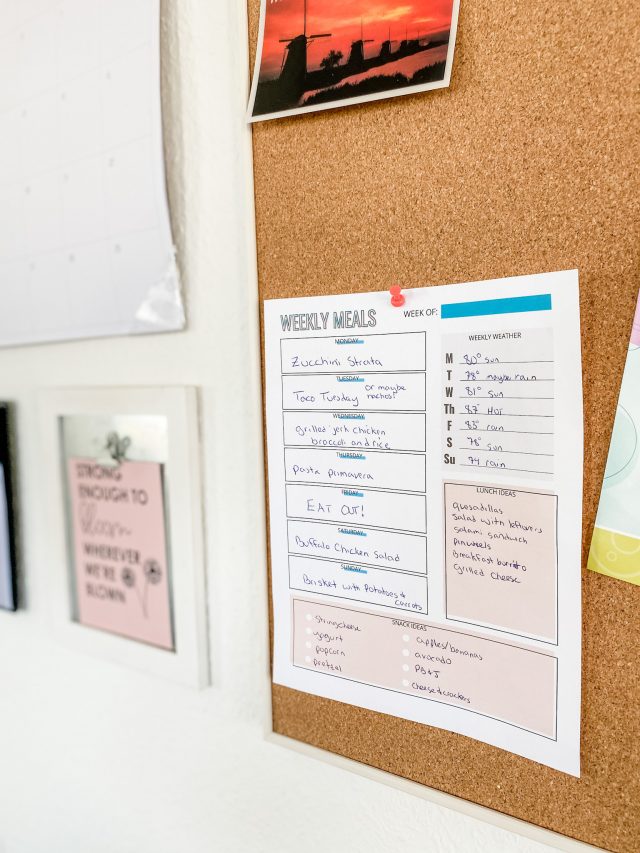 Keep a list of the meals your family likes so you know what they'll actually eat. Remember that not everyone has to love every single meal, but if the majority of your family eat something, put it on the list.
Also be sure to write down your actual weekly meal plan. I keep ours in two places: on my phone, and on an actual piece of paper.
I first write it down on a hard copy, and then it lives where we can all see it—keeping it visible (i.e. not under a stack of magazines) is important.
Once it's finalized I put it in the notes section of my phone. I like a copy of it there, too. That way, when I'm out and about I know what we're doing for dinner.
Having it in multiple places comes in much handier than you'd think.
Once you have a solid menu, you can move on to making your grocery list.
5. Make a list and check it twice.
We try to hit up the store once a week, after we've made our meal plan. There's nothing worse than starting to make your meal and realizing you're out of a key ingredient.
Once I make our menu I go through each recipe and make sure I have everything we need for it by making one long list. Take stock of what you have in your freezer, fridge and pantry before you go shopping.
I go one extra step and actually categorize my list to make shopping a breeze.
6. Be Flexible.
Stuff comes up; life happens, or sometimes a meal you planned for just won't feel right for that night, so be prepared to switch things up sometimes.
If I have a meal planned for one night—fajitas, for example— but notice the avocados are ripening faster than I thought, we'll move the fajitas up sooner in the week. It's okay to go off schedule; you can always make that meal another time.
[Tweet "Flexibility is key when meal planning. Make a plan, but don't be afraid to throw it all out the window!"]
7. When in doubt, go to Wendy's (aka…have a back up plan)
Let's be real: sometimes things won't work out the way you planned. Keep a couple super easy back up dinners on hand or in the freezer.
Having a frozen pizza on hand, the number to a local place for take out, or some pasta and jarred sauce in the pantry takes the pressure off, and gives you an out for the night if something totally fails.
How do you meal plan?
There you go! My seven steps for making a meal plan.
Don't forget to grab my printables to help make your meal planning a cinch!
I hope that helps some of you, and if there's something you do that makes your menu-making a breeze, please let me know!