So, we're officially into spring—are you guys grilling a lot? We're pretty big into grilling over here. Actually, scratch that. My husband's the one who stands over the hot grill while I'm inside fixing everything else up for dinner, and for that, I'm very thankful. I should actually probably learn the ropes so I can grill my own grub once he deploys.
We're keeping it simple this week, food-wise, since we have family in town, and because I'm still sleepy and (to be honest) not really in the mood to meal plan—a little girl of mine decided not to sleep very well last night. Send me all the coffee! Actually, now that I've made the menu, I'm pretty excited for our meals this week.
What we're cooking and eating this week:
Sunday: Eat out (family in town)
Monday: Eat out (family in town)
Tuesday: deconstructed fajitas and guac
Wednesday: Chicken salad (recipe coming soon!)
Thursday: orange chicken and cauliflower rice
Friday: spaghetti (squash) and meatballs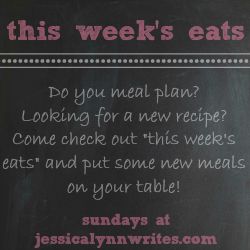 What are you cooking up this week?