Was it just me, or did last week just drag on…and on….and on…? I was ready for it to be Friday on Monday. Goodness gracious. And now, of course, the weekend flew by way too fast. I'm excited for this week, though, because at the end of it we're takin' a trip to Savannah! It's been a little over two years since we've been there, and I've been itching to get back. All the flowers are in bloom down here now, too, so I'll be sure to take my camera. We've been there a handful of times before, so it'll be nice to go and just relax and walk around.
I did a search on this ol' blog and realized I haven't really talked about my favorite place in Georgia. Consider "Savannah" now added to the long list of topics I have to share with y'all. It's a fantastic place with wonderful food. Have you been to Savannah before? We have our favorite restaurants, but I'd love to hear where you like to go.
Speaking of food, here's what we have planned for this week. (And 10 points for you if you know where that quote came from. Thanks to the husband for getting this week's eats up on the board!)
Sunday: Sweet and Sour Split Roast Chicken with roasted veggies (*new-to-us recipe from Primal Cravings)


Monday: Brisket with baked sweet potato (can't get enough of that brisket recipe, and it makes for fabulous leftovers!)


Tuesday: Baked Buffalo chicken thighs with sweet potato fries (the best recipe I've found for them so far)
Wednesday: cedar plank grilled salmon with veggies
Thursday: Clean-out-the-fridge night
Friday: …eating in Savannah, GA!


Saturday: …eating in Savannah, GA!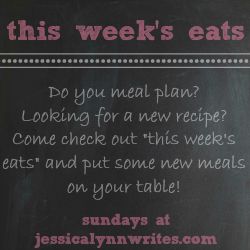 What are you cooking up this week?