Hey, y'all, sorry this is up late today. It is Easter, though, so hopefully you spent your time celebrating this joyful day with family.
We just got back from a weekend in Savannah, and I managed to stay off my computer the whole time. Go me! Our trip was good, but don't expect to see any pretty pictures of the city from this trip, because it rained the whole time. Thank goodness we've been there before so I didn't miss out on seeing anything. We walked around a lot and ate some really good food, so keep an eye out for some of those in my local eats series.
Now to the nitty gritty. We made our menu on the way home and it's basically a way to get back into paleo. Whenever we go on a trip we cheat, not that you can blame us since there's delicious food to try, but it's time to get back into the swing of things.
What we're cooking this week:
(no chalkboard for this post, because I'm too lazy to go write it on there now.)
Monday: Stuffed peppers and rice (ground beef with taco seasoning, diced tomatoes, extra onions and bell peppers mixed in, and some sort of rice pilaf)
Tuesday: stew (with rutabaga, carrots, parsnips, and celery root as the veggies)
Wednesday: leftovers


Thursday: grilled fish with veggies and avocado mango salsa
Friday: deconstructed burgers and sweet potato fries (y'all, these fries rock my socks off. I make up my own seasoning, though…hers are wicked spicy)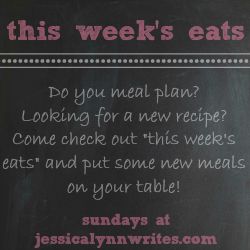 What are you cooking up this week?