Happy Sunday! My husband is currently making some strawberry and banana pancakes, my daughter's running around dropping Cheerio's everywhere, Bella's following after her and eating all the pieces she's dropped, and I'm here typing this while sipping my cinnamon coffee and listening to the rain fall outside. So far, today's pretty good.
We went a little off book last week when it came to meals (I was craving pizza one night instead of fish, so we scrapped the seafood and made some quick paleo pizza. It was awesome), but I think this week is looking tasty, and I'm excited for all of our meals.
Here's what we have planned:
Sunday: Spaghetti (squash) and meatballs. This didn't happen last week, so it's happening tonight—can't let ingredients go to waste!
Monday: Green chile stew. Using rutabagas instead of potato, and probably throwing in some extra veggies we have sitting in the fridge.
Tuesday: Eat out.
Wednesday: Almond Fried Chicken (from Food Network Magazine), and grilled/roasted asparagus
Thursday: Peppered Ahi Tuna and grilled zucchini
Friday: Steak, eggs, and sweet potato fries
Saturday: Sweet and sour roasted chicken (new-to-us recipe from Primal Cravings)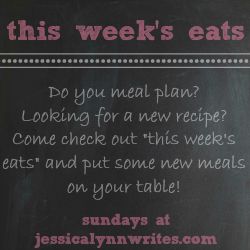 What are you cooking up this week?