I almost threw in the towel with this week's post. Not because we don't plan on eating, but because we're on vacation right now and will be for another few days, and who wants to think about stuff like meal plans while on vacation? Not this girl. But…we do need to eat, so we conjured up a modified menu. Go us!
Oh! I'm heading to Trader Joe's either tomorrow or Tuesday while the husband hangs out in his version of heaven: a woodworking store. We compromised and decided he can spend an hour there if I can hit up TJ's. (Clearly one of us is getting the better end of that deal.) So, tell me what to get there. I've browsed the store several times before, but besides picking up some Two Buck Chuck, I've never really bought anything. What's on your TJ's must-buy list?
Here's what we may eat this week:
Sunday: Gatlinburg, TN
Monday: some place delicious in Atlanta
Tuesday: Rotisserie chicken, probably
Wednesday: deconstructed paleo fajitas and guac
Thursday: chili dogs
Friday: grilled pizza
Saturday: no idea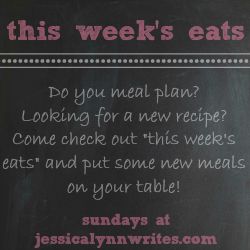 What are you cooking up this week?