This Week's Eats {mother's day}
I'm going to make this short and sweet, because waffles are about to grace the table in front of me any minute. My husband's a bit upset with me, though, because breakfast was supposed to happen in bed this morning—it is Mama's Day after all—but with a very….spirited one year old, I explained that breakfast in bed wouldn't be as relaxing as it sounds. Besides, Julia already gave me the best gift: instead of her usual 5 am wake-up, she got up today after 7 am! This mama got to sleep in today 🙂
Anywho, I'm getting back into the swing of things in the kitchen. I have a sitter watching the little one a couple mornings a week, and that's giving me a bit "me" time that I really need. No chalkboard pic today, because I'm going to spend the extra time hanging out with my family. I hope you have an excellent day and week!
*******************
Sunday: Surprise for Mother's Day (I have no idea what we're doing for dinner, but I'm excited to find out what he has up his sleeve!)
Monday: Crab stuffed mushrooms with brussels sprouts and squash
Tuesday: Loaded sweet potato skins with calabacitas (new recipe. I'm going to make "taco meat" and go from there!)
Wednesday: Cedar-plank grilled salmon with veggies
Thursday: General Tso's Chicken with cauliflower rice and broccoli
Friday: BBQ chicken and sweet potato fries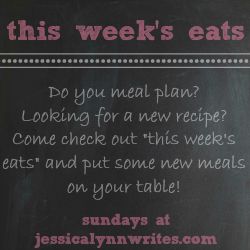 What are you cooking up this week?