Visiting Gatlinburg, Tennessee
My husband scored four days off over Memorial Day weekend, so we took advantage of his vacation time and went on a mini road trip up to Gatlinburg, Tennessee.
By disabling the "highway" feature on our GPS, it had us drive through The Smoky Mountains, which was absolutely breathtaking. We drove on a twisty, curvy road, and a canopy of green leaves welcomed us around every bend. I usually like reading on road trips, but the sights outside were too pretty for me to have my nose buried in my book.
I knew we were in for a treat when we hit the main drag into town. Gatlinburg is basically a family-friendly haven tucked away in the middle of The Smoky Mountains, and I was eager to experience the vibrancy of the city.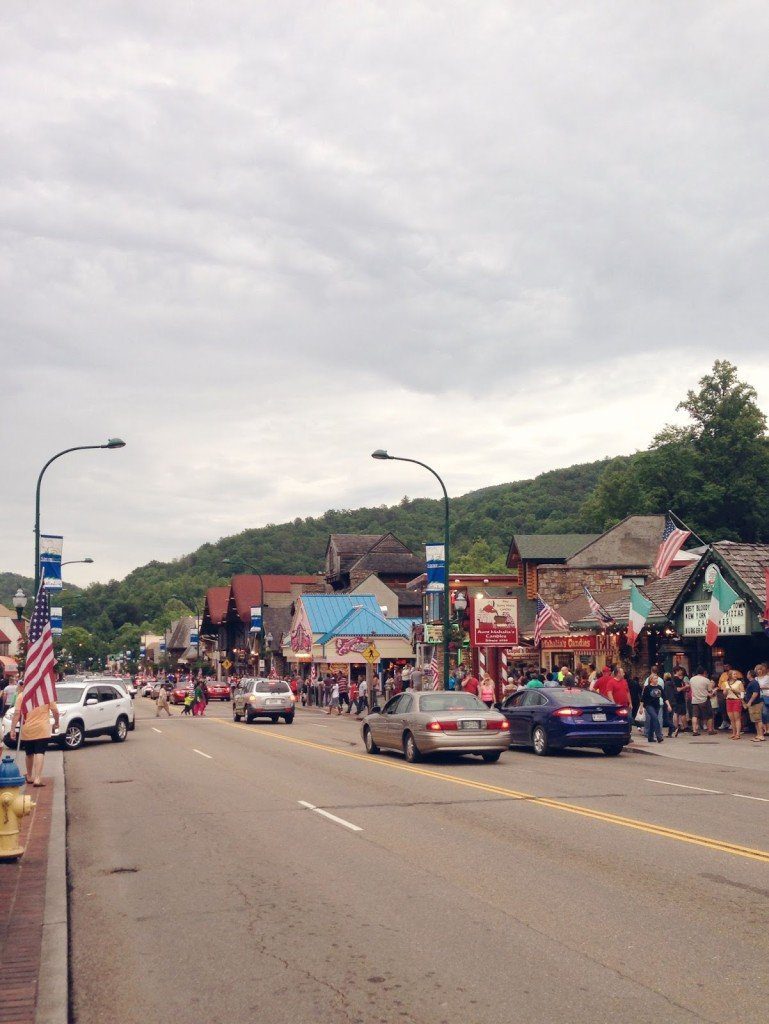 We arrived about an hour before Julia's bedtime, so we hit the ground running—or walking, rather. After checking into our hotel and grabbing a quick bite to eat, we walked about half way up Parkway (the main street) and window shopped to see what places we wanted to check out the next day. I soaked in the atmosphere and loved seeing so many families out and about. I also quickly learned that there are three things you need to know about Gatlinburg: pancakes, bears, and moonshine, and I can safely say that experienced all three over the course of the weekend.
Since Julia's an early riser, we took advantage and ate breakfast at local pancake houses before the lines appeared (and oh were there crowds). Pancakes houses are everywhere in Gatlinburg, which was a-okay in my book!
Over the course of the weekend we strolled up and down Parkway—Gatlinburg's main drag. We popped into shops that looked fun, smelled the sweet scents wafting out of the candy shops, and even played a few games at one of the arcades. Local musicians performed in random spots all over town, which made for an entertaining walk. I know I've already said it, but I loved seeing so many families everywhere. I'd like to think families flock to Gatlinburg even when it's not a national holiday weekend. There is a little something for everyone, which I think makes the town so appealing.
We put Julia in an umbrella stroller, which worked well for us. She loves people watching, so she had a grand ol' time. While she people watched, we got our drink on.
In Italy, we tasted wine before noon, but in Tennessee it's all about the moonshine. I wasn't about to complain about tasting this local favorite, especially since there were free tastings all over town. Most places had at least five different varieties for you to taste, and you could opt out of any flavors that didn't seem appealing.
Besides traipsing around the main street on foot, I highly suggest—time permitting—hopping in the car and seeing what's around Gatlinburg. Julia still takes two naps a day, and since we wanted to see the sites, we killed two birds with one car ride and let her nap while we got to sight see.
It was on one of these nap-time excursions that we saw a real live bear! Black bears are on everything from park benches to coffee mugs in Gatlinburg, and now I know why. I heard fantastic things about the Cades Cove drive, but we decided to do one a bit closer to town, so we did the Roaring Fork Motor Nature Trail. It's only five miles long, but the one-lane, 10-mph, one-way road takes about an hour to do the drive. The next time we go I'll plan out more time (and wear better shoes—flip flops won't cut it), because there were hikes and trails that will take you to see all sorts of gorgeous waterfalls.
Close to the end of the drive, we noticed that all of the cars ahead of us were stopped and people were jumping out of their cars. Eager to see what the fuss was all about, I grabbed my phone and hopped out. They were all looking up towards a cluster of trees, and then I finally saw what they were gazing at: a bear and her three little cubs!

To say I was excited is an understatement.
On our last day there, it started to rain in the afternoon, so we figured that would be a good time to hang out inside. Ripley's (Believe it or Not) attractions are scattered throughout Gatlinburg (mini golf, 3-D movie theater, Guinness World Records, Haunted Adventures, etc.), but our 15-month old goes ga-ga over animals, so we checked out their aquarium and had a blast. (By the way, they offer a sweet 50% off discount for active duty military and 30% off for dependents). The aquarium was packed with different varieties of fish that I haven't seen at most other aquariums, the staff was eager to make sure you were enjoying your time there, and the exhibits really seemed intentionally geared towards kids. It was the perfect way to spend a rainy afternoon.
All in all, we really enjoyed Gatlinburg and I'm already thinking of going back up in the fall (when the heat isn't atrocious and the leaves are all changing).
Where To Stay:
I was surprised at the lack of big-name hotels right smack dab in the middle of Gatlinburg. There are chains in the next town over, Pigeon Forge, but most hotels in town seemed more local.
We stayed at Greystone Lodge at Ripley's Aquarium (ask for a room in the main building, because they've been recently renovated) and it fit the bill for what we needed, plus it was at the edge of "the strip," which was perfect for walking.
Things To Do:
Ripley's Aquarium of the Smokies:
I already mentioned it, but if you have some extra time, and some fish-loving tots, this is a must-see spot. My daughter actually started saying "fish" after a few exhibits, and she got to touch a crab, shark, and a stingray. Oh, and you can get face-to-face with penguins.
Ripley's Believe It Or Not:
The Ripley's franchise is all over Gatlinburg. Everywhere we looked there was something with the Ripley's name on it, and if we had older kids we probably would've spent a lot of money checking out their attractions.
Bush's Best (Bush's Baked Beans Visitor Center):
This was about 40 minutes outside of Gatlinburg, but we had some time to spare (i.e. during a nap), so we drove out there. There's a small interactive museum, general store, and a little café. It was a random adventure and I'm glad we went.
Scenic Drives:
Again, I mentioned this already, too, but if you want to see some pretty nature (and you need some time to let a baby nap), a scenic drive is a great option. Cades Cove, I heard, allows you to see a lot of animals, but it's a little farther away from Gatlinburg. We found a trail just out of town that worked well for us (turn towards the mountain at light #8 and follow the signs!).
Walk "the strip": I kept alluding to the main street in Gatlinburg as "the strip," like in Las Vegas. It was just fun to be out with everyone else. The sidewalks were packed with people of—literally—all ages. I'm curious if it's always that busy or if it's just because it was a holiday weekend. Either way, I loved it.
Good Eats:
Crockett's Breakfast Camp:
This place just opened up a month and a half ago, and I reckon it's there to stay. We ate there on our last morning and I only wish we ate there at the beginning, because I would've made it a point to visit every day. I was drawn to the restaurant because of the ginormous cast iron skillet outside, and knew I picked a winner when I walked inside. It's themed—Davy Crockett style—but not in an overdone way. The menus are printed on newspapers and it feels like you're eating in a log cabin. The food is top notch. I highly suggest the pancakes; they're huge, fluffy, and absolutely perfect.
Smoky Mountain Brewery:
Good food, good beer, good atmosphere, and it's a little walk away from the main road, in case you want to stray away from the hustle and bustle.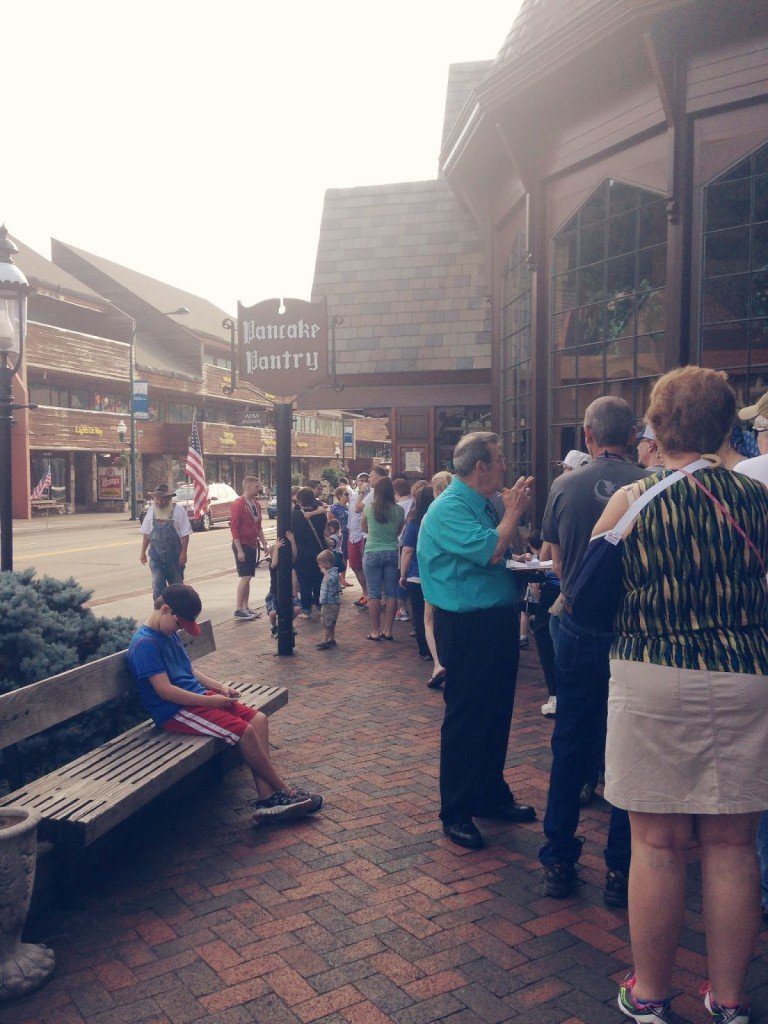 Pancake Pantry:
If you're a fan of pancakes (and even if you like the savory side of breakfast) make it a point to stop here. With more than two dozen varieties of pancake options (and non-flapjack choices), you're bound to find something good to eat. Tips: 1. Get there early otherwise you'll be stuck in a long line. 2. Bring cash—no credit cards or checks are accepted, but there is an ATM inside the restaurant.
Other places: Mellow Mushroom (a somewhat-southern chain) has good pizza and a fun atmosphere. Dick's Last Resort (another chain) has cheeky waiters (who basically treat you like dirt, but in a teasing way) and is a fun place if you're either there without kids or if your little ones are (really) young.
Have you been to Gatlinburg? I'd love to hear about your experience!