Declassified: The First Three Months
Soooo….I'm pregnant. Was that a shock to anyone else or just to me? I'm going to share how I found out and how I told my husband later, but for now I just want to talk about the last three months. It turns out it was a lot harder to keep things a secret this time, mostly because I wanted to tweet about how miserable and tired I was during the first trimester. Was I grateful, thrilled, and over-the-moon happy about being pregnant? Of course, but being pregnant while chasing around a toddler all day was/is night and day different than when it was just me.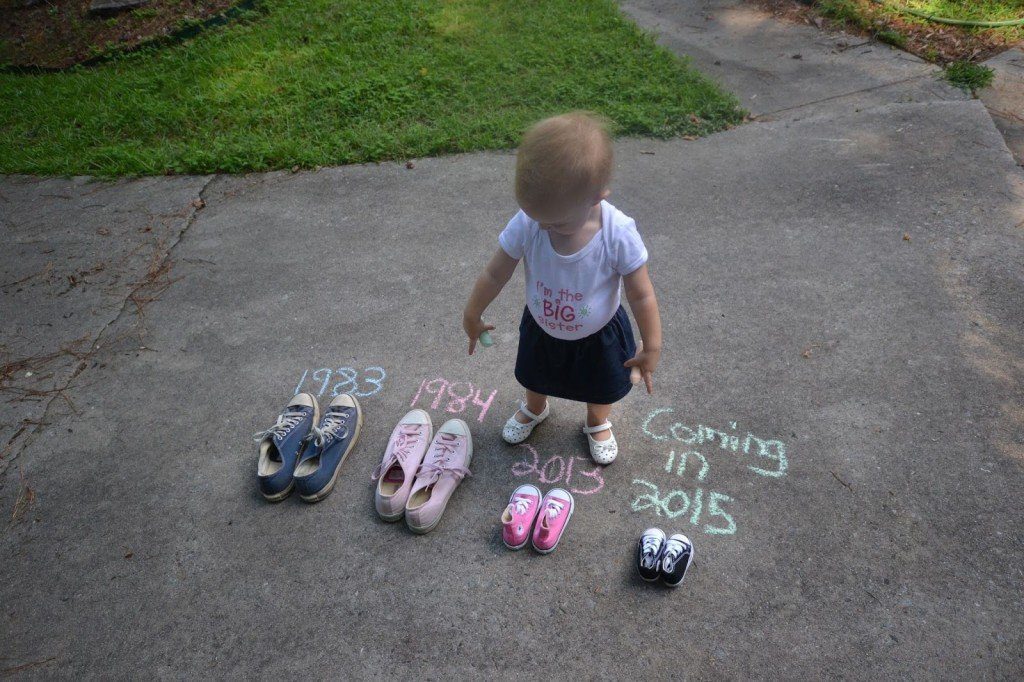 This is the picture we put on Facebook for our announcement, which is a play on our first announcement. Funny story about the shirt…I made it! I looked everywhere for a Big Sister shirt and couldn't find one anywhere (besides online). Yesterday I was at Target and now they have some in stock. Go figure.
Because I'm still having a hard time coming up with coherent thoughts, here are some random bits of things on my mind:
My first inkling that something was up should've been the fact that I had no desire to plan meals anymore. Did you notice that the This Week's Eats link-up sorta just fizzled. Yeah, I noticed that, too, only it didn't click. (Red flag number one.) It started clicking that something was different when I needed carbs in my life more than veggies and meat. After successfully eating paleo for a good part of a year, I just couldn't do it any more. (Red flag number two.) I felt sick all the time and nobody else in my family had any sort of a bug. (Red flag number three)
When I went to the doctor for the dating ultrasound, I thought I was
eight weeks along…only to find out that I was really six weeks.
Getting set back by two weeks really threw me for a loop. I felt sick
before I even tested, so it seriously felt like I would be stuck in the
first trimester forever. I was exhausted (napping every time Julia
napped and not getting a single thing done around the house) and
couldn't eat because I felt so sick (but had to eat—it's a vicious,
stupid cycle), and just felt gross. Thank goodness my nausea lifted
about a week after my husband left. That was a really tough week, but I think we're on the upside now (knock on some wood with me, please).
Our kids (AH! Kids! Plural!) will be 23 months apart—almost to the day. And if this one is a week late (like Julia), it'll be born on Valentine's Day. Although, I think 2.15.15 would be a cool birth date too. I originally thought my due date was January 25, which is one day after my birthday. That would've been cool, too.
I've had two doctor's appointments so far and I'm in the process of switching practices. Well, more than "in the process" since I've already made the switch. I have my next appointment at the new place next week. Tricare actually made it somewhat easy for once—thank goodness. I just wasn't feeling a good vibe at the original doctor/midwife office, but after stepping foot in this new place, I feel like I made the right decision.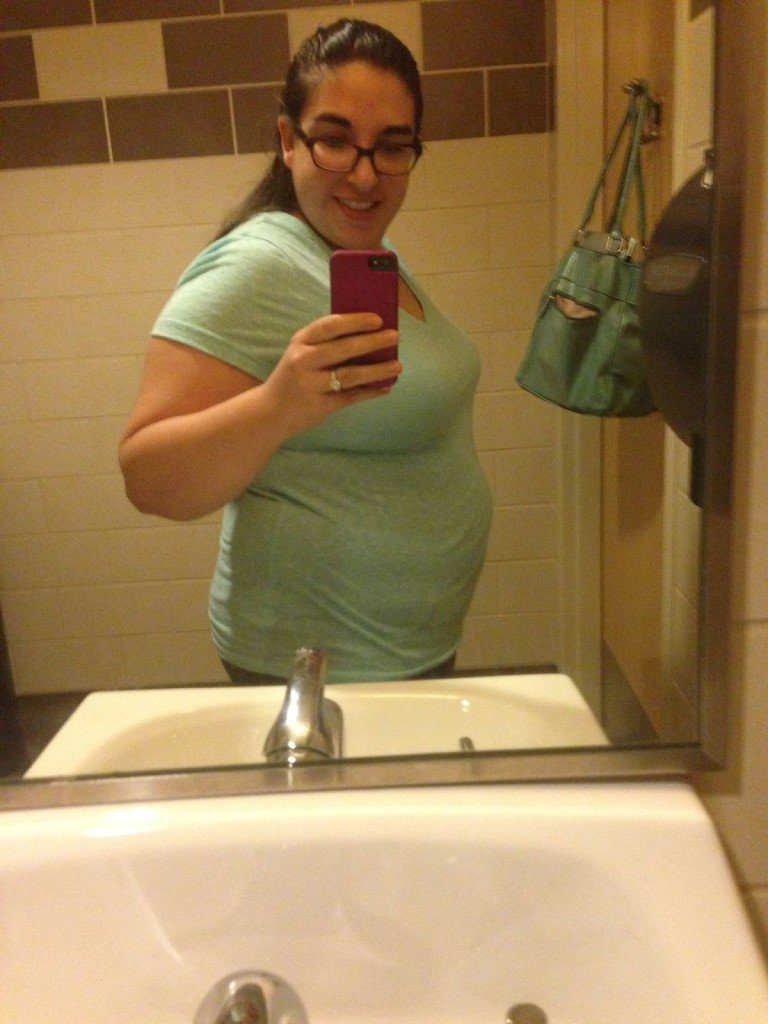 12 weeks
I haven't decided how I'm going to do bumpdates and letters this time around. To be honest, I contemplated not doing them, but my husband reminded me that going all out for Julia and not the other kid(s) isn't really fair. I see where he's coming from, but it definitely won't be as elaborate as last time. I just simply don't have the time or energy, and those took a lot of effort. I'm also still in the totally frumpy stage where nothing fits and I don't feel like I look pregnant yet; I just feel gross. Do you still get the glow for second pregnancies? I hope so.
My husband comes home from his deployment when I start my third trimester. I can't tell you how much I miss him. He's the most amazing partner and I mean that in every since of the word, especially because he takes his roll as a father seriously, and goodness gracious, I miss him and his help around here. I will say that the next time (if there is another baby after this) he knocks me up and then deploys days later, I'm going to hire a live-in nanny. Solo-parenting while pregnant with a toddler is HARD. My hat goes off to all the moms out there who I know have been in my shoes before—and most with more kids than just the one.
Cravings. Last time I craved all things sweet. This time I want anything and everything tangy, sour, tart, and spicy. Mustard, pickles, swiss cheese, jalapenos, vinegar…bring. it. on. I've also craved greens. One night I had to have broccoli with lemon, so I went out and bought just that (and a donut, if I'm being honest). One morning (like at 9 am) I craved Flaming Hot Cheetos, so I went to Target and only bought a bag of those chips. The other night I needed a salad from Olive Garden (no other place would do), and yesterday morning I needed a green smoothie. It was easier to go to Panera Bread than it was to go to the store and get the ingredients I needed. (Don't worry, I went to the store yesterday afternoon and stocked up on all things green and healthy. I'm currently drinking my own homemade green smoothie. This baby needs some vegetables in its life!)
Okay, I think that's about it for now, mostly because I'm tired and Julia is ready to start her day. Did I miss anything that you're dying to know regarding this pregnancy so far?