For Him: A 30-Something's Christmas Wish List (2014)
Last week I shared our daughter's wish list and things I'd love to get for the holiday, but now it's time for the man of the house. Keep in mind that everything below is actually from the mouth of my husband (unless otherwise noted):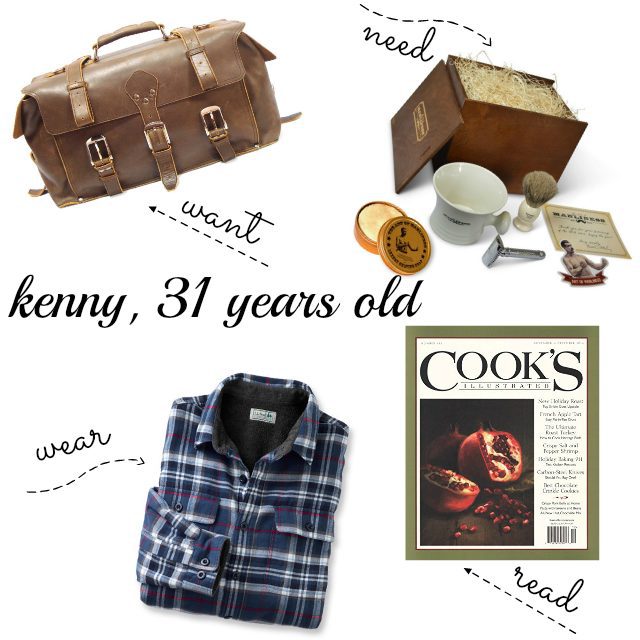 Want:
This bag simply looks amazing, and is tough enough to survive anything the universe could throw at it (Julia and PJ included). (Side Pocket Duffel from Saddleback Leather, $655)
Wife's note: He's been asking for this bag for as long as I've known him—going on eight years, I think. I literally laughed out loud at the price then, and I still do the same now. With that said, maybe I should've just forked over the money eight years ago so we could get on with our lives presents and he'd ask for something new already!
Need:
Really, I just need a new shaving brush, but this set looks really nice, and goes together a lot better than my piecemealed set of shaving tools. (Safety Razor Boxed Set from The Art of Manliness; $159)
Wear:
I like flannel. I don't wear it out of the house, but when I'm home, I'm usually wearing a flannel shirt. I could use a new light jacket for working in and around the house since my old jacket has seen better days. (Fleece-lined Flannel Shirt from L.L. Bean; $64 in Mariner Blue—size: tall medium…in case inquiring minds want to know)
Wife's note: He's been asking for a fleece-lined flannel shirt for awhile now. But goodness, is it just me or are men's clothes somewhat expensive?

Read:
I like the reviews and food sciencey articles that come out of America's Test Kitchen, and when you start looking into the sources on the foodie inter-blog-o-nets, a lot of them pull their ideas from this magazine. Cook's Illustrated from Amazon, $24)
Need more ideas for a 30-something man in your life?
Here are a few more things I think he could be interested in—he either told me he'd like these or I bought them for him for his birthday a couple months ago (and assume he digs them). Also, unlike above, all the commentary below is from me—he's at work right now, so I can't get his charming answers to why he'd like (or likes) the extra ideas.

This man would wear Chucks every day if it were possible! He loves them and while I joked that he has every color in the rainbow already, he mentioned a hole in his color wheel: gray. From Amazon, Converse Unisex Chuck Taylor Classic Colors Sneakers in Charcoal, price varies
My husband stumbled on this site that sells awesome vintage-looking military aviation posters the other day and told me about it when he got home. I think they're pretty darn cool, actually. Most of his "man stuff" gets put up or displayed in the garage, but I could actually see this going inside the house somewhere. #WifeApproved. True to their name, you can look up just about any military flying unit, and if yours isn't listed, you can have something made (not sure on the process, but that seems pretty cool). From Squadron Posters, posters start at $24; canvas starts at $64; Superhero Aviation Mashup shirts start at $28—use this code for 10% off your order: 10%social
I mean, every Papa needs his very own apron, right?! From CafePress, Papa Apron ($24.99)
My mister has a blog crush, and the dude runs a site called The Art of Manliness. There are worse things he could have a crush on, so I don't mind. He always sends me posts he likes from this blog, and occasionally sends me things he likes—hint, hint. This mug and shirt are two of the things he likes best from there, and are, coincidentally two of the things I like the most from there, too. (I actually got these both for his birthday and the quality is really, really great.) From The Art of Manliness, Etched Mug ($21) and Gentleman & Scholar Shirt ($21.99)
So, we were at at Christmas market this weekend and there were a few candle booths there. Usually my husband doesn't go near that booth with a ten-foot pole, but this time he ventured in and commented on how "all of the 'dad' blogs he reads" always talk about this tobacco-scented candle. Now, I have no idea where a man would light such a scented candle (in the garage? the bathroom?), but it's going on this list! Note: I have no idea how this one actually smells, so don't blame me if it smells like poop! From P.F. Candle Co., Teakwood and Tobacco Soy Candle ($16)

Women get to dress up with accessories every single day. A man, if he's married, wears a wedding ring and that's pretty much it. Wearing a watch, I realized, is a man's way of accessorizing. My man loves watches, so perhaps yours does too? From Fossil, Townsman Chronograph Stainless Steal Watch in Chrome, $165
I have one of these and I love it, so I figured I'd toss it on this list as well. My husband is still very much a real, hands on, book reader, so this isn't a gift particularly for him, but it could be for a 30-something man in your life! From Amazon, Kindle Paperwhite (stating at $119)
Now it's secret sharing time—what are you getting your better half this Christmas?
Want more Christmas wishlists? See below!