I decided not to do a year in review like I've done every other year. Not writing one feels a bit like blogger suicide (yikes!), but I just have other things going on right and really don't feel like looking through all of my posts to look for the 10 Very Best Posts EVER of Twenty Fourteen. Besides, I have something similar in mind for a couple months from now, and then that would just be repetitive. Speaking of repetitive, I'm rambling now. This is truly going to be a brain dump post, to be honest…most likely in bullet form, because that's how my brain works these days.
Christmas was great. It was just the three point five of us, and it was lovely. We slept in (!!!), had a delicious breakfast, followed by tasty cheese and crackers for lunch, and had an awesome homemade red chile prime rib dinner with all sorts of tasty sides. Oh, and the presents were wonderful. It was so much fun seeing Julia open presents this year—she had a blast and got a ton of new things. Kenny and I also got some great gifts, and we all got to see family from back home thanks to FaceTime and Skype
I'm probably the only person who didn't take and post tons of pictures this holiday on social media. Part of that is because my phone has been out of storage for weeks (and it kills me to have to delete them off my phone even though they're triple backed up), and the other reason is because I just enjoyed my family and not being attached to my phone/computer. Also, hence the week and a half dry spell over here.
We've been crossing things off of my "nesting list" left and right. This past week has been incredibly productive around here. I owe 98% of the fact that things are getting done to my husband. He's amazing! Freezer meals* are in the freezer (with a few more to go), rooms are getting cleaned and re-organized, we did one last Costco run up in Atlanta, and we're gathering things we need for the new little one. *So far we've made: fried rice, chili, green chile turkey enchiladas, steak fajitas, taco pie, green chile stew, breakfast burritos, and teriyaki chicken. Still to come are: beef stew, meatballs, red chile beef enchiladas, taco meat (in portioned out packages for super easy meals like tacos, quesadillas, etc.), and chicken Parmesan. Are there any tried and true freezer meals you love?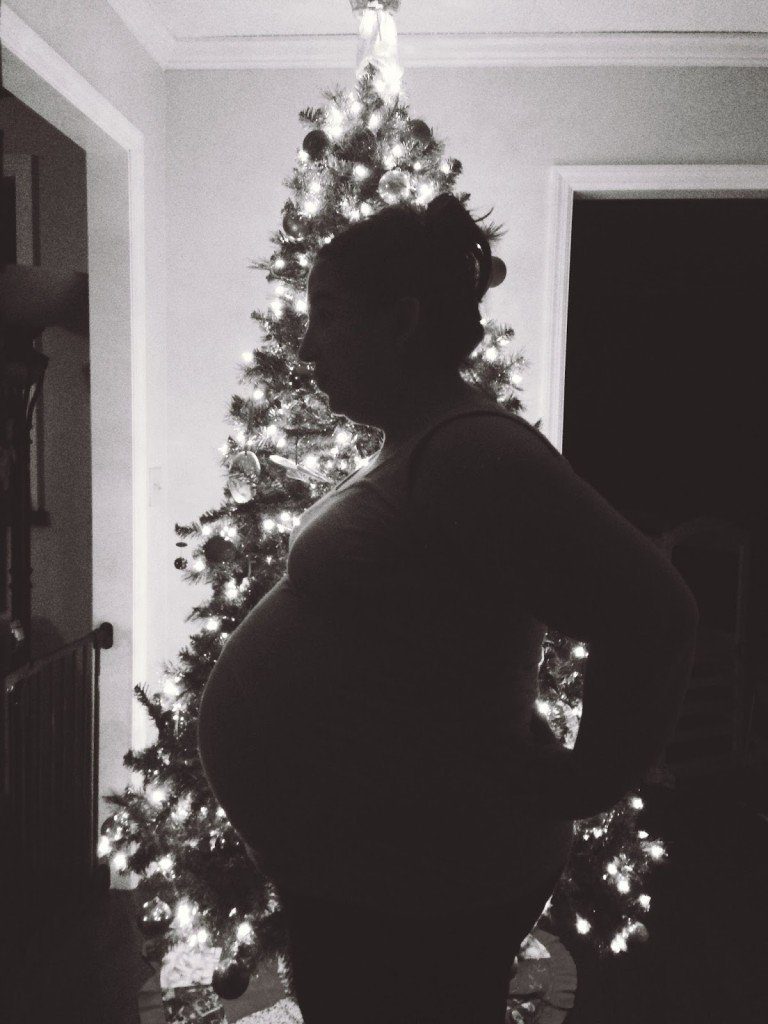 34 weeks. Couldn't resist taking a silhouette picture with the Christmas tree!
Last week we also did a fun 3D/4D scan, reconfirmed that this little bebe thrashing around inside me is, indeed, a girl, and took a hospital tour, so those were both awesome. There's still no name, but we're getting excited to meet her. Things are good over on my end; I feel huge and my belly bumps into everything, but overall I'm feeling as fine as can be for being 34 weeks pregnant. I know when I've pushed it too far and when I need to rest, and Kenny's being wonderful with helping out. He also made Julia a learning tower, which is the biggest lifesaver EVER right now. I don't have to constantly lift her up and hold her in the kitchen anymore; she can be right there in the action and my back is spared in the process. Perhaps next week or later this week I'll post some more bumpics since I'm pretty sure I'm behind on those. Oh well, c'est la vie!
I've been working on and stock piling some posts for when the baby arrives, just to keep this little space running, but I'd love to open it up to some of you. If you're interested in guest posting sometime during the month of February or March, I'd love to possibly have you! I may not be able to let everyone write a post (depending on how many offers I receive), but if there's something you'd like to share and think it'd be up this blog's alley, by all means, let me know. To keep my mind sane and somewhat organized, please fill out this form if you're interested and I'll get back in touch with you ASAP!
Since this is the season of giving (and I'm curious who actually read this far), I'd love offer one of you a movie I recently watched. It's called The Good Lie and it's about the true-life story of the Lost Boys of Sudan. It's about their lives that were torn apart by civil war, how they were left to grow up in refugee camps, then given the opportunity to embark on new lives in America. It "stars" Reese Witherspoon, but to be honest, she's not the star of the movie; the storyline itself is, and the people the actors are portraying—those are the stars. To enter: use the Rafflecopter below. I'll send it out to anyone in the US or with an APO/FPO address! (Thank you to Grace Hill Media for sending me a copy to watch and one to give away!)
I'm not sure what our plans are for New Years Eve, but we have a babysitter for dinner, so we'll most likely go out to eat. Although, the fanciest restaurant in town is Outback, so I need to figure out our plans. New Years Eve is the night my husband and I met eight or nine years ago*, so it's special to us. (The date is always iffy since it landed on two years…we talked about it last night and I think it could actually be nine or 10 years ago. Trying to figure that out always makes our brains hurt.) Telling our story is one of my favorites, but come to think of it, I don't know if I've shared it on here before. I must've, but I can't find it. Long story short: We technically met for the first time on New Year's Day, a few minutes after the ball dropped. We talked until the wee hours and then went our separate ways (me back to England for my study abroad program, and him back to Arizona for college). This was before Facebook, and there may have been one too many bottles of wine that night, so we didn't even know who our mutual friends were. I thought about him often, but with no way to get in touch, I just let it go. (Anyone else singing that darn song now?) Flash forward to the next year: I went to a bachelorette party for a friend of mine, and low and behold, he was at the last bar we went to! It also turns out that he would be at the same NYE party again a couple days later. We both met again at the same party, on NYE this time, shared our last first kiss, and the rest—as they say—is history!
I hope you all had a wonderful Christmas, and a safe and happy New Year!
I'll talk to you all next year 🙂