Staying Home for the Holidays
I grew up with a very large and close extended family—I have more than two dozen first cousins, and now many of them all have families and kids of their own, which results in some pretty epic holiday celebrations.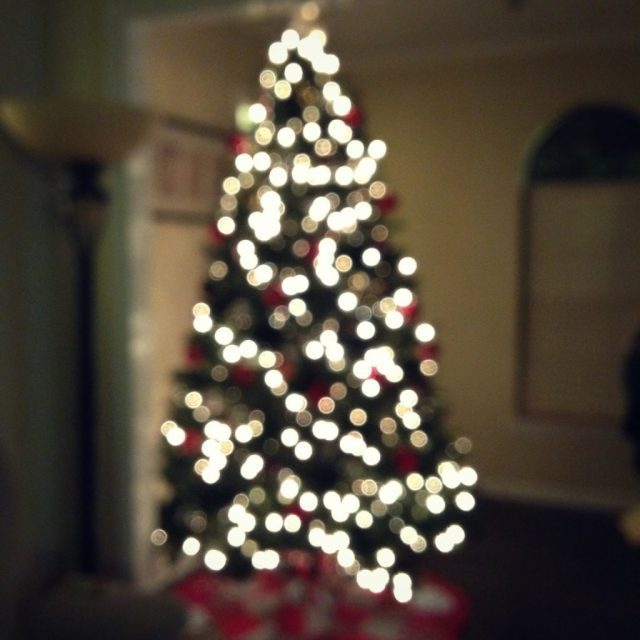 Being surrounded by tons of people for Thanksgiving and Christmas was just the norm, and it easily helped make it my favorite time of year.
Thanksgiving with that many people truly resulted in a feast with gobs of delicious food, and while we worked off our food coma, we'd all play several rounds of BINGO. I have no idea where that tradition started, but its lasted throughout the years.
Then, for Christmas, the amount of laughter and mountains of wrapping paper after Santa visited (oh yes, we have a "real" Santa and an elf deliver presents every year) always solidified my love for the holiday.
This year, however, will only be my second year (out of 30) that I won't be home for the holidays. We didn't go home a couple years ago because we were living overseas and it wasn't economical for us to fly back. But this year we're staying home for different reasons.
It was a hard decision to make, but since my husband just returned home from a deployment, and since I'm due a mere six weeks after Christmas, we decided it would be best to stay put instead of hopping a plane or taking a road trip home. I'm sad, of course, to not spend time with my family and see friends, but there are several bright sides to sticking close to home.
For one, we get to wake up at home instead of in a hotel room. My daughter will also get to run over to the Christmas tree and open gifts, and we can lounge around in our pajamas all day since we won't have to bounce from house to house. We'll also get to start making our own traditions, which is something I'm really excited for.
Thankfully, technology these days means we'll still get to "see" our family and we may even get to open presents "together." Of course, it's not the same as being there, but it's the best option available for the situation. We're also exploring our own area more—checking out holiday festivals and going away on mini weekend trips. I can't wait to bake cookies with my daughter next week and then take them to our neighbors.
(Looking for more ways you can have holiday cheer without going home for the holidays? Check out my post on AHRN!)
While there's no match to being surrounded by family for the holidays, there are certainly a few perks to skipping the big get-togethers and making some new memories with your very immediate family. And who knows, maybe staying home this year will become our own tradition…only time will tell.
If you live away from "home," do you go out to visit for the holidays or do you make your own traditions with your family?