Why Hiring a Housekeeper Is One of the Best Things I Ever Did
There's this notion—especially in today's society and with social media—that moms have to do everything. They need to keep the kids fed, dressed, and alive, all while making sure they don't get too much screen time and educating them at the same time (by playing, getting creative and artistic, and letting them run around); they need to keep the house clean from clutter, and everything dusted; they should always do all the laundry, and keep the floors clean; they need to wear makeup, get their hair done, put on clothes (other than yoga pants), and look "put together"; they need to have breakfast ready, lunches packed, and dinner on the table at night; they also need to schedule some "me" time from time to time, and by all means, they most certainly need to have enough energy at the end of the day to make the husband happy…if you know what I mean.
All of that, my friends, is not possible. (And if you say that it is, I say that you're lying.)
When my husband deployed over the summer I was at my wits end trying to do everything and keep myself sane at the same time. I almost failed at the sanity part, but I luckily decided to do something about it. I figured out where I needed to change things in order to make life easier on myself. When I sat down and evaluated where I was struggling, one of the biggest challenges that came to mind was keeping the house clean.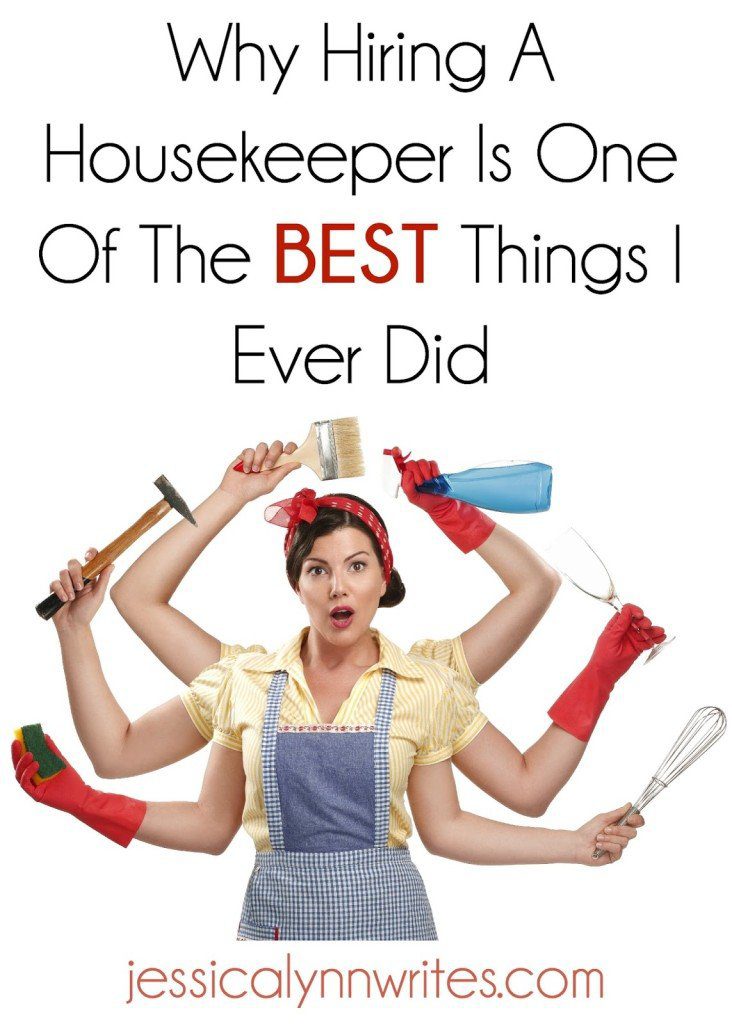 It wasn't the clutter that bothered me, because I could handle that (or at least move piles of stuff around enough to make things clean enough for our lifestyle); it was the floor situation. Our dog was shedding beyond what I could sweep, and the toddler was making messes everywhere her tiny toes stepped. Cleaning up when she was around was worthless, and I was worthless after she went to bed—that was my time relax; I had no motivation or desire to clean.
I felt silly broaching the idea of a housekeeper with my husband—I was supposed to be able to do it all, after all, isn't that what a stay-at-home parent does? But when I finally suggested it, he was more than on board. To start my search for someone, I asked around and found a gal who appeared good on paper. She came over, gave me an estimate and we set something up for the next week. I was beyond excited. Unfortunately, she didn't work out (personalities and work styles didn't match my expectations), so I started asking friends who they used. I was hesitant to ask people I knew, because it seemed like a personal, taboo topic (and honestly, I hated to admit that I couldn't do it all on my own), but it turns out that many of my friends have someone come by to help them clean; I was shocked and relieved to discover that they didn't do it all on their own. I suddenly felt so much more relaxed and normal about needing some extra help.
On the high recommendation of a close friend, I found a new lady to do the job. Her price was reasonable and after the first time she cleaned, I knew she was a keeper. Right now she comes over every two to three weeks, and she cleans the floors, the counter tops in the kitchen, and the bathrooms. She's here for about three to four hours and does an outstanding job. It's so good that I actually try to eat out or bring in take out for dinner the day she cleans, because I try to prolong the the cleanliness of my kitchen for as long as possible.
I've had people ask me what I do to prepare for her coming over, and it's not a whole lot. Since she cleans the floors, we do pick things up off the floor and put it elsewhere (usually the couch, bed, table, etc.), and I'll try to make sure that the dishes are put away and the counters in the kitchen are cleared, but that's about it. I'm sure she would pick things up, but I'd rather she use her time to do what needs to be done. I don't necessarily "clean" up for her, so you won't see me sweeping or busting out the vacuum before she arrives.
Most of the time I also leave the house while she's here. I take Julia to a mom's morning out program and I go somewhere to write. That's my me time, and I thoroughly enjoy it. If I do stay home, I usually keep to one room—the office, typically. Whether I leave or stay, I definitely try to take Julia somewhere since she's at the stage now where she'll just follow our housekeeper around and make things messier for her.
I know some friends who have a housekeeper come over have them do a lot more than us (some do laundry, make beds, fold towels, dust everything, etc.), but this is what works for us right now. I'm glad I started having someone come over while I was pregnant, but before I have two under two, just so I could get a feel for how things work. If I thought keeping up with a house was hard now, I can only imagine what it'll be like to keep things clean with a toddler and a baby!
Do you have a housekeeper come over?
What was your breaking point and deciding factor to call in extra help?