The fact that I now have a two-year-old daughter is absolutely bonkers. Her birthday completely caught me by surprise this year, although I think that's to be expected since we welcomed her sister two weeks prior, and then spent the week before her big day in the hospital. Because of that, I didn't plan her party very well. Oh well, she's young and won't even remember it. (What? It's the truth!) But even though she won't remember it, I still wanted her to enjoy it now—seeing excitement through a toddler's eyes is pretty great, especially at this age.
All day (and even today when she sees a balloon around the house), her eyes would get huge and she's exclaim, "Happy Birthday?!" Everything ends in her adorable little high-pitch voice, and it makes me melt.
We decided on a Minnie Mouse theme (and borrowed some ideas from Mickey's Clubhouse), since it'd be easy to find everything. We debated between doing just a pink party again, an owl theme, Paw Patrol, and even Frozen, but Minnie was the easiest out of all of them, so she won.
Easy was basically the underlying theme. My motto was "the easier it is, the better." In other words, we took the simplest route for everything. Finding pink and purple decorations was a cinch, as was coming up with food ideas thanks to Pinterest. Plus, we had both sets of grandparents in town to help put everything together, which was extremely helpful since I was (am) still in a little newborn daze.
Truthfully, this party revolved around the food…I mean, the birthday girl. Who am I kidding? It was early enough after I gave birth (and wasn't chowing down on hospital food anymore) that I was mostly excited for the grub gracing the table, especially since the theme made way for some pretty clever names: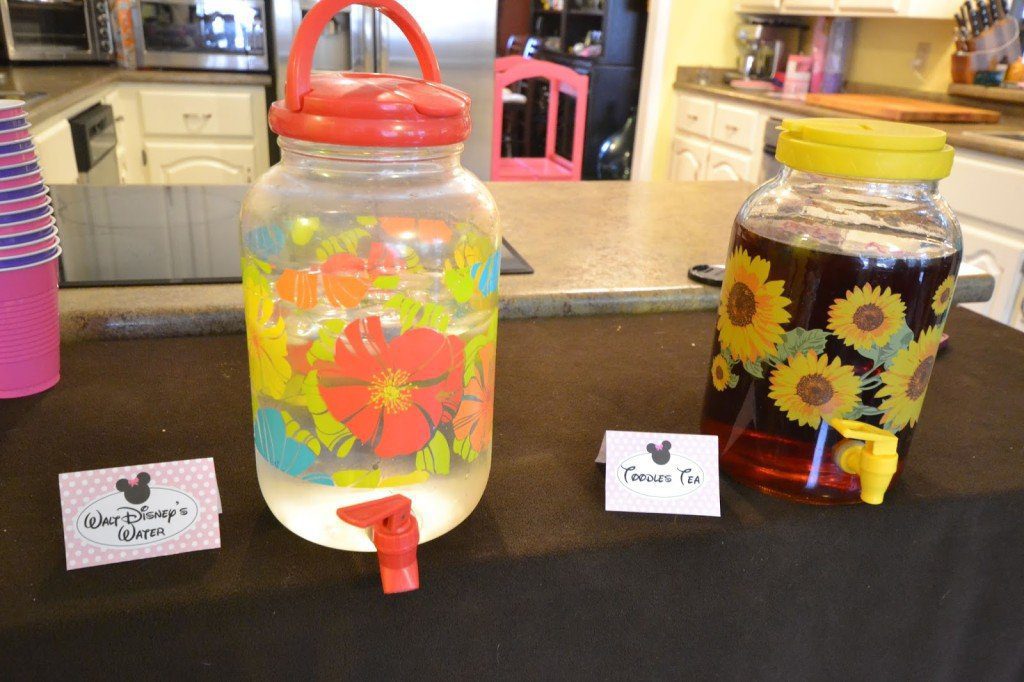 It turns out that capturing pictures of an excited two year old going on 20 (as far as attitude goes) is even harder to accomplish than throwing a party with zero planning. My apologies for the blurred pictures of her.
A few things about this little spit-fire now that she's two: Julia is always on the go. Her vocabulary astonishes me. She can say her ABCs and she can count to 15! She's starting to repeat random phrases my husband and I say, so we need to start watching our mouths. She still loves Paw Patrol, Minnie and Mickey, and Frozen, of course.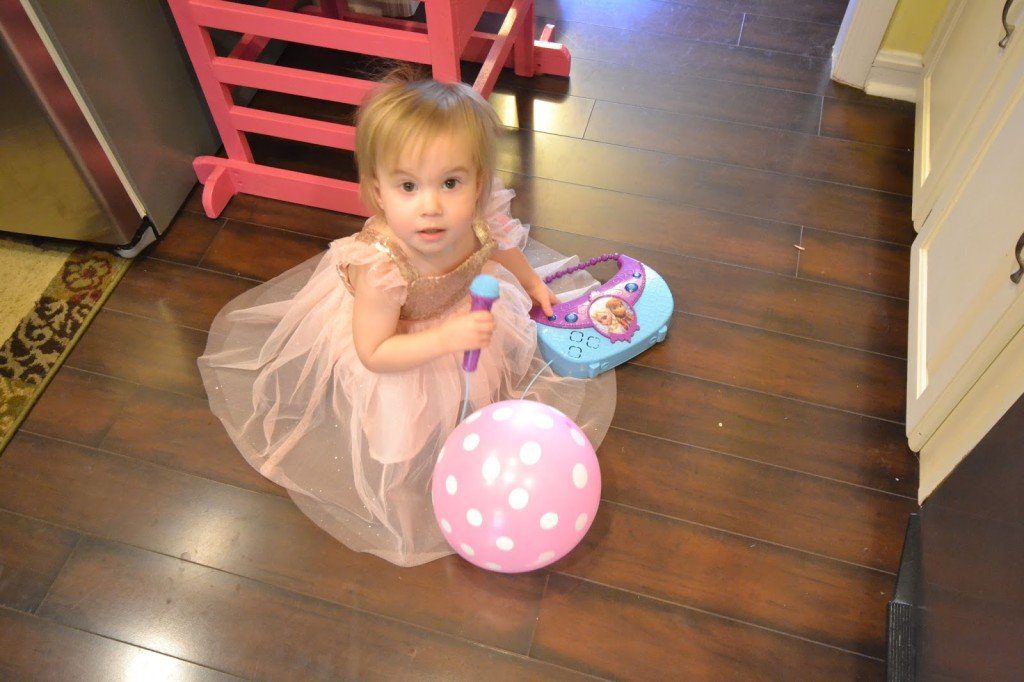 I caught her momentarily kinda still while she was singing to her Frozen karaoke machine
Julia loves being outside, but hates ants. She's potty trained and has recently started (sort of) going to the bathroom on her own (although we always go in to check and help her with the end part). She hates having bows, headbands, or hair ties in her hair (but I still try to put them there every chance I can—her hair is seriously out of control), but likes putting on her shoes and wearing purses.
She's still pretty picky about food—unless grandparents are in town and then she eats everything under the sun. She loves to read, sing, and dance, and I really need to buy her some rain boots, because she has tons of fun jumping in puddles after it rains.
Within the course of five minutes she can drive me absolutely crazy and then she can make me fall in love with her sweetness all over again. She breaks my nerves, tests my patience, and can turn around and be the coolest girl in all of existence. All in all, she's basically a pretty awesome kid, and I'm thankful that she's mine. I truly can't wait to see what this next year will bring her, and I'm excited to watch her grow.