Seeing The World Through a New Pair of Eyes
Today's post is from a new mom, JG from Me and My SoldierMan, and I love the topic and the perspective she writes about, because it's one of the most amazing parts of being a new parent. I can't wait to experience this phase with our new little one! Take it away, JG!
********************
Baby G is eight months now, and what an eight months it's been! When people say that having a baby is life changing, it's not just the change in routines or the extra expenses, or the way you suddenly screen every Facebook post you write, by wondering, "Is this story funny or will someone call CPS on me?"
But the most unexpected way that our life has changed has been the chance to see a brand new world through her eyes—yes, her eyes even as an infant.
Whether it's wiggling around underneath Momma's furrzy zebra print blanket, because it's so soft, or rubbing her hand back and forth and back and forth over her first layer of silky baby hair, or the screamy squeal of delight because THE DOG IS ACTUALLY SMILING AT ME, after trying to get his attention for five minutes. It's been simply amazing to explore this whole new familiar world with her.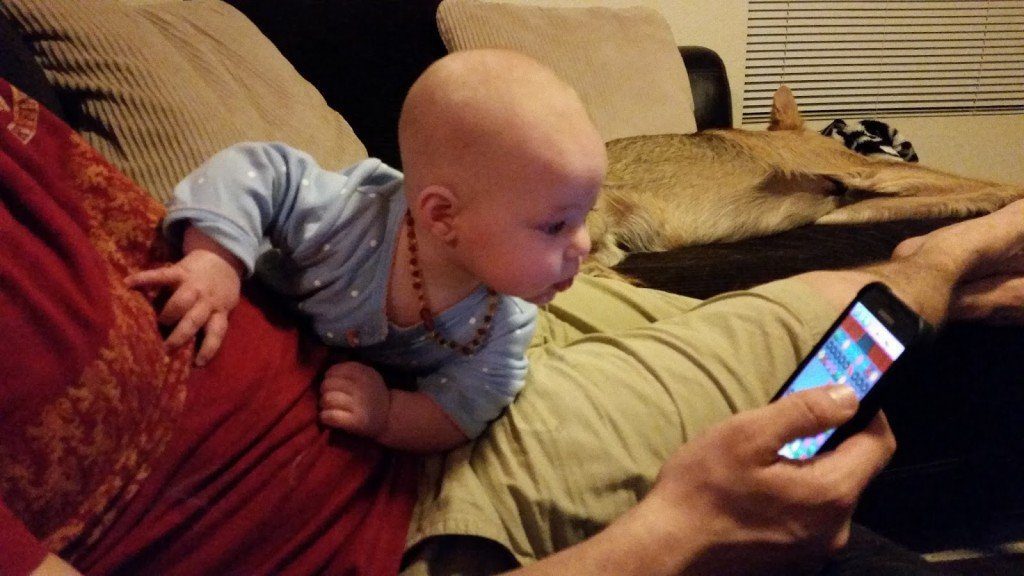 Every new sound and flavor is exciting. Whenever she meets new people, even when they aren't new to me, gives me hopeful anticipation that I love. The best part of flying over Christmas was landing after dark and letting her look out the window at the city lights. She was so excited she was literally "jumping" up and down (Well, her current version of jumping, which is just really, really intense bouncing.)
The whole world has changed, because it's all brand new again, and I know it'll only continue to change as she grows and becomes more interactive and aware of the world around her. I can't wait to see everything we'll discover together!
JG
is a writer, photographer, and displaced Okie who loves red dirt, green
skies, all things Disney, Sooner football, and Gary England. She talks
about SoldierMan, Baby G, Army life, crazy puppies, and whatever got is
working out in her at the moment over on her blog, Me and My SoldierMan.