Goals Update: January—March
We're knee deep in the fourth month of the year, so it's time for a little progress check on my to-do list from way back when—January 2, to be exact.
Just to recap, these were my goals (click the link above for a more detailed explanation):
Project 365
Lose the Baby Weight
Read 10 Books
Make a Cleaning Schedule
Intentionally Make Time for Myself
Spend More Time With My Husband
Read My Devotional
Keep up With The Blog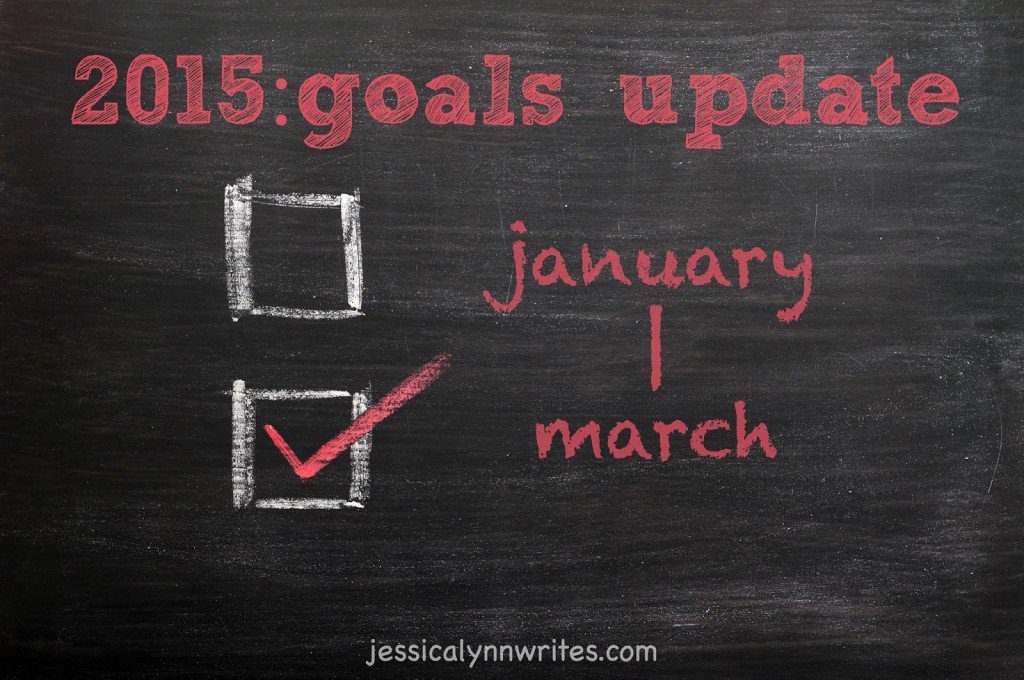 1. Project 365
I started out well and made it about three months…right around the time that the sleepy newborn phase kicked in. I've been taking a picture almost every day, just not posting them as often. Luckily, I tagged all of my pictures with a hashtag (365Jess), so I can always add it to some pictures later…you know, when I have some free time.
2. Lose the Baby Weight
I just got the go-ahead from my doctor to start working out again. So, I'm searching for a good FitBit deal (I'm thinking Kohl's with their 30% off coupon once I get one in the mail), and I need to take the leap and sign up for Weight Watchers. I like that they include a nursing option to help ditch the weight. Also, once Maddie gets her two-month shots, I'm going to sign up with a gym in town. I don't want to take her and leave her in the hands of strangers in a germ-infested area until she's been at least vaccinated once. I'm seriously itching for some Zumba.
3. Read 10 Books
Yeah, I've been rocking this particular goal! I'm up to nine books finished—BAM! This was the one goal that I just knew I wouldn't be able to complete…go figure. I love having the Kindle app on my phone, because I can read while I nurse Maddie. I also have a Kindle Paperwhite, which is fantastic, but it's just a little large to deal with when I have a baby on my boob. It's wonderful for traveling, though, or reading right before I got to bed. I started a hard copy of Desperate: Hope for the Mother Who Needs to Breathe (which inspired this post), but these are on my list for books to read next: The Precious One by Marisa de los Santos (she's one of my all-time favorite authors, so I can't wait to dive into this book!) and All The Light We Cannot See by Anthony Doerr (this has been highly recommended and I already own it, so I just need to read it).
4. Make a Cleaning Schedule
I still have a cleaning lady coming every 2-3 weeks—best thing ever, I tell ya—and every Tuesday afternoon, Julia and I pick up trash around the house for trash day the next day. She also helps me unload the dishwasher. I've been sweeping different parts of the house on random days (because my dog sheds an extraordinary amount in the summer and if I don't, well…gross). I'd love to have a set day for laundry, but right now I'm doing a load every other day. Toddlers and newborns are messy, man! I'll work on this goal over the next four months, but I feel like we're in a decent groove, and the messiness of the house is more liveable than annoying, which is always a nice thing.
5. Intentionally Make Time for Myself
I think I'm doing a decent job here…much better than the first time I had a baby. I actually have someone coming over to play with Julia a couple mornings a week through the summer. I also still take her to a Mom's Morning Out program so she can play with other kids, and then I can run errands or write or do whatever during that time. She has SO much energy in the mornings, which is when I'm most creative and want my me time. When my husband is in town he's also really good at making me take a bath a few times a week since he knows I love it. Going to the gym will also be my me time.
6. Spend More Time with my Husband
Oh, this one is ironic seeing as how he's TDY for the rest of the month. I think we're doing a decent job at this, but it could be better. When he comes home I'm going to try really hard to be more intentional about closing my laptop at night. That's hard to do since a laptop is super handy to use at night. This is definitely one I need to work on.
7. Read My Devotional
I was doing really well at this one, too, until the baby arrived. My Jesus Calling book has it's bookmark placed at February 12. I need to dive back into it, especially now that things are falling into a normal routine.
8. Keep up with the Blog
Check! I honestly didn't think I'd keep it up this well after having a second child. Granted, comments are waaaaay down (comment, people!!), but overall, I'm happy I've kept it afloat. It goes back to my me time. This is one of my happy places! I'm actually going to officially open sponsorships back up in a few weeks, but I'm still tweaking a few things. Several people have bought ads in the past month, so I think it's time to get back into the swing of things as far as that goes.
All in all, I'm actually somewhat impressed with myself. I'm glad I started with things that were somewhat attainable and not too far out there. I didn't make any goals that were too specific (like, "I want to lose X number of pounds"), instead they're all things I can work on at my own speed.
Did you make goals at the beginning of the year? How are they holding up?