Sweet and Spicy Red Chile Ribs
'Tis the season for grilling! If there's one thing I like about the spring and summer months it's that we use our grill almost every single night, and these red chile ribs take dinner to the next level.
We've been using this recipe for almost 10 years and every time we make it we swear we're going to make it more often.
(post updated August 2022)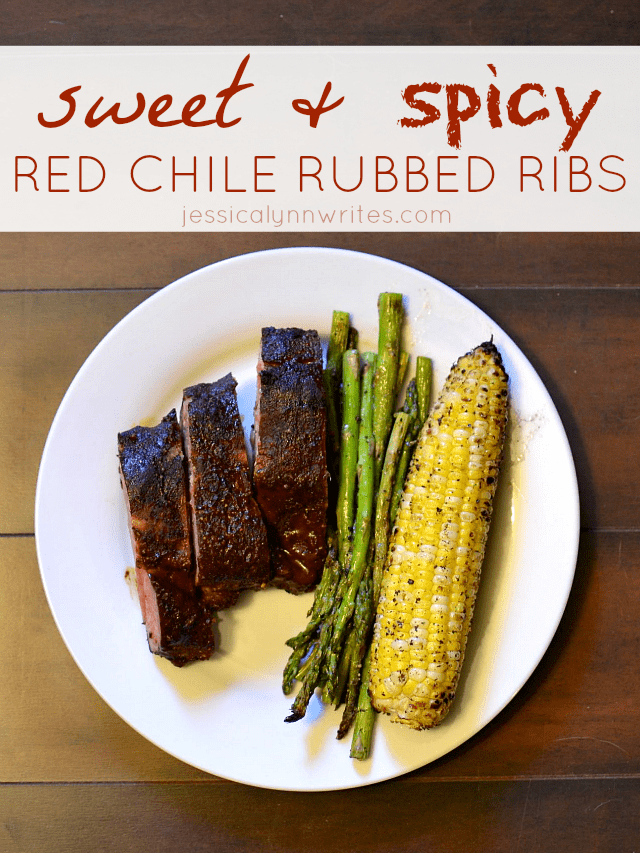 Adding the extra heat from the red chile truly kicks this up a notch into a whole other territory—giving you complex flavors to elevate your meal.
Confession time: I used to not eat meat, especially barbecued meat, and I most definitely never ever touched ribs with a ten-foot pole. I was the girl nibbling a grilled cheese when everyone went out for BBQ.
But now? Now I LOVE all things cooked on the grill, and these red chile ribs are no exception. Call me crazy, but eating spicy ribs is kinda like being able to take out aggression with my teeth. YUM—GET IN MY BELLY!
Bringing it back to the topic at hand….
It turns out that May is one of my favorite months, and the only reason I say that is because it's nice enough to be outside without feeling like you've stepped into a sauna.
But more importantly, it's when we usually bust open the grill. (And just for the record: when I say "we" in this post in regards to grilling, I usually mean "my husband." I know how to turn the grill on, and technically I could certainly get my grill on, but I'd rather be inside…away from the bugs and the additional heat from the grill.)
When we made our menu last week I had a craving for ribs. After I stopped singing, "I want my baby back, baby back, baby back…(you know the song!)," I headed over to the store and grabbed a slab of ribs. I had a brilliant idea for them, and I'm pumped to share that with you today.
Red Chile Ribs Recipe
This is technically a family recipe, passed down from my father-in-law, but is so easy to tweak to your liking.
This red chile rib rub has a hint of sweetness, followed by a twang of spices, and then there's the kick of heat that's so addicting you'll just want to keep eating—it's literally finger-licking good.
Red Chile Ribs
This red chile ribs recipe is spicy, a little sweet, dangerously addictive, and finger-licking AMAZING.
Ingredients
Smithfield Pork Style Ribs

4

TBS

New Mexico red chile powder

4

TBS

brown sugar

1½

TBS

garlic powder

1½

TBS

onion powder

1

TBS

ground ginger

1

TBS

paprikia

1

TBS

salt

½

TBS

orgegano

½

TBS

cinamonn

½

TBS

cumin

1

tsp

Dry mustard

1

tsp

Thyme

1

cup

your favorite bbq sauce
Instructions
Five hours before you want to eat, open the package of ribs, drain, and pat dry. Place a rack over a cookie sheet; put ribs on rack, meat side up.

Mix all ingredients (except BBQ sauce) together really well. Pat red chile rub over the meat and sides really well. Let ribs sit for three hours so the flavors can seep in and mingle with the meat.

About two and a half hours before eating, turn the grill on to its lowest setting (~225 degrees). Place ribs on the grill, bone side down, on indirect heat (whatever burner isn't on). Close the grill lid and walk away.

When the temperature of the ribs gets to around 145 degrees, baste (paint) a light coat of BBQ sauce over the ribs. Close the lid and walk away. Repeat every five minutes until meat reaches 155 degrees. Flip

Flip ribs (so it's meat side down) to get some nice char on the meat.

Take ribs off the grill and let them rest for around five to 10 minutes (carry over heat will bring it up to 160 degrees).

Five minutes before eating: cut up ribs, plate them, grab some napkins, and enjoy!
Y'all, these red cihle ribs are even good cold, straight out of the fridge.
I know this because I can't stop snacking on leftovers.
One day I lacked some serious patience because the ribs were calling to me, and I couldn't bother heating them up before popping 'em in my mouth. I know I said this before, but they're lip-smacking and finger-licking deeelicious. Trust me on this.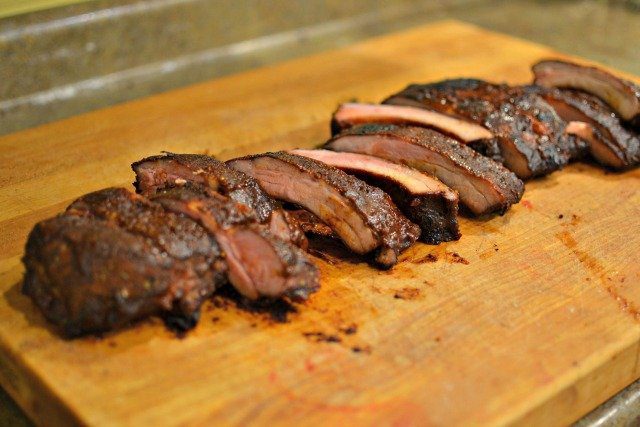 After you try a bite of these red chile ribs, let me know what you think!
More Chile Recipes
Looking for even more chile recipes to take your meals to the next level? Here ya go: