Tips to Help a Teething Baby
It's funny how parents blame just about anything on teething. Fussy baby? Teething. Kid refusing to eat? Must be teething. Sleepless nights? Clearly, the baby is getting all of her teeth at once. It's true, though, teething hurts—a lot—and causes all sorts of disruption in your everyday life. I actually thought luck was on our side with the whole teething situation this time around, because Maddie popped out six teeth pretty early on, and they all popped out pretty effortlessly. She was cranky and covered in drool for a couple of weeks or so, and then, BAM! teeth appeared almost overnight.
Unfortunately, her mouth has other plans for us, because I'm pretty sure she's been teething non-stop for at least the past eight months with no new teeth in sight. I'm constantly checking her gums for new pearly whites peeking through, but so far: nothing. Instead, we just get the lovely side-effects from teething: fussiness, drool, (so many) sleepless nights, and she's always gnawing on something to help relieve the pain.
Do you have a baby in the same situation? If so, then I welcome you to join me on this teething adventure. I'm thrilled and honored to be part of the Orajel™ Smilehood community – a group of moms promoting healthy smiles and oral hygiene. Over the next several months I'll share tips, tricks, and personal stories relating to teething. And maybe, just maybe, we can at least find solidarity for dealing with this particular stage.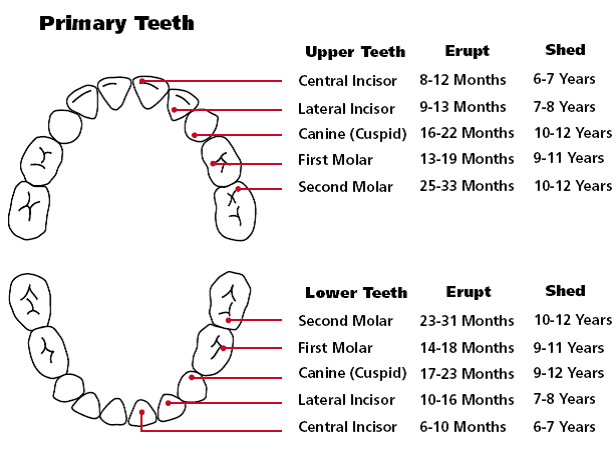 I think I'll breathe a sigh of relief (and hopefully get more than a 3-4 hour stretch of sleep) once the rest of her teeth finally start poking through. Until then, this is how we cope and a few ways you can help a teething baby (and read all the way to the end, because there's a tip to help you during this time, too).
Tips to Help a Teething Baby (And the Baby's Mama)
Give Them Something to Suck on.
Like all kids, some may prefer the exact opposite of this, but when my babies start teething they nurse a little more frequently. It's the sucking and the comfort from breastfeeding that helps them cope with the discomfort. Now that Madilyn's a little older, she also loves sucking water with a straw, and when she's not hydrating, she's usually gnawing on the straw. Which leads me to…
Give Them Something to Play With.
Imagine you have a razor-sharp tooth about to sprout through your gums. Ouch, right? But you know that feeling when something hurts so good? That's how I imagine it feels for them. Get your baby something hard—like a specific teething toy—or even a damp or frozen washcloth so they can chew on that. The cold will help relieve pain (and maybe naturally numb the area a bit), and chewing on something—other than their fingers—will help the pain.
Give Them Something to Eat.
More teeth means more chompers to eat with, so let them practice while hopefully helping their gums at the same time. Cold and crunchy foods are the name of the game here—cool spears of cucumbers or carrots, crunchy crackers or bagels, or anything that may help alleviate the feeling of the teeth trying to come out. They even make these cool teething feeders where you can put cold food inside (or crushed ice in our case), and let them go to town. Fair warning: this method is messy, but babies are messy anyway, right? Just let them use it right before a tub time!
Let Them "Brush" Their Teeth!
It's never too early to get them acquainted with a toothbrush! With supervision, a toothbrush is a great teether, especially if they'll let you get in there and massage their sore gums with the bristles for them. Did you know babies can actually develop plaque on their gums? We use Orajel's baby toothbrush, but they also have a little finger gum cleaner that's pretty cool, and would definitely feel good against their gums. As they get older, since they're familiar with the toothbrush, it'll help them use it more naturally. Madilyn loves her toothbrush since she watches her big sister brush her teeth all the time!
Something To Help Throughout The Day
Sometimes everything above just wont cut it (ha. see what I did there since they're "cutting" teeth), and you need a little something else to help manage the discomfort of having teeth rip through their gums. That's when I turn to Orajel and their teething tablets. My daughter's at the age where if I put my finger in her mouth, she's going to bite down on it, so while teething gel is great when they're younger, the tablets are excellent now. When she sees me get the bottle she'll actually open up her mouth to "eat them" (they dissolve very quickly under the tongue). The tablets have chamomile to help sooth their pain, especially at night, and I like that it's the number one pharmacist recommended homeopathic brand for teething pain relief.
Something to Help MAMA Throughout in the Morning.
Mama, if you were up all night with a fussy baby, I feel you. I dream* of the day when I'll sleep through the night again. Until that day (or night, rather) happens, I need a jolt of fresh coffee to get me going for the day. Figure out what will help you kick-start your day all over again. Whether that's waking up a little early to get a quick workout in, reading a book in silence (I won't judge if the only time you can do that is while hiding in the bathroom), or maybe just ignoring the alarm clock and sleeping in an extra five minutes—teething can take a toll on everyone, so make sure you're taking care of yourself during this particular season.
*Oh, who am I kidding? I don't sleep in long enough stretches to actually dream anymore!
I'd love from you: what tips do you have to help a teething baby?
This post is sponsored by Orajel but all opinions are my own.