Creating Yearly Photo Books
I'm notorious for taking hundreds of pictures, and then just keeping them on my phone until I absolutely have to move them to my computer. I try to intentionally print some out here and there, and I've been meaning to actually make a book of pictures, but I just haven't managed to do it yet. Katie, a friend of mine from college and a mom of three, has ample experience in running around after her little ones while trying to document their busy lives at the same time. She's sharing how and why she creates yearly photo books, and I definitely picked up a few tips and tricks from her.
Hello there readers of Jessica Lynn Writes! My name is Katie, and I have three kids who I can't stop taking pictures of. Yes, I'm one of those moms. I'm the mom who always has her phone holstered in her back pocket just in case there happens to be a Kodak moment. And if there's not, I'll usually create one, much to the dismay of my kids. Although they do frequently ask if I can take a picture of them doing something silly and even my 8 month old loves taking selfies.
But what does one do with a ton of photos of their kids? You could post them on Instagram and Facebook, which I do sometimes, but really no one but me wants to see that many pictures of my kids. There is always the option of printing them out and framing them, but not every photo is frame worthy, although it might tell a fun story.
My solution has been to create photo books. Perhaps it's the journalist in me (I minored in journalism in college which is where I met Jessica. I've been stalking/reading her blog ever since.) but I feel this need to document everything, especially when it comes to my kids.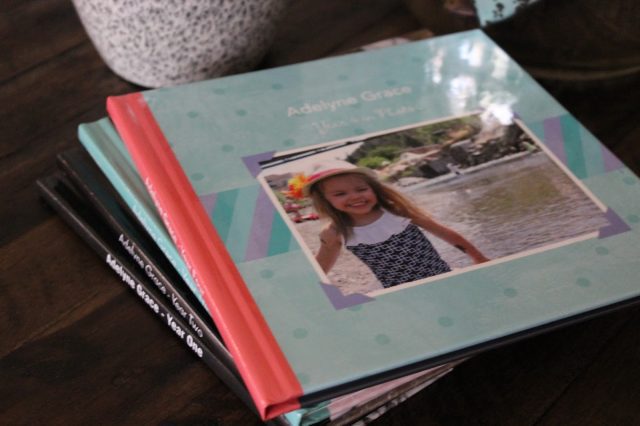 Why I Create Yearly Photo Books
I started creating yearly photo books for my kids and my family after my daughter's first birthday and here's why I keep doing them year after year.
PHOTO BOOKS ARE LESS EXPENSIVE, TAKE UP LESS SPACE AND ARE EASIER TO CREATE THAN SCRAPBOOKS
I tried scrapbooking once, and I'm amazed that anyone has the time or money for those things.
PHOTO BOOKS ARE EASY TO READ
My kids love looking through their books and can do so easily on their own
ENCOURAGE TRADITION
I love the idea of having yearly traditions, like going to the mountains for the fourth of July and riding the train to Santa Fe, New Mexico, every fall. Saving pictures from those events in our yearly photo books, helps my kids remember years past and gets them excited for the years to come.
GREAT TEACHING AIDS
When I was pregnant with our third child, my daughter had a lot of questions about what would happen once the baby was born. I answered a lot of those questions by showing her photos of her and her brother in the hospital when they were babies.
JUST FOR FUN
Creating yearly photo books has become a hobby of mine; I just really enjoy doing it, and I think that creating a new photo book around each child's birthday gives me something to look forward to and keeps me from getting too sad that they are growing so quickly.
So how does a busy momma of multiple kids keep her photos organized enough to actually create a photo book? Well, here's what I do:
How to Creat Yearly Photo Books
EDIT ON THE GO
I mostly take photos on my phone and save the DSLR or what I call "my big camera" for special occasions. For photos taken on my phone, I have a separate instagram account that I use to edit my photos. I then go through and edit my photos about once a week and delete any that I don't see myself doing anything with. Then, about once a month or so, Ill upload them to my computer.
Editing photos on my phone is a good option for me because I can do it while nursing or sitting in the waiting room at the doctor's office.
UPLOAD AS YOU GO
I use Shutterfly to create photo books. I've used MyPublisher in the past and I've tried Blurb.com but I just keeping coming back to Shutterfly. I love their prices, they have a variety of layouts and they've worked with me in the past when I realized I made a mistake on a book after seeing it in person.
One of the best things about using Shutterfly is that you can upload photos directly from your Instagram or Facebook account. If I edit photos on my phone, using that separate Instagram account, I don't have to bother with uploading them to my computer from my phone and then to Shutterfly. I get to skip a whole step!
Shutterfly also works as a photo sharing site so I feel comfortable uploading a large number of photos without fear of loosing them and photos can be organized into separate folders per year or child.
CREATE AS YOU GO
I used to do all the work on my books at once, but that got overwhelming. So now, I work on them kind of like a scrapbooker does scrapbooking; saving them in my Shutterfly account as I go. For instance, after my daughter's Pre K graduation, I uploaded the photos to shutterfly and created a page for that event in her 5 year old photo book right away. That way, everything that happened was fresh on my mind and I wouldn't forget to add something silly that she did or said.
In the past I've created a book for each year of my children's lives; one after their first birthday, second birthday and so on. But now that my daughter is starting Kindergarten in the Fall, I'll start making them for each school year. And the books I create for my family are for each calendar year. This really helps me manage my photos on our computer and external hard drive.
I don't keep more than two years worth of photos on my computer and once a book is created, I move photos from that year onto our external hard drive and delete them from my computer. It takes some work to stay organized but to me, it's worth it and not too tedious a task.
My kids really are growing up way too fast and although it makes me sad, there are some things that are fun about them growing up and one of those things is looking back through photo books full of memories. I'm looking forward to making many more memories with them and capturing them in our books to look back on later. Now if only I could learn to be decisive and print some pictures out to cover my bare walls.
What do you do with photos of your kids?
Katie is a native New Mexican who loves living in Albuquerque with her husband and three kids. With a background in journalism and hospitality, Katie loves to write, and is

currently a contributor for the Albuquerque Mom's Blog

, and is passionate about the beautiful state she calls home. When she's not changing diapers, searching for lost toys or sweeping food off the floor, she enjoys reading and making fun crafts.

Since becoming a momma, almost five years ago, one of Katie's favorite things has been meeting and connecting with other moms. Some of her best friendships have developed over conversations about sleep patterns and potty training.