I'm Tired, And Should Probably Eat Something
You guys, I'm not going to lie: I'm tired. We've been traveling, road-tripping, flying, moving, and living out of suitcases for more than a month. Plus, I just spent last weekend in New Mexico at a killer blog conference while sneaking in the magnificent cotton candy sunsets, and devouring mouth-watering food whenever I could.
On Sunday night I flew back to San Diego with the girls and my parents, and on Monday the movers arrived, which means we're in full-on unpacking mode over here. So yeah, I'm a little on the tired side.
Honestly, on moving day I expected the worst and hoped and prayed for the best. Our shipment of stuff was separated as it left our house, so the chances of things missing or ending up broken were high.
The movers here were really nice, and after they got alllllllll of our stuff into our house, and after they set up our bed and the kitchen table, we told them they could be on their way. Technically with a military move, the movers can unpack all of your boxes, and rebuild anything they took apart in the first place. But we'd rather do our own unpacking and organizing, so we opted not to have them do that. And as for rebuilding things, my husband is up for the challenge.
I'm so thankful that part of the move is over, even if we're left with a house full of disorganized chaos. Now's the "fun part" of unboxing everything and seeing what random things are in what boxes. (The last time I checked, a bathroom runner doesn't belong in a box labeled "kitchen stuff.") On the bright side, only one thing has broken so far, so I'm knocking on wood we don't find anything else. Several boxes are still unaccounted for, but we're pretty positive it's just because our original packers were crazy and put three different colored stickers (the way they keep track of the inventory) on almost more than half the boxes.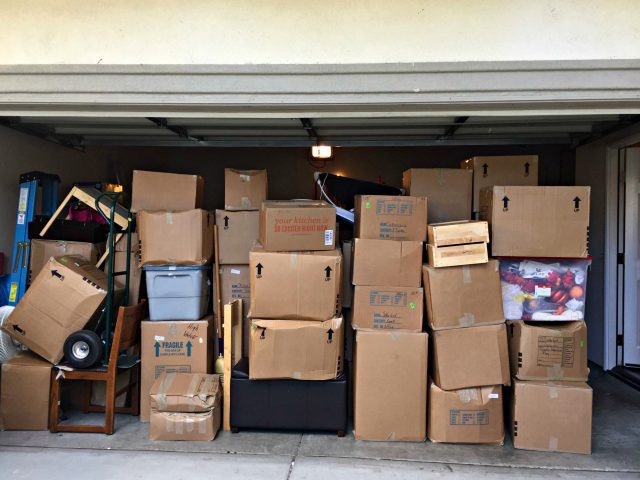 This isn't the first time we've done a long move like this—moving to Italy and back again had us living in hotels and out of suitcases for more than a month, too—but doing this whole shebang with tiny little kids is a totally different story. It's exhausting.
If it weren't for my parents coming out with us and watching the girls, I literally don't know how we'd do it. I'd probably have to go away for a few days with them and just have my husband unpack everything. Kids are really needy, man! And they get into everything. My parents are basically saints for keeping their eyes on them and making sure they're distracted.

Finally being in our new-to-us home is exciting, but more than that, I'm anxious to be done with this portion of the move so we can finally put down some roots here. We're beyond ready to get comfy and settle in. As for right now, we have another full day of unboxing, shuffling, and putting things in their new home for this house. Also, I'm hungry, so I should probably eat something.
I'd love to hear your moving-in tales. Did you have stuff go missing or things end up broken?
How long did it take before you felt "settled" in?
Save
Save
Save