Sending Kids Back To School During a Deployment
Is it just me, or are any other moms/dads out there actually looking forward to school starting again? Not only does it mean my daughter will get some extra socialization with someone other than me, her little sister, and our dog, but it means I get a blissful eight hours a week without her. I know what you're thinking: "What? Did she actually just say that out loud?" Yes, yes I did.
Y'all, I've been pretty much attached at the hip with my three and a half year old this summer. Between being stuck in a car with her for two weeks, then crammed inside our little temporary house for another three weeks, (plus two more hotel stays); add to that the fact that my husband is TDY (on a business trip), and well, you get the point. I'm more than ready to let her spread her little wings.
It's not like I'm kicking her out or anything—the girl is beyond excited to start school and make new friends. She's a little social butterfly, and I know she'll thrive in her new setting.
This isn't a huge deal yet, but my husband won't be there for her first day of school tomorrow. Thankfully she's a little too young to realize it now, but this is just another in a long list of "firsts" he's missed and will continue to miss as long as he's in the military. To help make this transition a little easier for both of us, here are a few things to help with the fact that he won't be around for this latest transition. Whether you're solo parenting during a deployment or a TDY, maybe some of these will help with the transition of sending your kids back to school.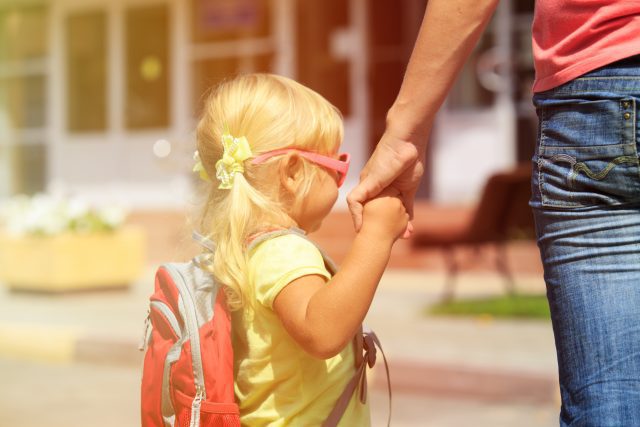 Shop the List BEFORE They Leave
Before my husband left for his TDY, the two of them went out on a scavenger hunt to find all the things she needed on her back-to-school list. Granted, he left before the official list came out, but they picked up the necessities (crayons and glue sticks), and she was pretty excited when they came back with all of her new supplies.
Go on a Date
She's finally at the age where she realizes he's away, and darn-it, she misses him all the time! Before he took off this time, the two of them went on a little daddy/daughter date. They went out for ice cream, just the two of them, and I know they had a blast because she was smiling ear to ear when they got back. Truth be told, I was a little bummed I didn't get to partake in the festivities, but hey, that's what my friends Ben and Jerry are for, right?
Lunchbox Notes
My mom used to sneak notes into my lunchbox every once in a while, and it always made my day when I'd find them. My daughter can't read yet, but I know she'll get a kick out of finding little notes left behind for her to find. I suggested he put things like her name (which she can read), and little hearts, stars, suns, and flowers.
Send 1st day of school pictures
It doesn't get much cuter than those first day of school pictures, but instead of just posting them on social media, take it a step further and print those pictures out! Send out some snail mail (if possible) so your deployed spouse can actually put the photos up somewhere.
Video/Facetime the night before
You may already have a standing FaceTime night, but if it's possible, make a spontaneous call the night before or the morning of the first day of school. Shoo away those new-school year jitters with some face-to-face time (or at least ear-to-ear) with your kid's parent.
Get into a Routine ASAP
This is always my go-to tip when dealing with a deployment (it's always trickier with those shorter TDY's), because it's essential in my book to making sure life keeps going. With a new school year starting, it's just as important to quickly figure out a new routine. Jump into it head first, and maybe even start it a few days before the big day, just to get the kids used to waking up earlier (and to help them get into a habit of putting on real clothes if they're anything like mine).
Freezer Meals Ahead of Time
Make life easier on everyone, and think about dinners before your spouse takes off. Sure, eating cereal and dinosaur nuggets for dinner is technically food, but after the fifth night in a row of eating those, you may crave a little variety. Before your extra set of hands leaves, create some comfort freezable meals that both you and the kids will eat (or at the very least, just you…they can live off PB&J and mac and cheese for a few more days). That way, when you're running to and from school, sports, dance, gymnastics, and you name it, you won't have to rely on fast food.
RELAX
Okay mama, you did it. You successfully transitioned into a new season, and you did it while solo parenting. Give yourself a pat on the back, and give yourself some "me" time. If you're not fully rejuvenated, it'll be much harder to give the little ones anything. Either hire a sitter and get out for a night, or after you put them down for bed, step away from the computer and do something you truly enjoy doing (while hanging out with Ben and Jerry, of course).
What are your back-to-school tips when a spouse is deployed or TDY?
This is a sponsored conversation written by me on behalf of MSB New Media & Unilever. The opinions and text are all mine.
Save
Save