My weakness in life when it comes to food is anything salty. Scratch that. It's anything crunchy and salty. Add in some heat (like salsa or guacamole) or something sweet (I'm looking at you, Frosty's and French fries), and I literally have to pry myself away from whatever deliciousness is in front of me.
In New Mexico, tossing green chile into just about anything isn't just normal, it's essential. So I decided to take matters into my own hands when I discovered there was no way I could find green chile dip in the stores out here in San Diego.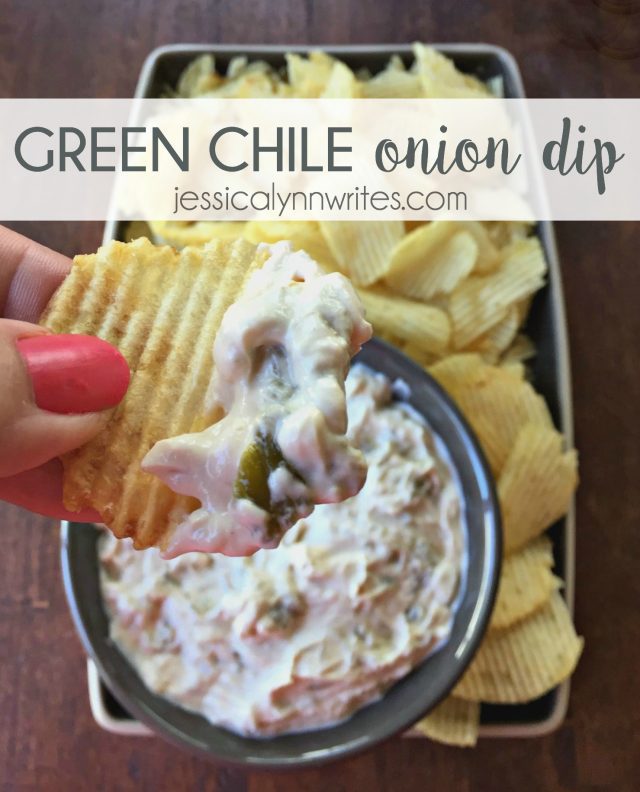 Luckily, they roast fresh, Hatch green chile out here in the fall, so we picked up a pound or 25 (yeah, we have 25 pounds of green chile in our freezer right now). If you can't get your hands on green chile, have no fear; you still have options.
You can either make your own by roasting some chile peppers (Anaheim peppers are typically found in grocery stores around America), or you can used canned green chile. You can get some online here, or you can find canned chile in the "ethnic" section at your grocery store; I highly suggest looking for the hottest ones since they'll have more flavor for this dip, and to look for some grown in New Mexico. Trader Joe's actually sells some from Hatch, New Mexico.
Traditionally, you make a dip with either sour cream or mayonnaise. But I lightened it up a bit and used Greek yogurt instead; I have the best intentions of eating this all by myself, after all. Yay for extra protein!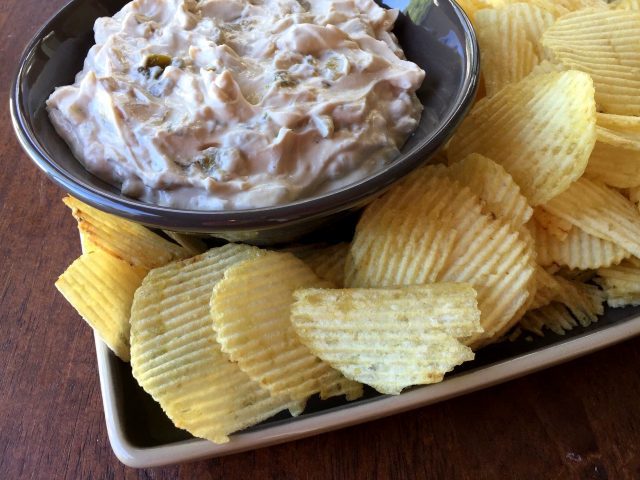 If tossing in so much green chile freaks you out, keep in mind that one of the absolute best ways to knock out the heat is to use something cream based. The fact that this dip's main ingredient is yogurt means that the two compliment each other in perfect harmony. Also remember that you can always add more green chile if it's not spicy enough, but you can't take it out (easily) once it's already in there.
Do you know what else is great about this dip? Everything. I love all of the flavors and textures in it—you have the creaminess from the yogurt, sweetness from the onion dip, a kick of heat from the chile, and a crunch and hint of salt from the chip. It's perfect.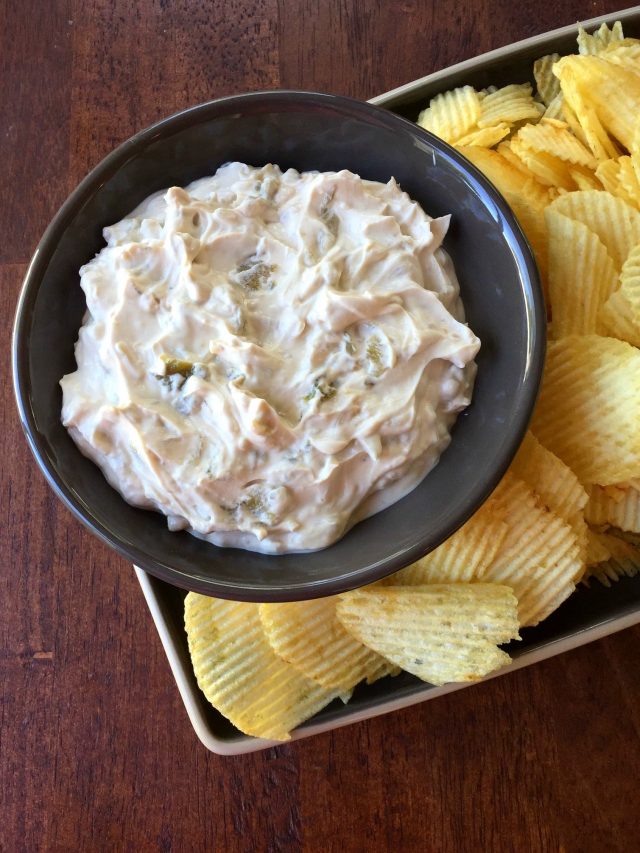 Green Chile Onion Dip
Ingredients:
16 oz Greek yogurt
1 pkg Lipton Recipe Secrets Onion Soup and Dip Mix
1/4-1/2 cup roasted, peeled, and chopped green chile*
*You can use canned green chile, but go for the hottest one you can find, so the heat and flavor will actually cut through the yogurt and onion flavors.
Directions:
Mix everything together in a bowl. Chill for at least 30 minutes. Enjoy with chips or veggies (but chips are always tastier)!

One last note: See the bowl the dip's in and the platter the chips are on? What if I told you you could put them in the oven, microwave, freezer, and the dishwasher. YUP!
This is a sponsored conversation written by me on behalf of MSB New Media & Unilever. The opinions and text are all mine.
Save
Save
Save
Save