Family Pictures are Worth the Investment
The days, weeks, and months after someone very close to you dies are strange. You want to go on living your life and to have things go back to normal, but things aren't normal. Part of you is missing, and it's hard to fill that void. Shortly after my dad died, I filled my time by distracting myself, but that only works for so long; before I knew it, I'd miss him again…a lot.
When we came back home right after his funeral I found one of my dad's shirts in our guest room. He forgot to pack it the last time they were here, just before he went into the hospital, and before I knew it I enveloped myself in it and just inhaled whatever scent of him was left lingering. As I tried to embrace what wasn't there, the tears fell. That seems to be a trend—even today, almost four months later: remember something and cry. It's strange how we can be totally fine one minute, but then one single instance will remind us of him, and bam! before we know it, we're sad and crying. There have been so many tears in the past few months, but it feels good to cry; it's healing.
Just after his funeral I found myself searching for any photos I could find of my dad, just so I could see his face again. I scoured the thousands of pictures on my phone for any candid shots I took over the past year, and while those are great, and I'm happy I found some, I felt guilty.
Guilty, because even though I spent three straight weeks with him just before he passed away on an epic road trip, I only have a handful of pictures with him in them. Instead, I have about ten thousand pictures of my girls from that trip.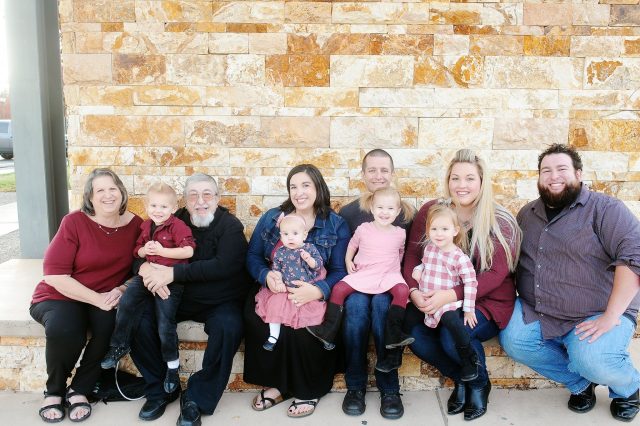 Since I don't have that many of him, I find myself going back to the last set of family pictures we took around this time last year. I insisted that we all get together and take the photos when we were home visiting, and I'm so happy we made it happen, because (even though I loved them before), they're now literally priceless in my eyes.
These bring me so much happiness, and I'm thankful we made it a point to take family photos. Yes, it's great to take those milestone pictures with your kids and very immediate family (cake smashes, yearly Christmas card pics, and even maternity photos), but don't forget about the rest of your extended family. Not only will you love seeing them later, but your kids will appreciate seeing them as they get older—especially if some members of your family are no longer around.
I've mentioned this before, but my youngest is literally obsessed with seeing my dad's photo. I can't have my computer open without her pointing to it and shouting, "TATA," because she wants to see him. And then when I pull up his picture she literally giggles and points to him, just repeating his name. She'll never get to know him; the new baby won't get to know him. Shoot, even the older grand kids will have to rely on their memories of him.
Thankfully, we have these pictures…these snapshots in time that they'll see over and over again, and even though they may not fully remember him, I'm grateful they'll at least get to grow up seeing him.
Will those pictures cost money? Yes. But sometimes a photo is literally priceless.
Photos taken by the wonderful Kim Jackson Photography in Albuquerque, New Mexico
Save
Save
Save