How to Stay Sane When Baking With Kids
Hi. I'm Jessica, and even though I LOVE cooking, and baking in the kitchen, and even though I love my kids dearly, I'd like to fully admit—right here, right now—that sometimes (okay, a lot of times) I really don't like cooking or baking with them.
Phew. Now that that's out of the way, I can move on.
Just kidding; I need to explain myself. I may be a "Pampered Chef lady," but that doesn't mean I'm a joy to be around when I'm in the kitchen and my kids ask to help. Honestly, I'm the opposite of a joy, because 9 times out of 10 I'm in the kitchen to get a job done. And when my little people want to help it means that job is now going to take a million times longer and I'll be cleaning up not just a kitchen, but tiny hands (and faces, and cabinets, and…you get the picture).
But then I stop and think about how eager and willing my daughter is to want to help, and how much her sister wants to do everything just like her. So I pretty much always cave and let them help—even if "helping" is telling me when bubbles start to appear in the water. (Julia now knows what boiling means, so that's a win.) I've also started setting limits with myself. I plan baking escapades for the middle of the day or in the morning when I'm not rushed, and if they "help" with dinner, it's literally just watching what I'm doing, or telling me when the water is boiling.
My husband and I watch the Food Network a lot, and it's starting to rub off on Julia. She always asks who's winning (even if we're watching a non-food station), and I'd like to think she wants to be in the Chopped kitchen some day (and will pass along the money she wins to her favorite mama who taught her about boiling water.)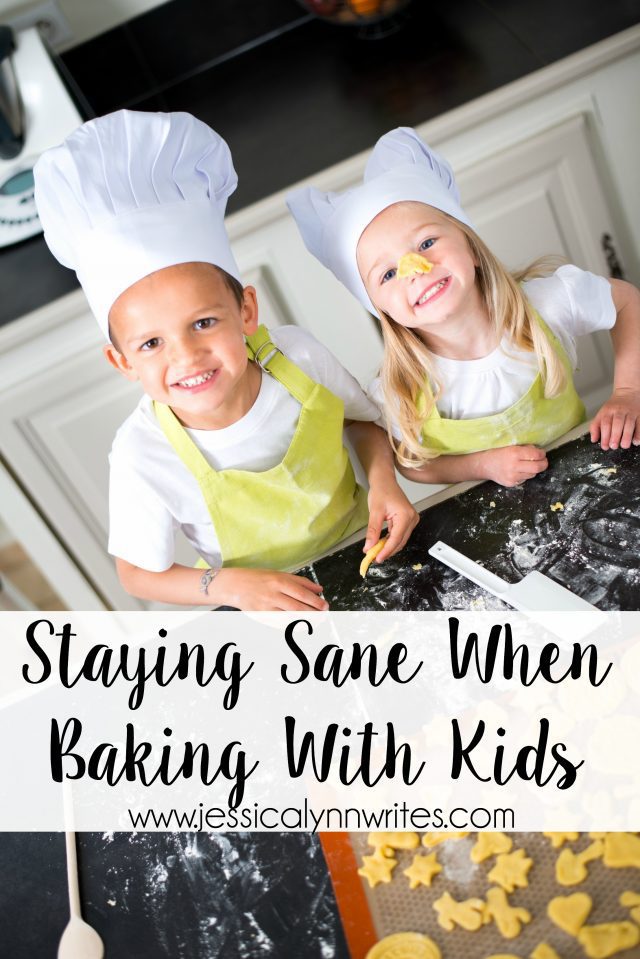 I'm definitely no expert at this, but as someone who has her patience tried time and time again when my kids want to help in the kitchen, here are some things that keep me sane and them happy.
Build Them Up
I mean this literally and figuratively. Literally get them higher so they can see what's going on. A chair or stool is fine, but a learning tower is AMAZING. My husband built them the tower we have with the plans here, and I love that it has rails around it, especially for the little one. Right now it fits both of them, and it's simply perfect. If you don't have a handyman (or woman) in your life, then this is worth the investment to buy or ask Santa for this year. As for another way to build them up: encouragement and excitement go a long way when they're learning something new. Build them up, buttercup!
Keep it Simple, Silly
If you're just starting out and don't know what to do, start with store-bought cookie dough or a dinner recipe you've made a hundred times. Don't do something elaborate or have them help with a fancy meal you've been looking forward to. If the thought of having them crack an egg freaks you out, then find something else for them to do (my kids are perfectly content with the simple act of stirring—for the little one—and pouring things—for the big one).
Make it Fun
Pick out recipes you know they'll enjoy eating later, or try a new recipe you want them to try. Nine times out of 10, if Julia helps me make something she'll at least taste it when it's finished. As for making it fun, give them the cool stuff to do. If you're making pancakes, throw some bananas in a zip-top bag and let them go to down mashing them up. Let them try their hand at rolling out pizza or cookie dough, and then give them the (closely watched) freedom to ice or sauce their creation.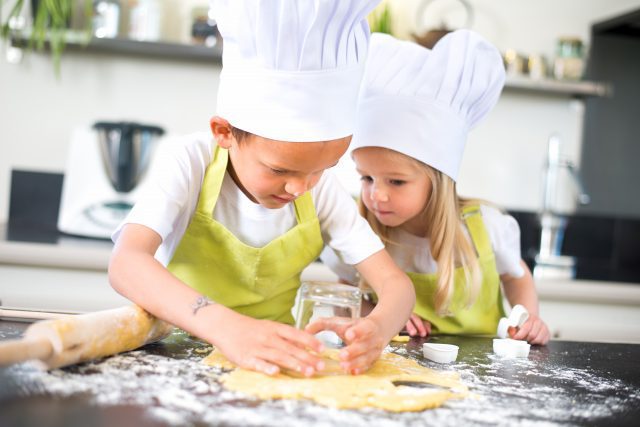 Get out ALL of the ingredients
This one is HUGE. Having everything out in front of you will save so much time and energy. I try to get "the cast of characters" (as the Pioneer Woman calls them) out before I bring the kids into play, that way everything is ready to go, and I'm not running around trying to do too many things at once.
Let them play the part (dress them up)
The girls and I have matching aprons, and you better believe we wear them when we're cooking! The girls get a kick out of them, and I'm not gonna lie—I think it's pretty fun, too!
Pour yourself a glass of wine and just go for it.
Okay, I can't even partake in this one since I'm baking another bun in my oven (oh, the irony), but if I could drink, I would definitely pour myself a glass while we're all doing our thing in the kitchen. It would help me relax and remember that messes are part of growing up, and they're never going to learn if they don't get into the kitchen. My way to relax, sans vino, is to put on some oldies and jam out while we're all in the kitchen together.
Ready to tackle baking, but need a few more essentials before you get started? Enter Operation Cookie Swap, a sweepstakes from Operation in Touch where FIVE lucky winners will walk away with new baking essentials! The sweepstakes is open from now through December 27, 2016, and entering is as easy as pie (seriously…you don't even have to make anything to enter)! Enter here!
Do you have tips on how you stay cool as a cucumber when you're in the kitchen with your kiddos? Share them below!
Thank you, Operation in Touch, for sponsoring this post.
This is a sponsored conversation written by me on behalf of MSB New Media & Unilever. The opinions and text are all mine.
Save
Save
Save