It's interesting that you plan so long for a baby's birth. You research, talk about it, and anticipate the birth day. And when you're a first-time parent, nothing you read or think you know can really prepare you for the day you actually become a parent. I think death is kind of like that. I know what you're thinking: "What in the world is she talking about? You can't talk about babies and dying in the same paragraph!" Just hang on…I have a point.
With death, like welcoming in a new baby, we can sometimes know it's coming. You can try to prepare yourself for it, but nothing can ever actually make you ready.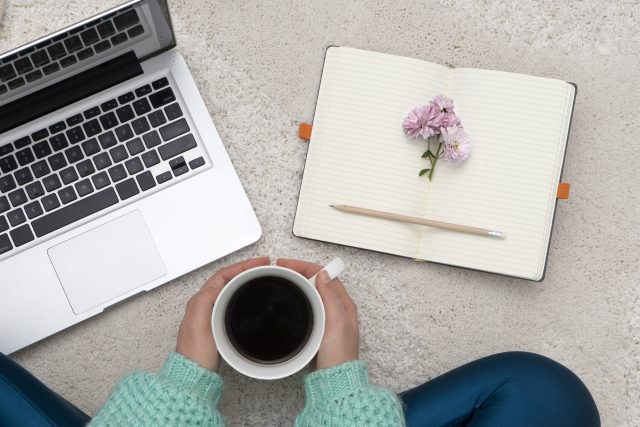 There's a scene in the movie Serendipity where "Dean" (Jeremy Piven's character) prepares a eulogy for John Cusack's character, Jonathan, and for some reason, that scene's always been in the back of my mind. I always though how nice it would be to have something ready—something prepared—that way your loved ones aren't wracking their brains and digging down into the memory bank to figure out what they want to say. In the days after someone dies, your mind, body, and soul are in a complete haze. It'd be nice to have a rough draft of something ready so you could just add to it when needed.
The eulogy I wrote was fine. It made people laugh, cry, and hopefully gave people insight into my dad's life if they didn't know him very well. But….it just wasn't my best work. It didn't pay tribute to him the way I wish it did. My heart was broken and raw at the time, to really express what I wanted to say.
The Eulogy I Wish I Wrote
Perhaps this will always be a work in progress, because I don't know if something like this could ever be final, but I think it may give me a little more closure since I always wish I wrote more…or wrote it differently the first time. So instead of a traditional "eulogy," here's a letter—a love letter, if you will, to my dad.
Dear Papa,

Oh how I've missed you the past six months. I'll start by saying that I'm due in two months—9 weeks, actually. I know you'd already be looking at your calendar every day and telling everyone you know about your trip back out here to see us. You have no idea how happy I am that you knew I was pregnant before we lost you. Heh. Mama and Chris don't like it when people say that phrase, because we didn't lose you; we know where you are.

So, back to when you died. You know, I actually contemplated the fact that I thought you may live forever because of all that you overcame in your life. You got handed a lot of curve balls, and you managed to beat them all. I haven't yet come to the "acceptance" part of grieving, because I still pick up the phone to call you, and then I find myself putting the phone down in disbelief, because how are you actually not here anymore?

On that note, the girls still talk about you all the time. Your "Fruit Loop" still remembers when you gave her that nickname, and she talks about you being up in Heaven now. Oh, get this! Julia draws pictures of the family alllllll the time, and she always includes you—without your leg (she makes sure we know that). I'm pretty impressed that even Maddie remembers you and asks for you. The impact you made in our lives is simply immeasurable. When I think about having this new baby—a boy; we're having a boy, by the way!—I can't imagine that he won't get to meet you. Gosh darn-it, you loved babies, especially your grand babies.

Since I'm sure you were up dancing around on both of your legs when we were planning your funeral, I wanted to fill you in on a few things: pretty much everyone wore red to celebrate your life. Get this: I even wore a red dress. Not maroon, not pink, but red…for your Lobos. You're welcome. Pretty much everyone you've ever known came to pay their respects; you would have been so amazed. Oh, and we saved you the best seat in the house—you were up at front so you could see everyone.

A few days before your funeral I experienced something that made me love and appreciate our family more than I ever have. Your nieces and nephews (and your son and son-in-law) woke up before the sun, drove out to the cemetery, and dug out your grave by hand. It was surreal and If I wasn't in such a haze, and in such denial at what was happening, I would have sobbed all through that morning. Oh, and we took burritos, and donuts, of course…because it it was a Saturday, and that's what you'd do; you'd take donuts and make sure everyone had one. I saved you an apple fritter. Okay, that's a lie. I ate the apple fritter, but I thought of you while enjoying every single bite.

Mom is doing okay. I know you'd ask how she is, and she really is doing pretty well all things considered. We've been looking out for her, and Chris and the kids visit her often. She also comes out here a lot, which is a God send for us. She was even out here for New Years. Do you remember, the last time you were here, you and I talked about going to the Rose Bowl Parade, because it's always been on your bucket list? Well…we did it!

We woke up ridiculously early and took a road trip up to Pasadena, then camped out on the side of the street, watched the sun rise (metaphorically speaking, because it was actually really cold—you literally might have frozen to death if you were there with us), and saw the parade pass by right before our eyes. Oh how I wished you were there with us to cross it off your list.

I better wrap this up, otherwise I could probably write a novel. I'll just say that I miss you. A lot. I miss you when I turn the corner at Costco and see that they're sampling Famous Amos cookies, or when I hear Johnny B. Good come on the radio. I miss you when it's someone's birthday and you aren't the first person to call and sing to us. Speaking of birthdays, thanks for sending me a rainbow for my birthday—it made my day, and made up (a little bit) for not hearing your voice that morning.

I miss you asking how Kenny is by calling him "The Captain" (by the way, he's a major now, but I know you'd just keep on calling him Captain); I miss hearing you ask how Fruit Loop and Cream Puff are, and I even miss you forgetting my name sometimes.

You left us too quickly, and even though I technically got to say good-bye, I'm sorry that I wasn't there when you actually passed away. We were close…so, so close to being there (I know, I know; close only counts on horseshoes and hand grenades), but I also know you were tired and done fighting, and that's okay. I'm just thankful for the 32 years and seven months I got with you, the week I spent by your side before you died, for the cross-country trip you shared with us, and the countless memories I'll think about for the rest of my life. You were always, always there for your family, and I only hope I can be as devoted to my family.

I love you!
P.S. Drive safely, and ask Jesus to help you 🙂
We're coming up on the six-month anniversary, and I'm thankful that time can help heal a broken heart. When you love someone, a loss of any sort is hard to deal with, but talking about it, and not forgetting certainly helps.
---
#LoveBlog2017 Link-Up
This blog post is part of the #LoveBlog2017 blogging challenge and linkup. Today's prompt is LOSS. Read the whole prompt list! Meet the co-hosts for the day:
Twitter // Instagram // Facebook // Pinterest // Tumblr // Google+ // Bloglovin
Brita Long is the pink and sparkly personality behind the Christian feminist lifestyle blog, Belle Brita. While her first love will always be Paris, she lives happily with her husband Daniel Fleck in the Atlanta area.
blog // twitter // instagram // pinterest // facebook
Laura is a big dreamer, full time marketing manager, blogger, and part-time artist. She aspires to inspire people in their everyday lives and help them to live towards their dreams and making the most out of their lives. She has been blogging for about 6 years now, more recently finding her glorious niche' of sharing her stories and thoughts of life and daily inspiration.
---
Enter the #LoveBlog2017 Giveaway!!
I am so excited to include a giveaway for this year's #LoveBlog! It starts February 1, 2017 and runs through the end of the month. US residents only. I love my international readers, but international giveaways are more difficult to manage legally.
I will verify the winning entry myself before emailing the winner during the first week of March. If the winner doesn't respond, I'll start the process over again.
Save
Save
Save
Save
Save
Save
Save
Save