Postpartum Pooping (And Other Things Nobody Talks About)
*Yup, I went there. Actually, I'm about to go there, so consider this your warning. If you haven't had a baby yet, or if you get squeamish, this poop post probably isn't for you.*
So there I was…approximately 10 months pregnant with my first baby, and I was petrified about pretty much everything. But there was one thing I was really afraid of, and I had no idea who to even ask about it…because how in the world do you ask such a thing.
What was I scared of and desperately want the answer to? How do I poop, or pee for that matter, after I push out a baby from there?
I remember nervously typing out that question to a trusted friend a few days before I gave birth (because there was no way I could look someone in the eye and ask them), and the response was pretty much what I expected: that it will probably be painful and scary at first.
And you know what? Three babies later and she was definitely right: it's a pretty shitty experience (pun definitely intended).
Every time I've had a baby, that first (second, and third) visits to the toilet are a little scary and a sometimes painful.
Why? Because you just pushed a baby out of your vajayjay, and you may have stitches all up in there from when that precious baby of yours literally tore its way out of you (more on that in a minute)! And even if you don't have stitches, you just worked that area in over time when YOU PUSHED OUT A BABY! Thankfully pooping after those first few times will get easier (and then it may get a little bit worse again, truth be told).
The Postpartum Pooping
The biggest advice I can give in the bathroom department is the following:
Take the poop pills and pain pills you get (especially the stool softeners; do not skip those)
DRINK WATER. Lots and lots and lots and lots of water. This water bottle was pretty much attached to me wherever I went.
Don't hold it. Just relax and go.
Use the peri bottle they give you
Skip your precious panties and pull up the giant mesh undies or use Depends
Slap on a giant pad…the biggest one you can find (usually the ones intended for "over night")
Pile on the witch hazel pads (ask your nurse to take extra home!!!)
Wine. Lots and lots of wine. Or maybe beer…to help with your milk and all. (To relax you)
Along the lines of pooping…when you push out a baby you may think you're about to poop, and ya know what? It's okay. Some women will literally poop before the baby comes out…and trust me, that won't be the grossest thing coming out of you that day.
More poop talk: seriously hydrate yourself well during the day, even when you think you're out of the woods and it doesn't necessarily hurt or feel awkward anymore. If you're breastfeeding you need water to make milk, but you also need it to help with the flow of things in the number 2 department. Once that poop starts getting hard and you have to work at going to the bathroom, things get hard…literally. Some women get hemorrhoids during pregnancy, and some get it after. Water won't cure everything, but it will help the situation.
Other Hush-Hush Things You Should Know…
Pooping isn't the only thing people don't talk about enough. Here are a few more things that I had no idea about before I had a baby the first time.
The Bleeding.
Don't get me started on the bleeding. It will happen for awhile—longer than you think it will. And the more active you are, after birth, the longer it will continue. You'll get so excited one day when you think it's finished, so you consider ditching the maxi-pad you've been waddling around in, but then you stand up, feel it, and realize you're still healing. So moms, take some advice from me and relax, slow down (even if you're feeling good), and let your body heal.
I haven't had a c-section, so this isn't first-hand experience, but I've heard the bleeding continues just as much regardless of how you gave birth…because all of that extra stuff has to come out somehow.
Also, pay attention to what the nurses tell you about passing clots. It can be pretty gnarly after, and its best to know what's normal and what warrants a call to your doctor.
Getting Stitched Up.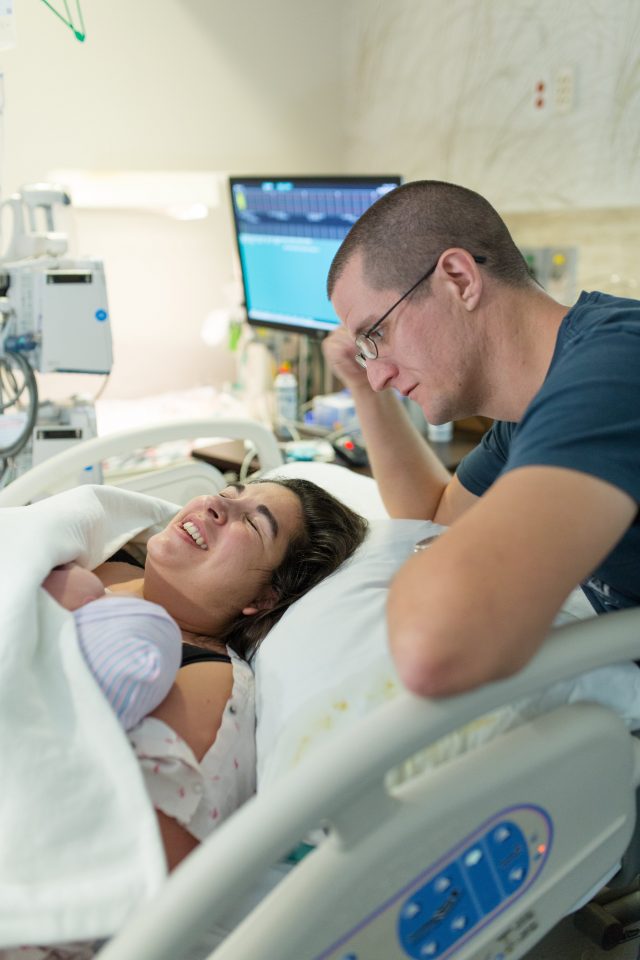 So you've had your baby and everything is delightful. The painful contractions are immediately gone, you have a brand new baby on your chest, you're shocked that it's over, you're in a state of unbelievable euphoric bliss, and holy cow: you even did it without an epidural! Way to go, Mama!
But wait. While you're snuggling up with your fresh new baby and soaking in all of those lovely endorphins, you hear mention of a tear, and your mind flashes for a hot second to how, exactly, a tear is fixed up: with a needle and thread.
Heck. No.
Friends, I know people say that labor is hard, and there's that whole "ring of fire" situation there at the end that's a real giant pain in the ass (almost quite literally), but all that pain truly goes away in an instant once the little baby is out. For me, at least, it's the stitching up the tear that hurts the most. Sure, they "numb" you (by poking you with a needle that "may sting for just a bit), but, OH-EM-GEE….OUCH! There's poking, prodding, and pulling down there, and there's nothing you can do but hold onto your little newborn and go between bouts of happiness and moments of swearing at your doctor.
Truly, I would give birth 10 more times (with giant babies and all), if it meant I could skip the stitches afterwards. Nobody ever warned me how bad and painful that could be.
I realize these are only two things that typically go hush-hush regarding pregnancy, and after for that matter, but they're two things I always forget about and always wish someone warned me about the first time.
Are there other things you first-time pregnant moms have questions about that you're too afraid to ask? Email me or put them in the comments! I've you've "been there, and done that," share some things you think may help new moms!
Save
Save
Save
Save
Save
Save