This has been the longest two months ever…not in a bad way at all, but in a sense that it feels like Logan's been with us forever. He's just such a delightful little guy—always chill, and pretty happy most of the time.
Kenny was out of town for a week and a half, and while the baby was good, it was the other two who gave me a run for my money most nights. Plus, just juggling life with a new kid was hard to get used to; there may have been a few days filled with tears, frustration, and wine consumed at the end of the day. Solo parenting with two kids and a newborn was not for the faint of heart, and I'm very happy to have him back by my side.
I have Logan's birth story just about finished, so that will be coming to a blog near you next week!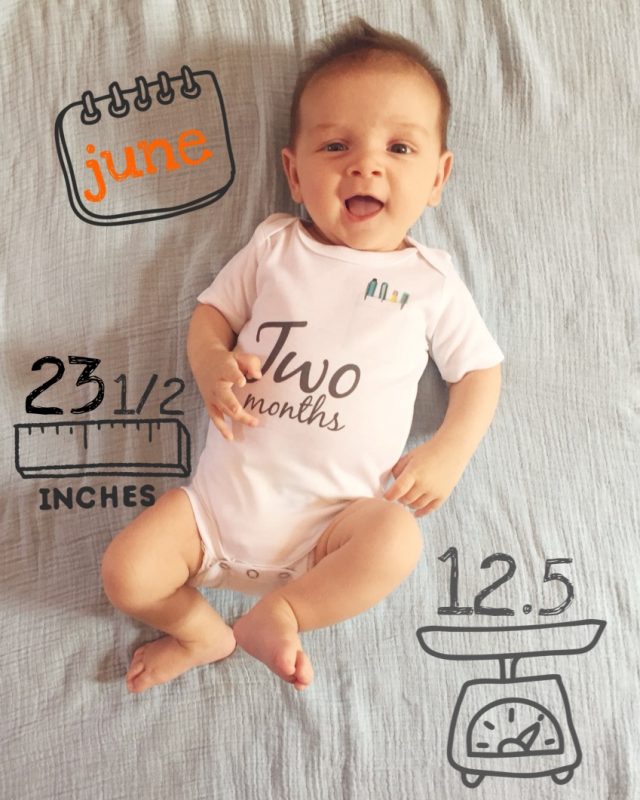 adorable monthly onesie by Jonley Gifts (etsy • facebook • instagram)
Nicknames: Logan John and Logan Bear
Likes: Nursing, looking at the window blinds, watching his sisters, the beginning part of tummy time, being swaddled, the pacifier, sleeping through the night (knock on wood), hanging out on my shoulder
Dislikes: having his nose suctioned, losing his pacifier, the end part of tummy time, not having anyone around him (he gets lonely)
Milestones: He's smiling and cooing now, and it's the best thing in the entire world. He also tracks us as we move around, and he's starting to stay awake more during the day.

Weight/Height: 12 lb, 5 ounces; 23.5 inches

Clothing Size: 3, 3-6…our little man is growing!

Sleep: I don't want to talk about it, because we're in a really good groove right now. He's the best sleeper out of all my kids so far (6 hours at night!!!!)

Random Tidbits: I'm literally befuddled that he's only two months old, because it feels like he's been around forever. He's also just so stinkin' cute. I just want to stare at his adorable face all day, especially since he's smiling at us now! He's starting to lose his awesome hair in the back, though. Darn hair-falling-out-stage!

How are Mama and Papa Doing?: We're doing well. Busier than ever, and we look forward to bedtime, but he fits right into our family. We're also starting to get our grove back, which is nice.