When my husband and I were dating, he wooed me with food, specifically with his baking. One of the first things he made during our early years was focaccia pugliese.
It was love at first bite.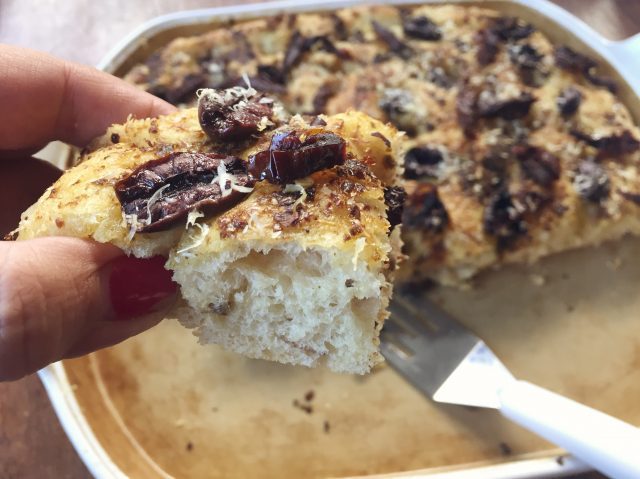 The bread was always so fluffy inside, the crust was perfectly crispy and chewy, and the toppings burst with flavor.
I had focaccia before that day, I'm sure of it, but I was shocked that he made it by himself, and from scratch; that was the day I knew I truly loved…focaccia.
Focaccia Pugliese
We've made this dozens of times since then, and I'm still amazed that it's made with potatoes—who knew?!
The recipe below makes one thick and poofy focaccia that's lighter than it looks thanks to the velvety olive oil and creamy potatoes.
Speaking of potatoes, we've used good ol' regular mashed potatoes, instant potatoes, and even leftover potatoes from Thanksgiving.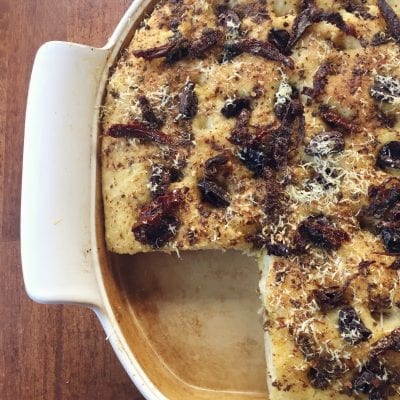 Focaccia Pugliese
Sink your teeth into homemade focaccia pugliese and enjoy a crispy, chewy, pillow-like bread that will leave you wanting more.
Ingredients
1

cup

room-temperature mashed potatoes

we use instant potatoes if we don't have "real" potatoes on hand

1 1/2

tsp

active dry yeast

1/4

cup

water

warm

1

cup

water

room temperature

3-4

Tbs

extra-virgin olive oil

divided

3 3/4

cup

all-purpose flour

2

tsp

salt

1/4-1/2

cup

Parmesan cheese

sprigs of rosemary
Optional Toppings
2-3

Tbs

pesto

15

olives

kalamata, green, or black; cut in half

1/2

cup

oil-packed sun-dried tomatoes

drained and chopped

1/2

onion

sliced thinly or chopped

1

bell pepper

sliced or chopped

sprigs of rosemary

de-stemmed
Instructions
In medium-sized bowl whisk yeast into warm water and let stand until creamy, about 10 minutes.

Stir in remaining water (room temperature) and 1 tablespoon of oil.

Combine mashed potatoes (room temperature—if it's hot it'll kill the yeast), flour, and salt into yeast mixture and stir for about 3 minutes.

Continue stirring until it gets too difficult, then mix with your hands. Knead until dough is velvety, elastic and slightly sticky.

Place dough on a clean, lightly floured workplace and continue kneading until dough is no longer sticky (add a more flour a little bit at a time if necessary). Drizzle 1/2 tablespoon of oil in empty bowl, then place dough back in bowl. Flip dough to get it covered in oil; cover bowl with plastic wrap or a towel and let rise until doubled (about 2 hours).

Spread dough onto a well-oiled cookie sheet (9×13").

Cover with towel and let double (about 1 hour).

After one hour, preheat oven to 400F.

Once doubled, press your fingertips into dough to create "dimples."

Spread pesto evenly across the top, scatter on your toppings (except sun-dried tomatoes*), and sprinkle cheese and rosemary. Drizzle remaining olive oil, making sure to cover edges and corners.

Bake for around 20 minutes.
Notes
Sun-dried tomatoes will burn if you bake them the entire time. Add them at the last 5 minutes of baking, just as the dough starts turning golden brown.
Our staple toppings are usually a smattering of pesto, sun-dried tomatoes, olives, rosemary, and Parmesan cheese.
But sometimes we use whatever is in the fridge: mushrooms, onions, bell peppers, or other veggies we have on hand.
I also suggest using a good extra-virgin olive oil—a little bit goes long way, so bust out the good stuff.
Back when we lived in Italy I actually visited Puglia, where this version of focaccia was created. Not only that, but I even tried some focaccia pugliese, and it was mighty delicious.
I was happy that this version was pretty darn similar in taste
What would you top on yours?
Oh, one other note: this is focaccia pugliese addicting. Consider yourself warned!