Green Chile Chicken Enchiladas
I grew up eating green chile chicken enchiladas—they were a staple at pretty much every family event—but I never bothered to ask my aunts how they made it.
I mean, why learn how to cook it when they'll make it for you? Actually, that's not true. I think I did ask—several times—but their recipe included "some" of this, "a little" of that, followed by a dash, a pinch, and a sprinkling of "those."
They all swore it was "really easy to make," which is why they didn't have an actual recipe.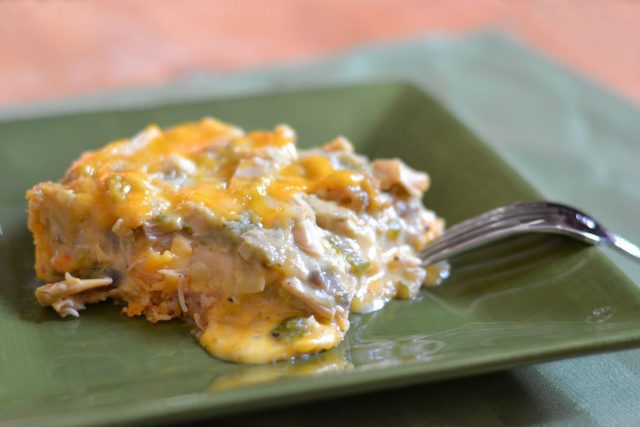 The problem is that I'm the type of person who needs clear-cut directions. I need a recipe spelled it out for me with details so I can check, double check, and then have someone else make sure I got it all right, otherwise you'll end up with salt cookies instead of sugar cookies.
So way back when, in the fall of 2009, my mom and I practiced making green chile chicken enchiladas. I was newly engaged and moving from New Mexico to Georgia, and since I couldn't cook to save my life, I really wanted to have at least one meal to make my new husband, and this was the one I picked.
It turns out making green chile chicken enchiladas is pretty freaking easy.
I've been making this now for almost a decade, and it's easily one of our favorite recipes. I actually double everything it calls for and we always freeze more for later—there's nothing better than pulling it out of your freezer on a cold day and having dinner practically ready.
This is also a staple for after Thanksgiving. We swap out chicken for leftover turkey (skip the skin), and you can hardly tell a difference.
Green Chile Chicken Enchilada Recipe
Like most casseroles, this tastes better after it's been out of the oven for a few hours and even better the next day. All the flavors have time to sit, mingle, and get to know each other, resulting in a party in your mouth.
If you do make it ahead of time, just pop it back into the oven for a bit to warm it back up. Serve with Spanish rice, refried beans, calabacitas, and homemade tortillas!
Green Chile Chicken Enchiladas
Authentic green chile chicken enchiladas—the perfect casserole for any night of the week. It's spicy, cheesy, creamy, & freaking delicious.
Ingredients
1

pound

chicken breasts

cooked and shredded

1/2

Tbs

butter

8

ounces

fresh mushrooms

diced

2

10 oz cans cream of mushroom soup

1

batch green chile sauce

see notes

1/2

tsp

freshly ground pepper

1/2

tsp

cumin

1/2

tsp

garlic

8

corn tortillas

quartered

1/4-1/2

cup

your favorite salsa

NOT chunky

12

oz

shredded cheese

cheddar or Colby/Monterrey Jack blend

1/2

onion

diced (optional, but only if you absolutely, positively HATE onions)
Instructions
Preheat oven to 350F (180c). Lightly spray a 9×13 casserole dish with non-stick spray.

In a medium-sized pot on medium-high heat, melt butter; cook mushrooms until they start to brown.

Combine soup, green chile sauce, and chicken to mushrooms in pot; mix. Add ground pepper, cumin and garlic; mix to combine. Once the mixture starts to boil thickly, take off heat, stir, and set aside.

Arrange tortilla pieces along the bottom of the casserole dish so the whole thing is covered (it takes around three and a half whole tortillas per layer—it's okay if there are some spaces or if they lay on top of each other).

Pour a thin layer of salsa over tortillas. Top with half of chicken chile mixture. Sprinkle half of the onions over chicken mixture, then add around a 1/4 of the cheese over the onions.

Repeat layers with remaining ingredients ending with the cheese.

Bake, covered with foil, for 30 minutes.

Remove foil and continue baking for an additional 15 minutes or until the cheese is bubbly.

Let cool, slice, and serve! (It's often not very set when we eat it straight out of the oven, but it still tastes great and will firm up for leftovers!)
This recipe is best if you use a green chile sauce as the base. Trust me.
Make this, and then devour the enchiladas. Oh, and they're fantastic—like really, really, really freaking good—if you put a fried egg on top, too.
Looking for more New Mexican recipes? Check these out!
Have you tried authentic green chile chicken enchiladas before?