So, we're basically five months into living as a family of five, and honestly, it's not necessarily as hard as I thought it would be. But we are busy. Not busy like running back and forth to soccer practice every day, but just mentally and emotionally busy. Because kids…kids don't take a break—ever—so we're constantly on the go. Our minds hardly ever rest, so we're always…you guessed it: busy.
Since I can only think in short spurts these days, here's a snapshot of what we've been up to, and what the rest of the year looks like for us.
Three Kids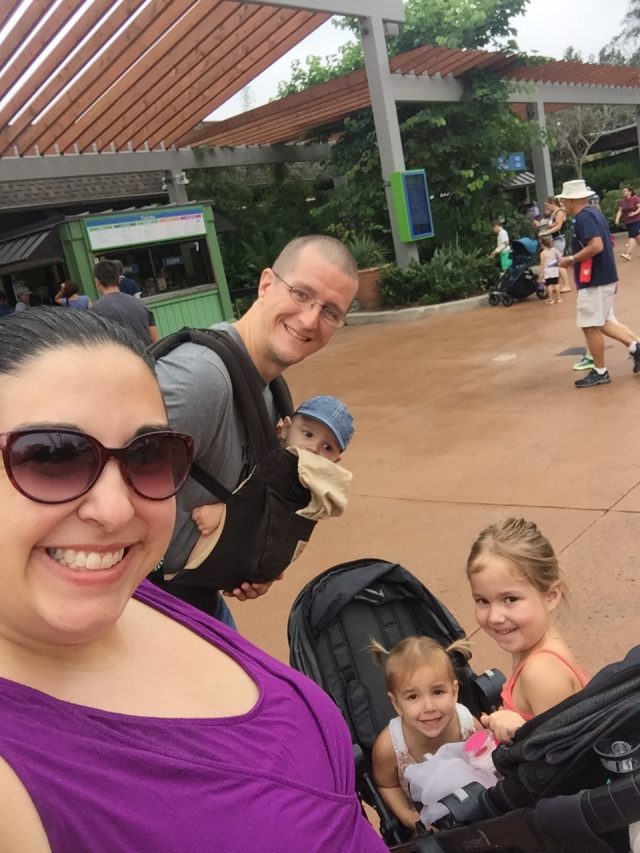 I'm still in a little bit of shock that we have three kids. I mean, THREE. We're totally out numbered, and I'm reminded of that every time two or more are crying/screaming at the same time. I'm also very much aware of the fact that there are three of them and only one of me when I'm solo parenting, because God help me.
I also especially love (please note the sarcasm) when people like to point out how full my hands are. "Yes," kind stranger; "I know I've got my hands full; thanks for noticing." Now if only Captain Obvious would also offer to help out by opening the door instead of staring, I'd maybe sweat and swear a little less.
I'm getting off topic… For all the crazy, pull-our-hair-out moments, we have those moments when they're all perfect angels and being awesome, and it makes us think about having more.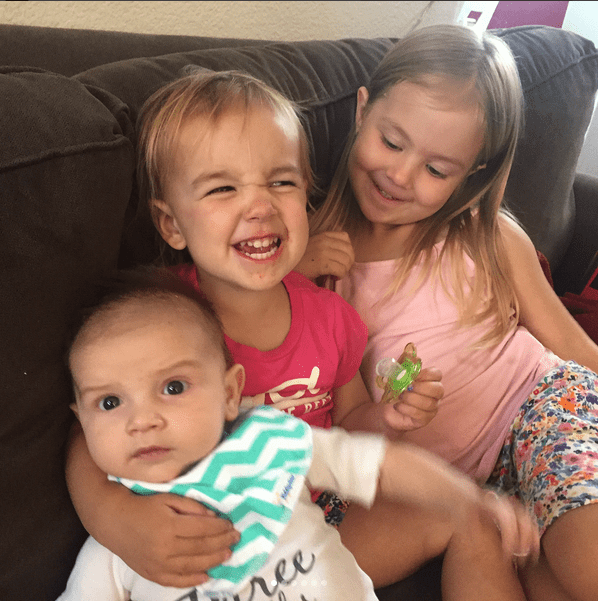 NO. MORE. BABIES.
But on that note…my husband had a little snippity-snip-snip procedure that means our baby-making days are over. We've talked about it, and even though I almost had a meltdown of regret the day before the big day, we feel it's the right decision for our family. I'm getting older, and it's not like I have tiny babies, so likely another pregnancy would be pretty rough. Plus, kids are expensive, man! In all seriousness, if we truly feel a tug and desire to have another child in the future there is always adoption.
School is the best thing EVER.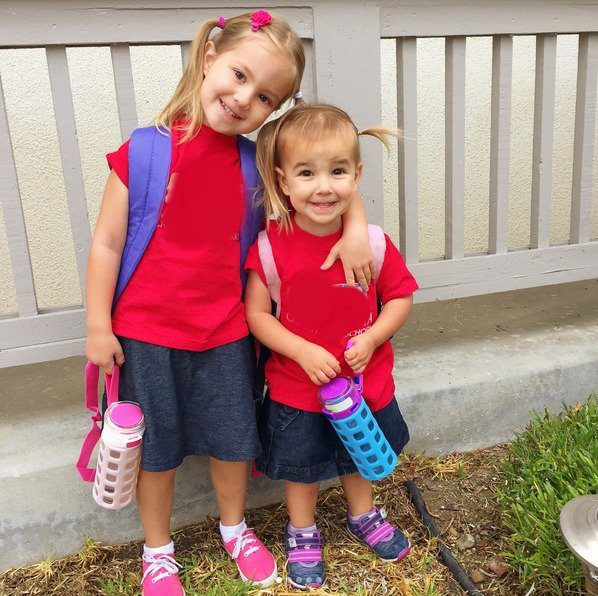 Julia and Maddie are both in school this year. Julia's in a pre-k a few days a week, and Maddie goes to a mom's day out program at the same place on two of the same days. That, my friends, is called winning, because if you're keeping track, that means I get two days with only the littlest, two days with the middle and youngest, and one day with all three of them. I think this is a pretty good transition for keeping my sanity. Then again, remembering what day each are doing something is making my brain work a little bit more than it has in a while.
Add to that: they're starting AWANA next week. I never did AWANA growing up, but I'm all for something that will take both of them for an hour and a half once a week and help shape them into better people.
I'm Still Writing
I know it's been quiet over here, but I'm still figuring out my groove with this whole three kids thing. I miss writing. In fact, I have about a dozen half-finished posts that just need a little TLC (aka "time") for me to finish them. My writing thrives best in the morning, but if you've ever been around a baby then you know they don't care about schedules. So when the alarm goes off in the morning for me to get up and do things for me, but I've been up allllllll night, I ignore it and sleep more instead. #priorities
With that said, I have been writing, just not here. I'd looooooove it if you'd check out some of the posts I've written for the San Diego Moms Blog lately:
"I Don't Know How You Do It," Thoughts From a Military Spouse
25 Things to do with Avocados (Because avocados are life.)
I also wrote a few posts for MommyNearest, but I'm waiting for them to go live.
Potty Training is Ridiculous
It turns out my first-born was an anomaly when it came to potty training. Y'all, she was pretty much wiping her own butt after a day of "potty training." Oh, and she was 20 months old. I know…don't hate me! But our middle child? Well, we up and decided that maybe she'd be trained by college…if we were lucky. We attempted it here and there with her, and it seemed to work.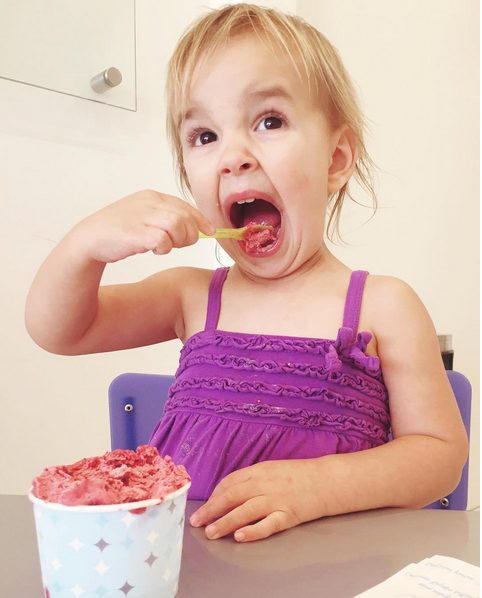 We bribed her with donuts, ice cream, and even a big girl bed, and she'll do great and "get it," and then regress a week or two later. For. The. Love. We're about to give up again because maybe she's not ready, but we're soooooooo tired of all of the accidents, that aren't really accidents since she knows exactly what she's doing and just doesn't care. I'm pretty sure she's just stubborn.
Helping Others aka Fundraisers
In case you've been wanting to help out with Hurricane Harvey, but aren't sure what to do about it, I have a fundraiser open with Pampered Chef. Proceeds are going to Feeding America to provide food and water to shelters in the Houston area, and then I'm donating all of my commission from the fundraiser to the Texas Diaper Bank. Because, can you imagine not having diapers for your babies and toddlers? ACK! I want to help cover those butts! Shop here, and get yourself something fun for your kitchen.
Oh! And Pampered Chef is donating an additional $6 for everyone who books a party through this fundraiser, so let me know if you'd like to host a virtual party; I'm starting to do One-Pot Meals and a Fajitas & Margarita's one-hour party. Fun times, my friends! Fill this form out, and I can get in touch with you about what days I have available.
I'm also raising money for PurpleStride to help create awareness and fund research for pancreatic cancer. I'll be walking with my team, "Johnny's Walkers" in October, in memory of my dad.
One. Year.
Somehow we made it an entire year since my dad died. In one way it feels like no time has passed, and it's still extremely fresh and raw. Then on the other hand it feels completely surreal and like the last year dragged on forever. I have more to say about that, but once I get started it's hard to stop, so I'll save that post for another day.
Making the Most of California
We're only here for two more years, so I really want to make the most of it. We have some larger trips planned for the near(ish) future…like a possible, hopeful cruise to Alaska and then a road trip up the west coast…but in the meantime, we're exploring San Diego.
I'm happy I made a San Diego Bucket List at the beginning of our time here, because it's helping me stay accountable to actually doing things. It's so easy to get into habits of just sticking around the house or doing things we already know. But the fun is in doing new things! For example, over Labor Day weekend we braved the ridiculous heat and went to Old Town!
So That's What's Up
So there you have it. That post only took a week to write. Totally not kidding. Like I said: life is a little busy at the moment!