I know the title of this post may remind you of a Hallmark movie name, but I can assure you there were no crazy sappy moments from our Christmas day. Instead, we literally spent the day (and the day before and the day after) in our pajamas. We also stayed inside pretty much the entire time—not because we were snowed in or anything (we do live in San Diego, after all), but because we were all sick.
It started with the girls coughing. I hoped, prayed, and wished it would stay there, but when their noses started leaking like faucets, and when Madilyn willingly asked to take an early nap, I knew something was up. Two boxes of Kleenix later, and we've all had the stupid virus floating around. I've cleaned as much as I can with Clorox wipes (only to have to clean it all over again, because kids touch E V E R Y T H I N G), and I'm happy to say that we're almost on the other end of this thing.
Logan's nose is running, and he has a little cough, but I'm praying we can keep it under control. RSV is something I don't wish to see around our home again.
But anyway, enough talk of being sick. I've gotta tell you about Christmas!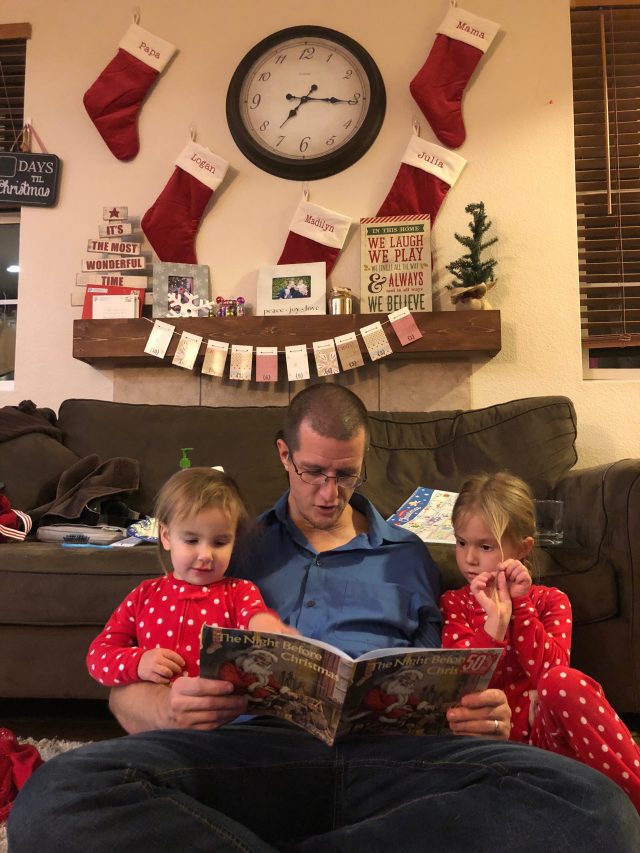 It all started the night before when we got the girls excited for Santa's arrival. We read The Night Before Christmas, and I reminded them that if they got up in the middle of the night and tried to peak at any of Santa's gifts before mama and papa went downstairs, they would disappear. (My parents told me and my brother the same thing, and you better believe I believed them. You don't mess with Santa's magic.)
Christmas morning was magical, and not just because we all slept in until past 7 am. I literally can't remember the last time that happened, so having colds totally worked in our favor for that morning.
I just have to stop and say how exciting it is to have kids, especially for Christmas. They just get SO excited. Talk about being a kid on Christmas morning—they lived up to that statement in the best possible way!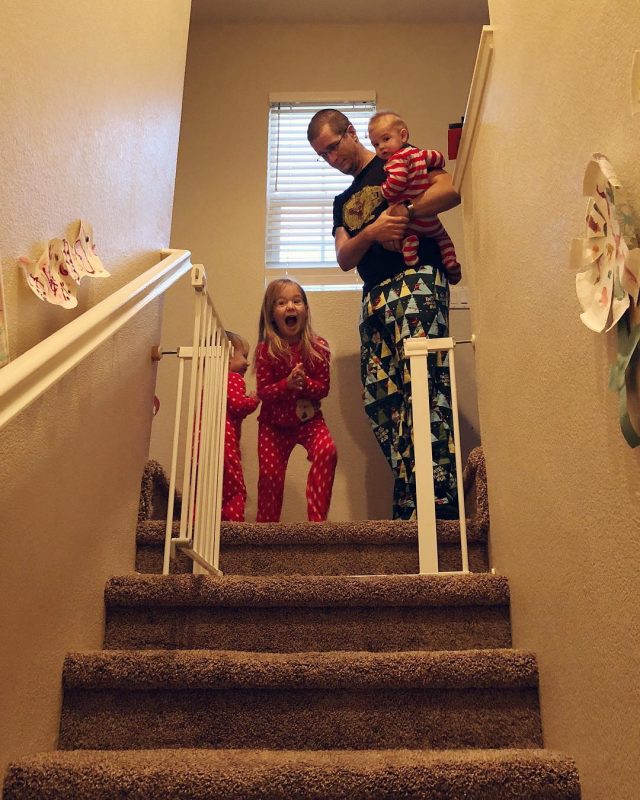 Julia asked Santa for a Frozen scooter with a water bottle. She saw it in a Target look book that came out a few weeks before Christmas, and circled it like five times. Then she even drew a picture of it, and gave it to Santa. Madilyn said she wanted it, too, because they're in that adorable stage where they still like the same things.
Check out this video to see their excitement of spotting Santa's gifts.
They were SO excited to see that Santa brought it to them, and they've literally been scooting around the house nonstop since they got them. We need to pick up some helmets so they can actually venture outside.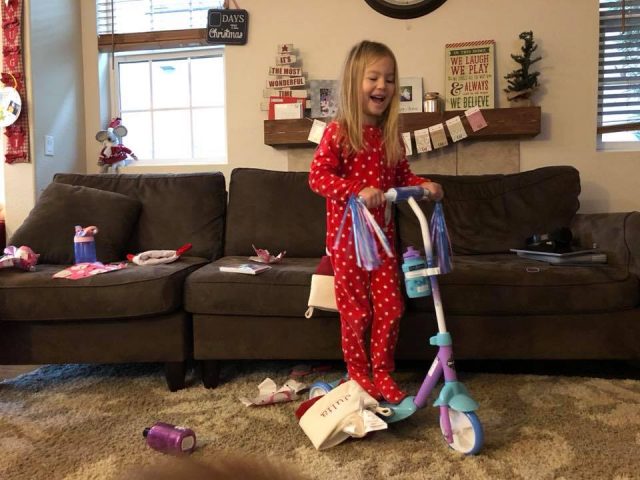 We spent the rest of the morning opening presents and playing with new toys and gifts.
Logan had fun despite not knowing what the heck was going on, and it was super cute to watch him play with some of his new toys. As the third kid, 99% of all of his toys are hand-me-downs from the girls, so I liked getting him a few things just for him.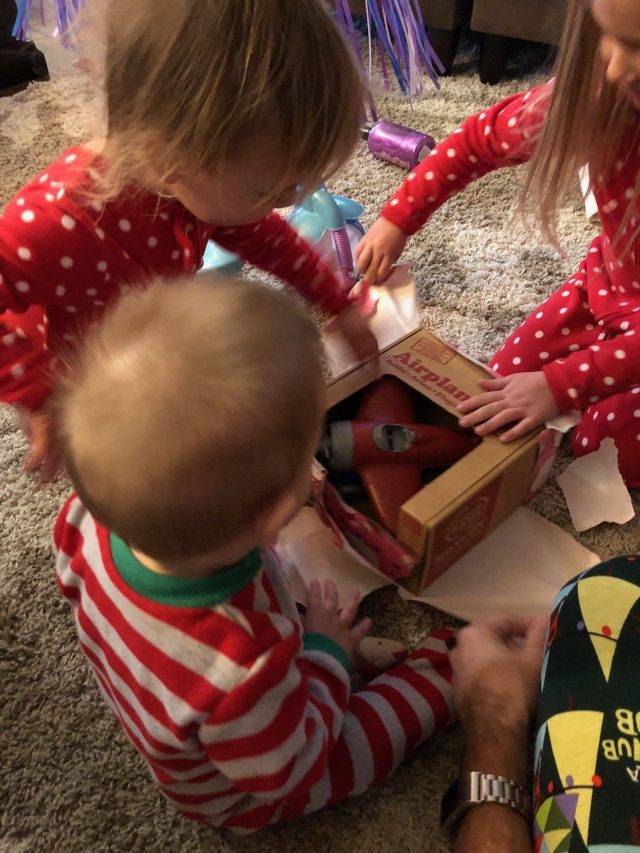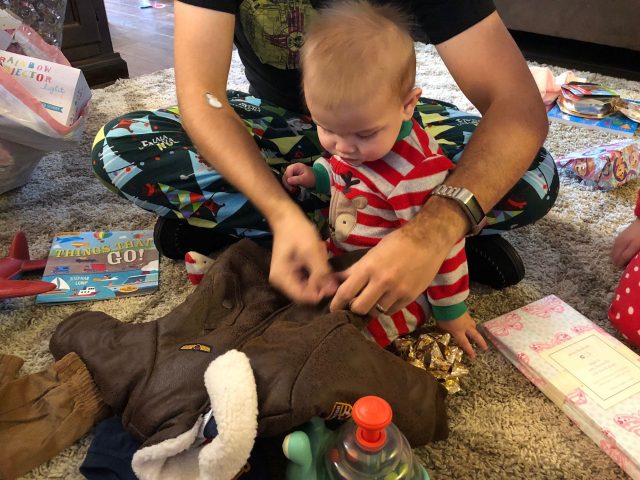 The kids actually got gifts for each other. Julia got Maddie a cupcake purse with some Minnie and Daisy little toys; Madilyn got Julia a make-your-own necklace kit, and the girls got Logan his own little Cabbage Patch baby (but from Costco…not the cool place where they got theirs; sorry, kid).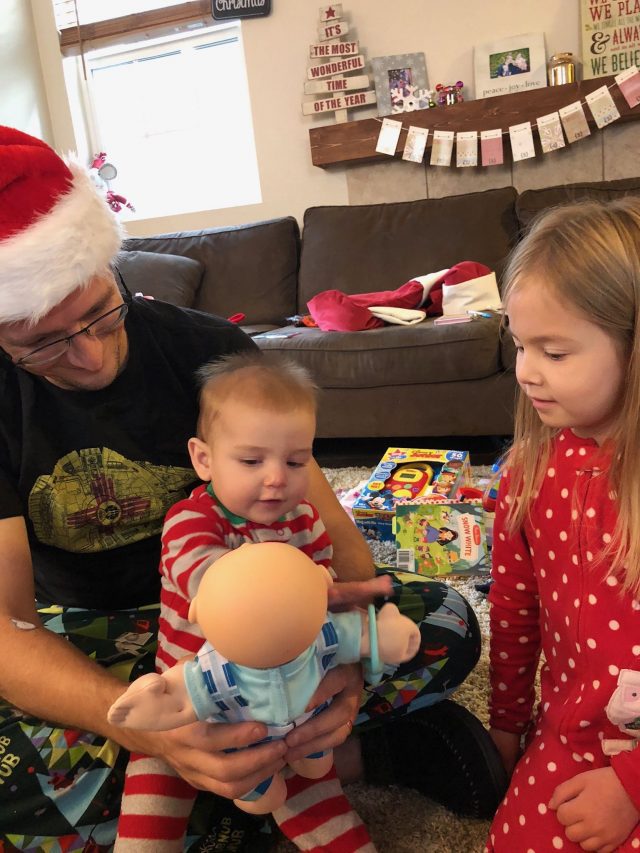 The kids also got some money from relatives; they're excited to go shopping and buy some things at the store. They always get a kick out of spending their own money at the store, so it's fun for them!
Since we were all under the weather, the kids basically didn't eat a single thing for two days straight. We tried forcing it, but if you've ever tried forcing a toddler to eat, then you know that we lost that battle.
Kenny and I enjoyed some red and green chile (aka Christmas) enchiladas with an egg on top for breakfast. It was delicious and the start of a new tradition for us. I made them ahead of time (genius idea on my part), so I just had to pop them in the oven that morning.
We also made our traditional Christmas morning funnel cakes. My grandma started the tradition when I was a kid, and it's something we've kept going. It's such a fun, special treat!
Dinner that night (that Kenny and I enjoyed since the girls were still on a hunger strike) was a red chile rubbed prime rib (used this rub, but without the BBQ sauce), delicious scalloped potatoes from Costco (thank you, dear Costco for the ease of just letting me heat these up in the oven), and my creamed, cheese spinach as a side.
And because I didn't even want to bother with whiny kids, we told them they didn't have to eat dinner, and that they could just play instead. Talk about a Christmas miracle—Kenny and I enjoyed our meal in peace. Don't worry, once they felt better (yesterday), their hunger was back, so we had a Christmas dinner redo, and they finished their plates.
Spending the holiday with our own little family was wonderful. I love being lazy and spending the day in our jammies, but I"m also really looking forward to living in New Mexico again some day so we can see our families and have them over for a Christmas brunch.
I'm already looking forward to next Christmas, and part of me (okay, all of me) really hopes that Julia will believe in Santa for another year. I know she'll be a good sport once she's in on the secret, but this part of childhood is so fleeting, and I'm not ready for her to grow up so fast.