Logan John (twelve months)
Wow. Wow, wow, wow. Here we are. One year. That first birthday is such a milestone, isn't it? 365 days of being alive on this Earth. So much growth, bonding, learning, failing, and living done in a year.
A few days before his birthday I got overwhelmingly sad thinking about my dad. It's like the mark of Logan turning one meant that it really has been more than an entire year without him. There's this whole new person that he never got to meet.
The very beginning of Logan's life started with my dad (totally random and awkward, but he was conceived on my dad's last birthday), and my dad was one of the first people we told I was pregnant. I have a video of it, and I'll cherish that forever.
But Logan? Logan came into our life during a time when I needed him the absolute most. I never thought I wanted a boy, and he's captivated my heart in a way I never thought it could happen. His sisters love him to pieces, and he fits in our family perfectly.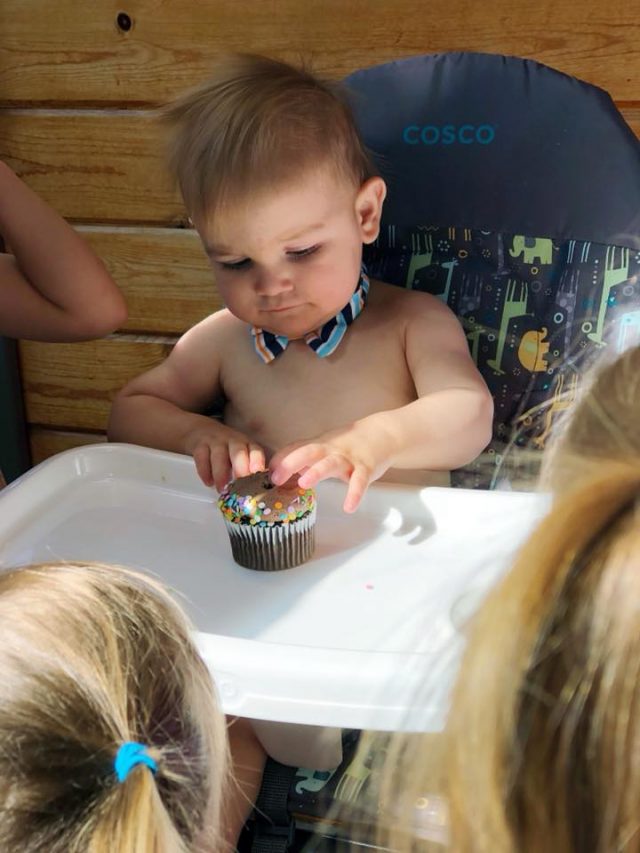 As sad I am that the baby stage is over for this part of our lives, I'm actually pretty excited to see this little dude grow up into a boy and then into a man. Every day I remind him that he's smart and kind, and I pray he'll remember that as he grows up.
We were actually home in Albuquerque for his birthday, which meant we could actually celebrate with family. Family flew out for the girls' first birthdays, but we didn't have a single thing planned for Logan's big day, so this was extra special.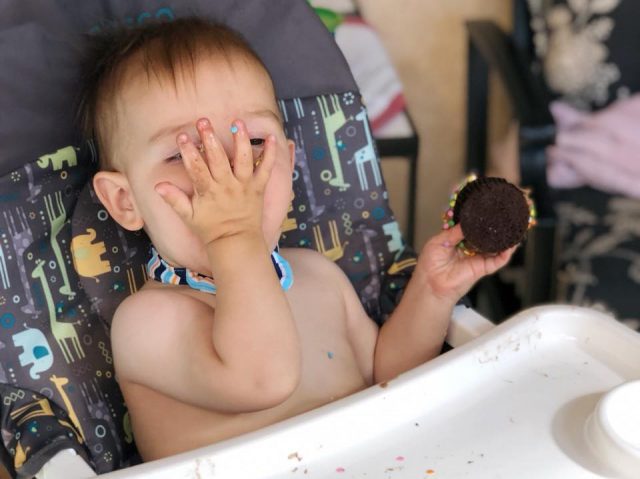 I'm so thankful for the impromptu party his grandparents put together on short notice. As a military family we don't get to celebrate often with family, and since my husband wasn't even around for it, this party was icing on his little cupcake.
Keep scrolling down for more pictures of him enjoying his first cake!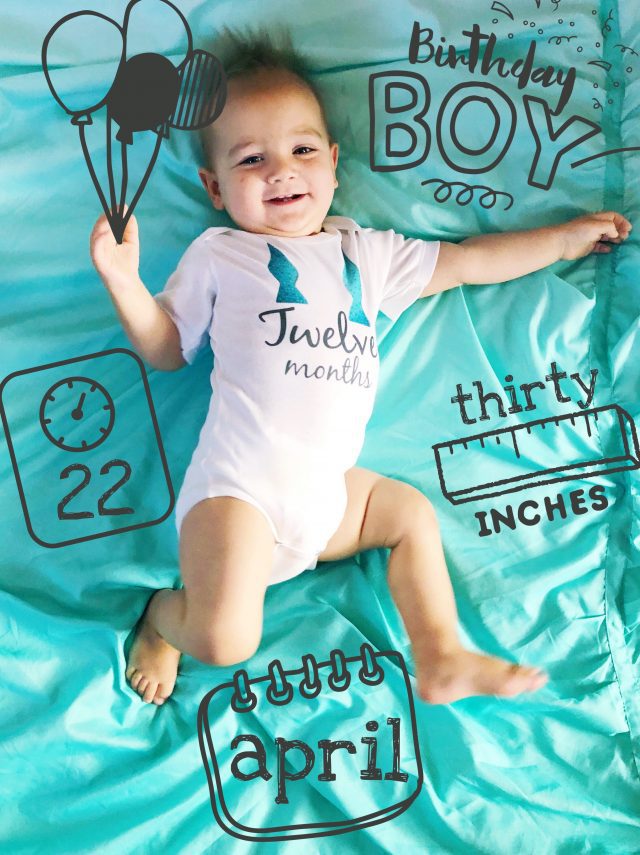 adorable monthly onesie by Jonley Gifts (etsy • facebook • instagram)
Logan John: 12 months
Nicknames: Logan Bear, Lo-Lo
Likes: dancing, trying to sing (which is just a loud screech), playing with his sisters, eating (specifically, mac & cheese, oatmeal, veggie straws, and quesadillas), watching the girls clap (he's so close!)
Dislikes: being over tired, having a poopy diaper, and when everyone leaves him and blocks him in baby jail.
Milestones: He got another tooth (5 total now), and we moved him into a big boy car seat (still rear facing, of course). He also went on a long road trip back to NM and rocked the trip.
Weight/Height: 22 pounds (54th percentile) and 2′ 6″ (30 inches; 23rd percentile), so he's on the shorter side, and pretty average for weight.
Clothing Size: 12 months. I need to clear out all of the 9 months, because it's just a pain to have to try to button them!
Sleep: Eh. My kids just stink at sleeping. He'll have a couple decent nights, and then he'll just want to be picked up, snuggled, and then put back. On our road trip we were sleeping in the same room, so we snuggled most of the night. The boy is my favorite snuggler out of all the kids, but I don't sleep well when he's in the bed with me. But oh, how I adore his little body against mine.
Random Tidbits: This is getting to be my favorite part of this age, because they can start communicating with you. And watching him play with his sisters? Oh gosh, it's priceless.
How are Mama and Papa Doing? I solo-parented again for half of this month, and did pretty good. Kenny missed his birthday, but that's life in the military for you. On the bright side, watching Logan's face light up when he sees pictures or videos of Kenny is ADORABLE. He squeals and tries to clap. He just gets so excited!
*I'm a month late with publishing this, but since he turned one he now takes a few steps, claps when he's excited, and is sleeping through the night more often than not. Life is good!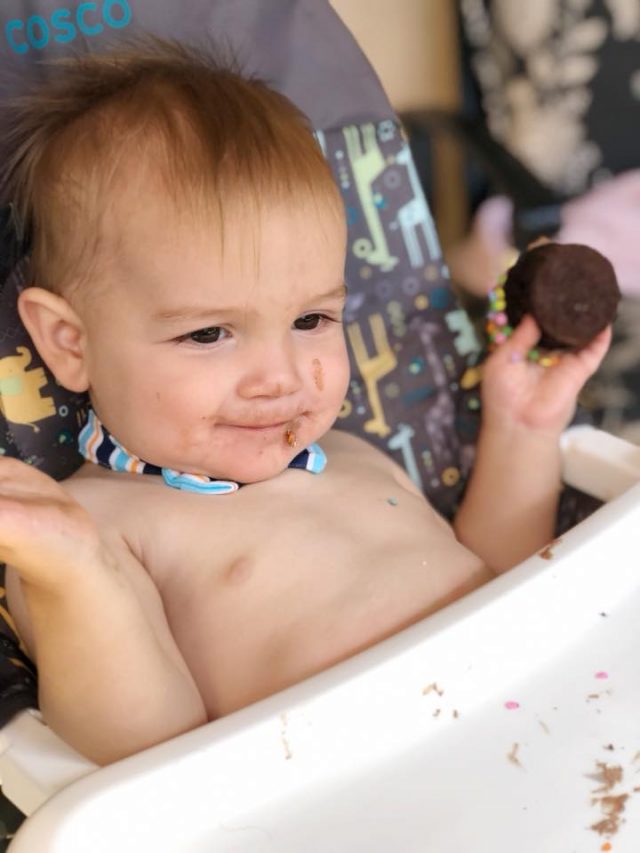 Happy birthday, little dude! I can't wait to celebrate many more with you over the years.