Time for another round of Stuff I Swear By…because this stuff is awesome, and it's time I stop keeping it to myself and share it with you. But what are you loving lately? Tell me about it below. Seriously, tell me, because I'm pretty bummed nobody mentioned this first thing, and I came across it by accident, because it's literally changing my life. What else are you keeping secret?
The List!
No More Chub Rub
Um….I'm pretty positive EVERYONE has been holding out on this magical little product. Like, I'm actually pretty upset people aren't shouting about this from the rooftop. I've been over here wearing bike shorts under skirts and dresses like a sucker, when I could've been living my best life without an extra hot layer under there.
This MegaBabe Thigh Rescue Anti Chafe Stick is the best thing in the ENTIRE WORLD. I'm not even kidding when I call this life changing, because I feel freedom now. I was terrified of it not working the first few times I used it, so I put it on in the morning and then I stuck it in my bag just in case I needed more later. Y'all, it lasts the entire day.
Life changing. If you don't have a thigh gap, then you need this in your life…like yesterday (thank goodness you can get it with Amazon Prime or at Ulta.)
Re-wearing clothes.
Because if I can't see really noticeable spots on my tops (I'm looking at you, peanut butter, yogurt, and oatmeal from little hands), then I wear clothes two days in a row. Why? So I don't have to spend time looking for another outfit, and less laundry. And because I'm lazy.
Birks
Birkenstocks make this list; I can't even wear any other shoes now, because these are so dang comfortable. One pair lasts me about two years before I need new ones, and they get a lot of steps in during those two years.
I'd love to get something a little classier, but nothing compares to the comfort of my Birks, especially since I have a wider gigantic foot. I like the Mayari style…and if you ever see me barefoot, the tan line on my feet and pretty much tells you how often I wear them.
My daughter's "matching" shoes are from Target; you can find them here (and I kinda wish Birks would mimic them, because mama wants some glitter, too).
My Mom Friends
I swear by finding some mom friends. The friend who sends you a Starbucks gift card because she knows you've had a tough day, week, or month. The ones who chats with you and listen to your kid(s) literally screaming in the background, but never acts impatient. The friends who you can be yourself around and yell at said kid(s) when other people are present, and instead of giving you a judgmental look, gives you an "oh, I feel ya," look. The friends who drop everything and bring you medicine so you don't have to take your sick kid(s) out.
I'm so thankful for my friends, near and far. And for those faraway friends, I really swear by the Marco Polo app. Get it. Use it. LOVE it.
(Keep an eye out for a post on how to find mom friends, because that's a different post for another day.)
Embracing the MOM Status
Speaking of mom friends…
One of my favorite things about being a mom is the solidarity between other moms. There's this unspoken (and likewise, often spoken very loudly) about how hard, crazy, awesome, wild, annoying, amazing, insane, and wonderful our daily lives are.
So when Moms on Maternity (MOM) told me about their MOM Dream Box, and sent me one to check out, I couldn't wait to share the awesomeness. It's made for new moms, and it's full of things to help empower her, and some fun stuff for the one who made her a mom.
What's in it? Some awesome wearables: a Tiny Trucker Mom life hat and a MOM tank. You'll find some much needed sunscreen (that actually smells delicious), a delicious organic Iced Tea, a Good Lovin' Bar, and an Elevate Smart Coffee Stick—because a pick-me-up in the middle of the day is totally necessary on some (okay, most) days. You also get tools to help get your body back; Julie Tupler's Lose Your Mummy Tummy streaming video will feel you get stronger and let your confidence soar. There's also a little something in there to make bath time fun for you and your little one.
Hello, Chris.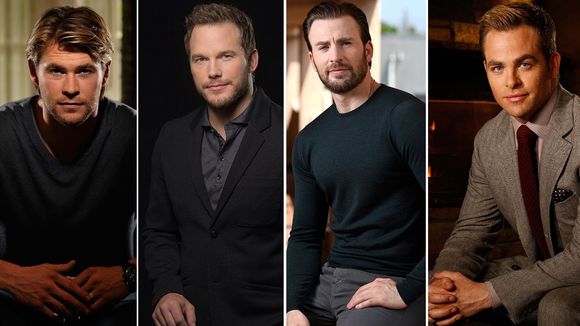 Chris Hemsworth. I sooooooooo swear by getting a dose of Chris Hemsworth every now and again. (Chris Pine, Chris Pratt, and Chris Evens are also in this category. Basically, all the Chris's…except my brother, because that's just gross.) Which Chris is your favorite?
A Non-Diaper Bag (Diaper Bag)
My friend got this backpack several weeks ago, and then I bought it about two seconds later, because it's basically perfect. Ironically enough, it's a diaper bag…and I'm finally almost out of that stage of my life. I used it on my trip to Chicago, and it held everything in it while still looking somewhat stylish (or at least people complimented me on it, so I'd like to think it's stylish).
My laptop fit in it, along with about fifty other things, and it never made my back tired. I also love that my giant Hydro Flask* fits in the pockets on the side. Total winning. The only thing I don't like is that the tag says that it's "for baby." Talk about a buzz kill; also, go figure that I get a "technical" diaper backpack once I'm already almost out of that stage. I have it in gray, but I was seriously considering getting it in orange, because it looked pretty coral in the pictures.
*Not pictured is my big, 32 ounce Hydro Flask, because I left it in my Target shopping cart the day before I took this picture. Unfortunately for me, someone took it. Fortunately for someone else, they are now the greedy owners of an awesome water bottle for free. I'm still bitter. The one pictured is the 21 ounce in mint; I love this brand so much, that I'm thankful I had a backup.
What stuff are YOU currently loving?