Costco Favorites You Need In Your Life
If you know us in real life, then you know that we love Costco (it's our happy place), so I'm really excited to share some of our Costco favorites with you.
Costco is a magical place. A magical place filled with aisles and aisles of everything you could possibly need in bulk. Their prices don't break the bank, and practically every time you turn a corner they let you sample something. See? Magical. Seriously, don't get me started on the samples.
Okay, you twisted my arm. Let's talk samples for a hot minute.
Sample Time at Costco
Confession: I totally mooched off my parent's membership when I interned in Atlanta during college for a summer. As an unpaid intern, I'd like to publicly thank Costco for feeding me during that time.L
Costco's samples are where it's at, my friends. My kids now get excited to see which new foods they'll taste around every corner. And don't get me started on how many things I have to have after we've tasted a smidgen of it. The price is so cheap for how many you get that you won't worry about how it'll fit in your freezer until you get home.
Insider's tip: we usually hit the jackpot of samples when we go in the early evening, like around 4pm. They typically close up shop around 5pm.
Setting Our Costco Scene
I know I don't necessarily need to justify the following list, but for the sake of people's eyes popping out from all that we buy from there, here are a few caveats:
1) We don't buy all of these at the same time. Except for that one time we went out of town for a month and came home to a completely empty fridge and pantry. That was not a fun bill.
2) We're a family of five, and I think our two year old sometimes eats more than our two girls combined. Little bodies need to eat!
3) We eat at home around six days a week for almost every meal. Exceptions include Chick-fil-A for lunch, obviously. And most of this stuff goes straight to the freezer.
Our Costco Favorites
Okay, here are our favorite things to get from Costco in no particular order. (That's a lie…it's in order of how our store flows; I just like it when people say that).
Alcohol
If alcohol isn't your jam, then just skip to the next category. Our Costco's food section starts with booze, so that's where I'll start. I know TJ's (Trader Joe's) has Two-Buck Chuck (which is really like $4 now #inflation), but you can snag a double bottle of wine for less than $8 at Costco, and it's good, too.
Talk about winning. You can also pick up cases of local beer for cheaper than you can get them at the grocery store.
If we're having a party, or need some margs for Taco Tuesday, the Kirkland brand tequila is a great bang for your buck. Sometimes you'll luck out and find a bottle of the brand name stuff for stupid cheap!
Let Them Eat Cake
Here's the thing, if your wallet doesn't have room for dropping a ton of cash on a fancy-schmancy cake, head over to Costco. Not only are they delicious, but you can also get them decorated in a variety of designs, and in different flavors.
They always have some generic pre-made cakes on hand just in case you plan everything for the party and forget the cake. If you ask, they'll even write a name or a message on it super fast. (Been there, done that; thanks for saving the day, Costco!)
*We get a cake from there maybe once a year, so it's not part of our usual haul, but I couldn't pass up telling you about it.
Their Homemade Bread Section
Costco doest it again with their fantastic homemade bread. You can find rolls, baguettes, loaves, and whatever else their bakers feel like whipping up.
Our favorite is their Rosemary Parmesan Bread. Oh my word, this is good. It comes in a pack of two, and we usually get a bag and cut the loaves in half when we get home, then freeze the sections. That way it won't go bad and we can pull bread out as we need it. (Note: Our Costco just—like, as in the last week—said they're not making it anymore. I'm praying it's a fluke and not a nationwide thing. If yours still has it, buy some and freeze it ASAP!)
I have a friend who also buys their rolls and does the same thing. And if you're a fan of Bagels, most Costco stores have Einstein Bagels available in the same area.
Meat and Fish
If you're not already buying and freezing their meat, then stop reading this, and put it on your list for your next Costco run.
We love getting their boneless chicken thighs and breasts, and then freezing them for later. They already come portioned, so just pop 'em in the freezer, and pull out a pack when you need it. They also have organic chicken, and it's just a tad bit more expensive.
Whole chickens are awesome for roasting or grilling, and these are super cheap and delicious, and come in packs of two. We'll typically roast a chicken for lunch on the weekend, and then I'll make chicken salad with the leftovers for the week ahead.
Speaking of chicken, their premade rotisserie chickens are fantastic and so, so, so cheap—only $5! Not only can you feed a family at least twice with one chicken, but it's inexpensive, juicy, fall-off-the-bone tender, and so, so, so flavorful.
Costco knows a thing or two about roasting their own chickens. In fact, check in the open-air fridge area where they have premade food, because they have shredded rotisserie chicken that they've already taken off the bones.
We also love getting our steaks (both skirt steak and top sirloin), and beef for roasts and stews. Their ribs are fantastic (they're huge, so just cut and freeze for another use later), and their brisket has always been wonderful.
You'll pretty much always find chicken, some sort of beef, and this salmon in our cart. It's DELICIOUS. We soak a cedar plank and then plop it on the grill. My kids eat it, and everyone is happy. Definitely add this to your list if you haven't tried it yet.
Produce
We go to town here. We'll plan out our meals around what produce we need, and then stock up. It's just more economical to buy it all here, and eat at home throughout the week.
On any given trip to Costco, we'll pick up the following: onions, baby potatoes, grated cauliflower (to make cauliflower "rice"), tomatoes, bell peppers, broccoli, mushrooms, asparagus, apples, clementines, strawberries, blueberries, watermelon, bananas, and avocados.
Some of these things last us one week (like the fruit and some of the veggies), and other things will last up to a month (like the onions and potatoes), so it's not like we're buying the entire store when we go.
Dairy
A quick word of warning if you've never been to Costco before: bring a jacket or a sweater. Their dairy section is COLD! (The girls stay "outside" otherwise we hear them whine about how cold it is. Even from there, my oldest on the right is "freezing.")
I'm throwing eggs into this category, because it's in the same dairy section as the milk. Brown, white, and even egg whites: they've got it all, and for a great price. I have their egg whites almost every day and a whole pack lasts me more than a week.
We also go through milk like crazy over here, so we buy their two-gallon packs and it lasts us a week. If you're a make-your-own-ice-cream family, then pick up their heavy whipping cream while you're there, too.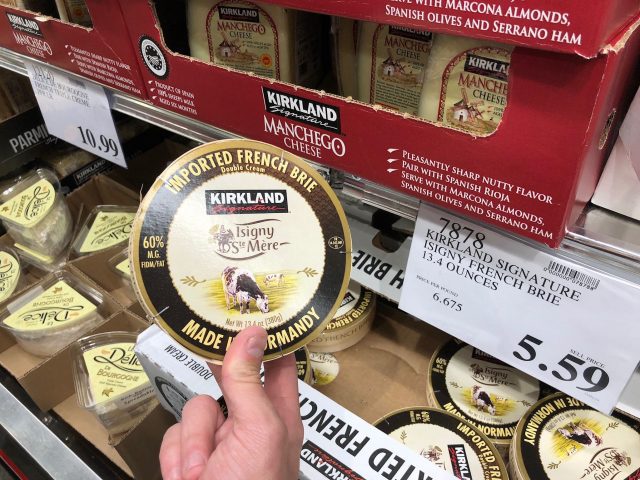 Also dairy, but not in the same section as the things above: we get yogurt (whenever one of them is on sale), string cheese, regular cheese (Tillamook, to be exact, because it's delicious and so much cheaper to grate it yourself and then freeze it), and if you're a fan of brie or other "fancy" cheese, you can get that there, too.
(Actually, if you're a fan of brie, make this sooner than later. Every time I make this for a party it's gone in the blink of an eye. You're welcome.)
Fridge/Freezer Section Favorites
If you have kids (or just like chicken nuggets), get the Dino Nuggets. The price is unbeatable, and they actually taste really good.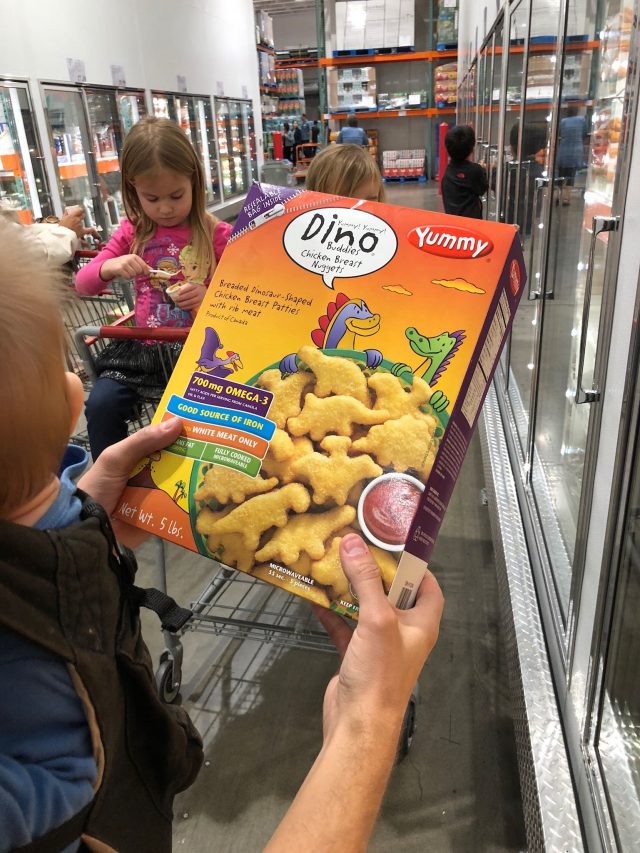 In the same area, we always get Hillshire Farm's Low Sodium Turkey and Ham, and when they have it Low Sodium Bacon (it comes in a pack of four, so it lasts awhile). Every few months we'll pick up kielbasa (so delicious, grilled with peppers, onions, and potatoes).
I love having flautas and these chicken meatballs in my freezer for quick meals. And go figure: my kids actually eat them, and I'll sometimes give it to them for lunches or a fast dinner.
It's a nice break from PB&J and nuggets. You can find these two in the open fridge area.
This pasta is another favorite for a fast meal at our house.
PRO TIP: We get this with the intention of eating it when we get home from our Costco trip. It heats it up while we're putting the food away. I add spinach to it for a little extra greenery in there. And if you don't think your kids will eat it because it has mushrooms (and maybe spinach in it), you may be surprised. My kids now ask for this!
Breads and Snacks
You can get two loaves of bread for pennies, and you can mix and match, which is always fun. They also have Dave's bread, Hawaiian Rolls, and more in this section.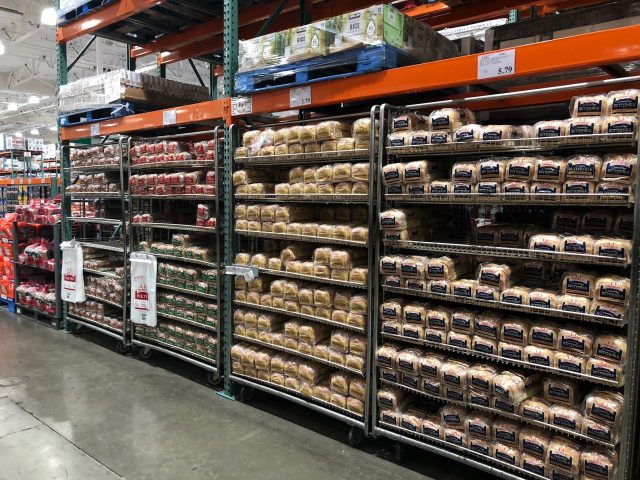 If you're not sure if you can go through that much bread: freeze a loaf for later!
In the same area, we also pick up Skippy Peanut Butter—basically essential if you have kids (they have nut-free butters in the same section), because the jar is ginormous, and it comes in a two-pack. I even got this awesome Scoop and Spread so I can get to the very bottom of the PB jars to scoop all of the deliciousness out.
The kids love these the Rice Roller snacks, and they all chow down on packs of Cheez-Its, Goldfish, and Pirate Booty. We typically have at least one of those in the house, depending on if we catch a sale for them.

Squeezable applesauce pouches (Kirkland brand), granola bars (whatever's on sale), cereal, and whole coffee beans are other Costco favorites in our house.
Also sort of in the "snack" category: sun-dried tomatoes, artichoke hearts in oil, spices (like cinnamon, garlic, ground pepper, etc.), grilled vegetables in oil (outstanding, and we seem to go through one a week, but I actually haven't seen them lately. I hope they bring these back soon) and these lentils.
So many great things around every corner!
Diapers
Parents, there is an entire AISLE devoted to diapers! If you're brand-loyal to Huggies, get your diapers from Costco. If you don't care about brand names, there's the Kirkland brand for all sizes of diapers from newborn to pull-ups. They also sell bulk wipes.
And mamas, if you scoff at the price of feminine pads from the regular store, start getting them at Costco! They're just opposite from the pull-ups in most stores.
Also, not in any way related, but while you're looking at diapers, head to the back wall and see the price of dog food. The bag is ginormous, but it's pretty unbeatable for the price.
Paper Products
Get them all at Costco. I can't even remember the last time we bought toilet paper, Kleenex, or paper towels anywhere else. Oh, and the Kirkland brand has been fine and dandy for all of those things.
We also get their paper plates and paper bowls for the days when we have zero desire to wash yet another dish…basically my life during a deployment.
Gas
I saved the best for last. If you only have a membership to save on gas, then more power to you. I love knowing that Costco gas is always cheaper than anywhere else. And, did you know that some locations even have a car wash?!
What Are Your Costco Favorites?
Okay, I could literally talk about Costco and all the things we get from there all day, but now I want to hear from you. What are your favorite things to get from Costco? I didn't even touch on the gift cards (such a great deal), clothes, books, seasonal stuff, or medicine. Oh, Costco, we love you so much.
This post was originally published on February 5, 2018 on the San Diego Mom's Blog