Aladdin: a fun Mother/Daughter Date
Growing up, the original Aladdin was my favorite Disney movie. It had intrigue, drama, wonder, allure, romance, comedy (shout out to Robin Williams), a beautiful princess with long black hair (like me back in the day), fantastic music, and—if I'm being completely honest—my favorite part: Scott Weinger who was the voice of Aladdin. (Scott Weinger, if you're not familiar, was the character Steve from Full House. #swoon)
I was super nervous about the new live-action version, and hoped it would live up to my high standards. Thankfully, it exceeded my expectations, and I'm eager to see it again…and again, and again.
I know I'm late to the party with this post since Aladdin's been out for a little while already, but I'm going to try hard to get back to posting the everyday type things I do with the kids.
Mom/Daughter Day Date
My friend and I took our two oldest girls (six and seven years old) to watch it over the holiday weekend, and not only was the theater packed, but we had to pick our fourth choice for theater and time because all the other showings were sold out everywhere.
I contemplated taking my youngest daughter (4 years old) to see it, too, but ultimately decided to leave her behind while I checked out the fear level in the movie.
In case you're wondering, I think the scariest parts were near the beginning with the lava, and then the end when Jafar turns into the ginormous genie, but even then my six year old swears she didn't get scared.
Armed with a giant jumbo popcorn that we all shared, and some candy for the kids, we were ready for the show!
The Big Blue Elephant in the Room
The biggest thing I was worried about was Will Smith taking over Robin Williams' role for Genie. I mean, Robin Williams is the Genie; he's what I think of when I think of Aladdin.
How in the world can you replace him?
Well, you can't. Robin Williams will always be the OG genie.
But, I'm here to say that Will Smith ROCKED the role. He made it his own, while still paying homage to the late Robin Williams. It's probably because I watched Fresh Prince of Bel-Air one too many times growing up, but the songs gave me an old-school Will Smith vibe.
I also loved the modern twist they put on things here and there, and it was really cool to see the Genie in a more humanized role.
Still My Favorite Princess
The song, "A Whole New World," always jumped out to me as one of my favorite Disney songs, because I loved that Princess Jasmine didn't want to sit back and let life pass her by; she wanted to experience the world.
Thankfully, Disney rolled with Jasmin's role, and empowered her big time. There were a couple new songs Jasmine had under her belt, and they were all about girl power. Seriously, that "Speechless" song is spectacular and I'm surprised there weren't woman standing up and clapping in the theater after it ended.
Also, I've also always loved her wardrobe; the fact that she's a princess who wears pants has never been lost on me. I know she had her classic outfit in the cartoon movie, but I think it's important for little girls to see that powerful women don't have to wear dresses all the time.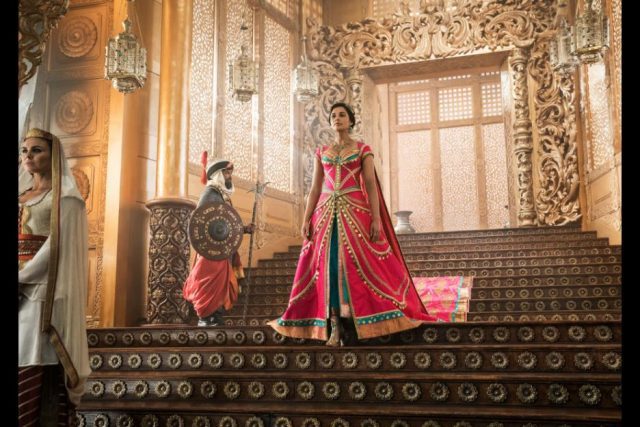 Speaking of wardrobe: the colors were on fire! So many bright hues jumping out on the screen. It almost inspires me to trade in my black-colored wardrobe to get more fun, jewel-toned items.
Get Those Toes Tapping
The music defines Aladdin, and this new version didn't disappoint, in fact I already downloaded the soundtrack, because I couldn't get enough of it.
I looked around the theater and saw toes tapping and hands moving to the beat. The dance scenes were top notch, and I love that they included some Bollywood and hip hop into the mix.
Getting all Sentimental…
I grew up with the OG Aladdin, and it's memories will stay etched in my mind forever. While my kids have seen the classic version, it's most likely this version that they'll grow up watching. Will Smith is the Genie they'll know and come to love, and this Jasmine will be the princess that shows up at their tea parties.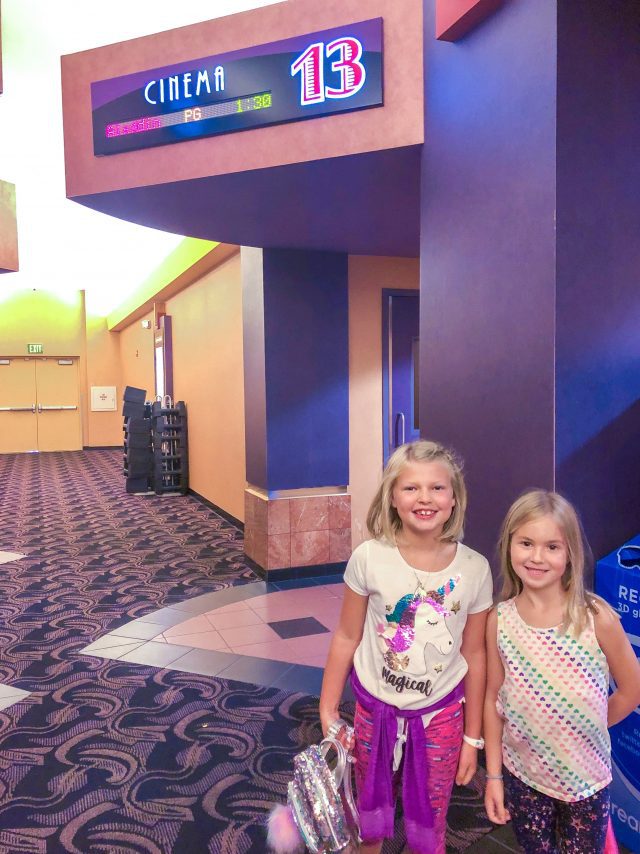 I love that Disney is breathing new life into the movies we grew up knowing and loving, and this one gets two thumbs up in my book.
Have you seen it yet?
Have you seen the new version yet? What did you think of it?
photos courtesy of Disney